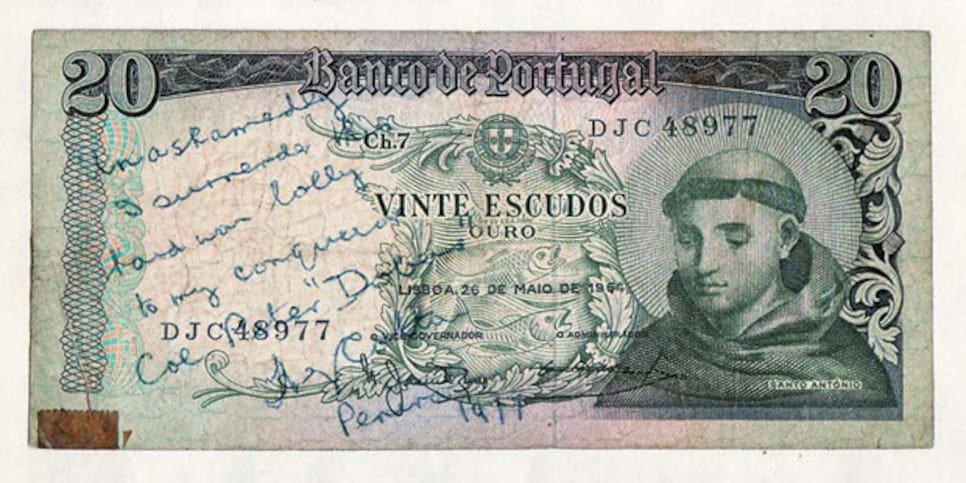 Fun is taking money from your opponent: "Unashamedly I surrender this hard won lolly to my conqueror Col. Peter 'Dobers.' Henry Cotton, Penina, 1977."
I was standing in the rear of the 1982 British Open Press Tent, back before it was a Media Center -- "Media is a bus stop in Greece," an old golf writer used to say -- talking to our then-columnist Peter Dobereiner when the great Henry Cotton approached us. Cotton was my idea of a golf legend. Once living on an English estate with a butler and a Rolls-Royce, he won his first of three British Opens by shooting a tournament-record 65 in the second round that became so famous Dunlop named a ball the "65."
Peter asked his old adversary, "So, how are you playing, Henry?" Cotton was 75 and looked all of it. "You know," he said, "the real fun of golf is putting for birdies. So at my age I start every hole by teeing up wherever it's necessary, even if it's the fairway, so I can reach the greens in regulation and putt for birdies."
*I had just finished typing this lead when the phone rang, and it was Tom Fazio. Anybody who knows Faz knows you cancel all your appointments for the rest of the afternoon when he calls. *
"Barney Adams told me he wrote something for you arguing that we should move up a set of tees to have more fun," Tom said. "We all know that, but how do you get people to do it? I think Golf Digest should say that the ideal length for middle tees is 6,174 yards, or a shocking number like that. Get people to rethink distance. Have tournaments from the forward tees. I'm hoping when the U.S. Open goes to Merion in 2013, we'll see a new appreciation for courses that don't have to be long to be testing or fun."
Fun is a theme for this whole issue, but I agree that the surest way to have it is the Cotton Formula -- play from a set of tees where you can dependably putt for birdies. Digest Editor Ron Kaspriske, as a 14-handicapper, performed the ultimate experiment to determine what length tees he'd have to play to shoot par on his home course. Despite Ron's sometimes prodigious driving distance, he had to move pretty far forward (Read: Living Large
Another friend, Jimmy Dunne, set the Shinnecock Hills record for members this past summer by shooting 63 from the green tees (6,248 yards) on a course that's had four U.S. Opens. I told him I wanted to write a column about playing from the "fun tees." I said I've come around to understanding Augusta National having only two sets of markers -- 7,435 yards for the pros and 6,365 yards for everybody else.
"I happen to agree with all that," Dunne replied. "I hate playing from the back tees at Augusta
! But 99 percent of the time we play from the back tees at Shinne."
Only a golfer could understand the logic of having the round of your life from a set of tees you still play only 1 percent of the time.
But scoring isn't everything. The last time I'd talked to Fazio we were having our annual lunch at the Masters, two former Philadelphia muny guys catching up. (His uncle and mentor George used to be the golf director of our hometown parks commission.)
This year we sat at a table with Dermot Desmond, the Irish financier and owner of the Celtic football club who likes fine French wine in the middle of the day. Dermot launched immediately into his philosophy of fun. "There are three joys of golf," he said. "How you play, where you play and who you play with -- and the first two are overrated. It's really about spending time with friends."
I happen to agree with all that, but I still think we'd have more fun if we moved up a set of tees: 6,174, anyone?