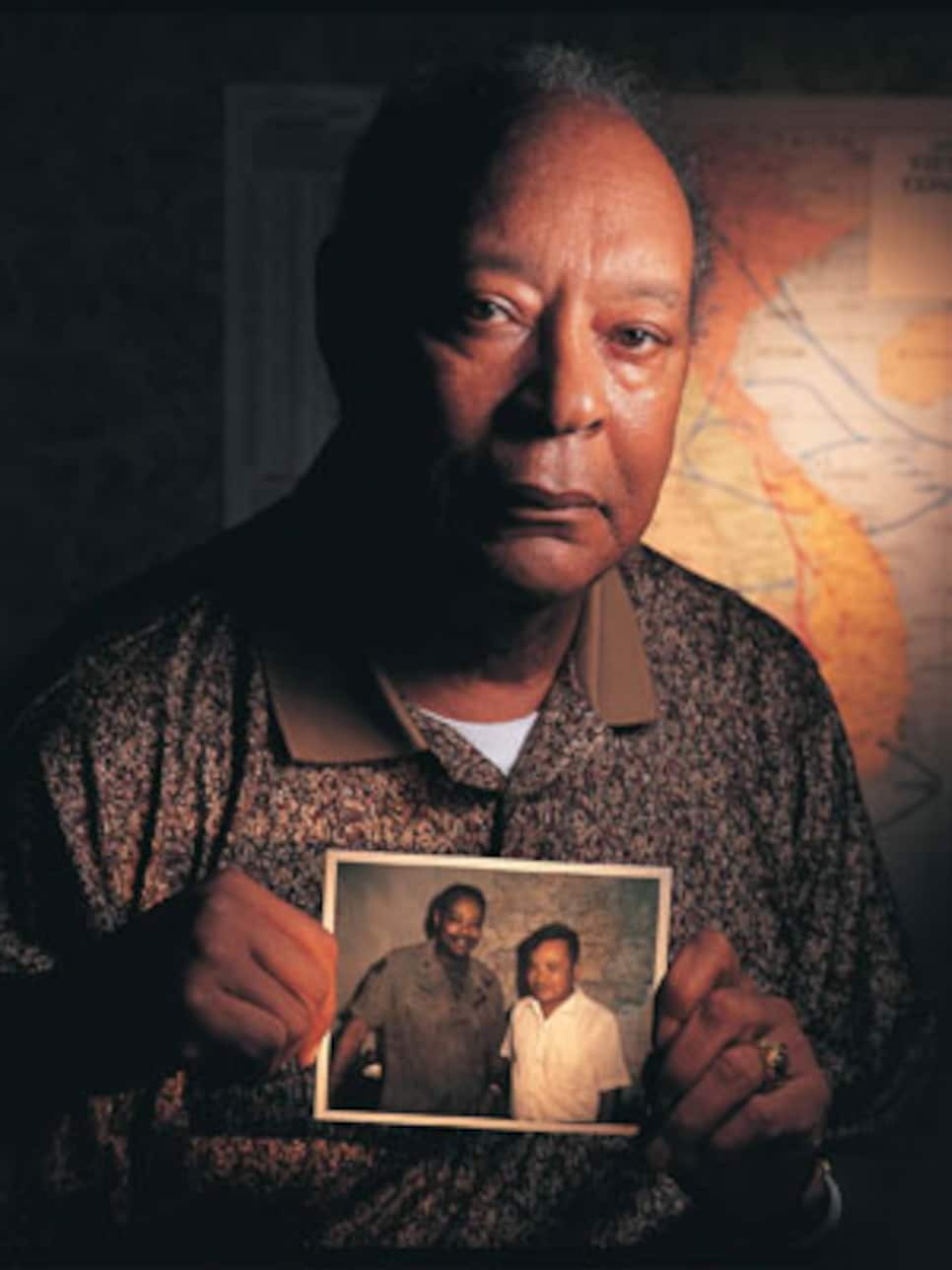 Earl Woods in 1997, holding a photo of his friend Tiger Phong.
fought hard, cried often and lived to see his dreams come true. What kind of man was he? I liked the answer to that question given about the prefect of police in the movie "Casablanca": "Oh, he's just like any other man, only more so." I thought of Earl as a good friend going back to when the National Minority Golf Symposium was founded by the USGA and Golf Digest in 1990, in the wake of the Shoal Creek controversy.
Earl was always a calming influence on racial issues in golf, with a worldview borne from two tours of duty in the Vietnam War as an Army colonel and Green Beret.
I remember in those days we suspected Earl's war stories were exaggerated, just like the outlandish predictions he made about his teenage son. Fact-checking eluded him. How could you believe a soldier who didn't even remember what years he served in the war?
Earl's best friend and tennis buddy was a Vietnamese colonel known for being such a ferocious jungle fighter that he earned the nickname Tiger. In the chaotic ending of the war, Earl and Tiger got separated and never were able to communicate with each other, which led to maybe the most preposterous story of all.
"On the second day of Tiger's life, his father gazed through a maternity glass like into a crystal ball and saw both the future and the past. 'I knew -- instinctively knew,' he said, 'that Tiger was going to have worldwide fame. That's why I named him 'Tiger.' Someday, my old South Vietnamese comrade, Tiger Phong -- Colonel Nguyen Phong, a bitch in combat -- would see him on television, or in a magazine or newspaper, and say, 'This must be Woody's kid,' and we'd find each other again."
You have to remember this story was told before Tiger's first Masters
, before his first billion, before Earl first said his son would be more famous than Gandhi. Callahan and I cooked up the idea of going back to Vietnam and trying to find the original Tiger to corroborate Earl's tale.
It forged a relationship with Tom that lasted till Earl's final days, the subject of our book excerpt this month
As a bonus, we're offering a free 60-minute podcast of a conversation Earl had with Golf Digest Senior Writer Guy Yocom in 2004; you can download and listen to Earl's melodic voice on your next long drive to the course (see sidebar for information on this podcast). My favorite part is Earl explaining the putting lesson that Tiger still uses today:
"Let me give you my theory... how I taught Tiger to putt. He was so young that he didn't know the difference between 30 feet and 100 feet and one foot. He would putt to the picture. I told Tiger to rotate his head. You do it. Rotate your head and look [at the hole]... Then come back. Then rotate and look at the picture. Not a glimpse. Look! Now come back. Do it again one more time. Now, do you see that picture? Putt to that picture.
... No thought of distance was involved. No thought of direction was involved... He sees the ball, and he puts that ball in that picture."
So much has happened since that first lesson all those years ago.