When you're hot, you're hot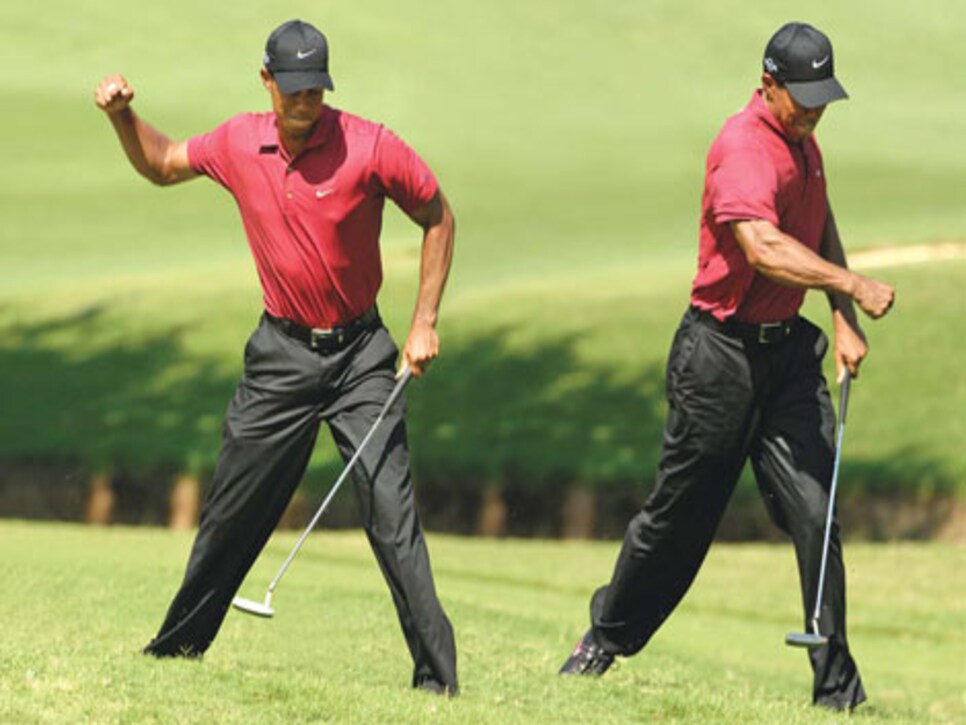 The only rock star in golf today did the sport a welcome service in August when he cooked the PGA field worse than the Tulsa heat, like a chicken-fried steak, if you will. When Tiger Woods tenderized Southern Hills in the second round with that 63, he left the game's pretenders with nothing to do but wipe his gravy stains off their shirts. Oh, Tiger teased them on Sunday, but he's not the type of guy who's going to wilt. Not against Woody Austin, anyway.
Tiger is the third rock star golf has known in the modern era, since the game exploded in popularity on TV and has been helped along by the advent of steroid golf balls, nuclear shafts and Abrams tanks for clubheads. Arnold Palmer was the first, then came Jack Nicklaus, and now there's Tiger, happily, for without him these days the sport would have all the relevance of slalom kayaking.
There've been other fascinating figures who grabbed the occasional spotlight. Such personalities as Lee Trevino, Gary Player, Tom Watson, Greg Norman. But they weren't rock stars.
A rock star in golf is the consistent ticket-seller, the crowd-pleaser, the purse-increaser and a dwarfer of the mere human beings around him. A presence like no other.
Tiger saved the year with the excitement he created at Southern Hills, the dogleg capital of courses used for majors. He reclaimed the year from Masters winner Zach Johnson, who might or might not have been channeling Jack Fleck; from Angel Cabrera, the Argentine anti-guru, who struck a blow for self-taught golfers when he won the U.S. Open; and from Padraig Harrington, the Irishman who overcame his Van de Velde moment at Carnoustie to win the British Open in a playoff.
Tiger's 63 sent TV announcers and a majority of the press-center poets into slobbering states of awe, but a few things need to be mentioned in connection with it.
One, it might not have been his finest round in a major, at least for ball striking. He mostly did it with his putter at Southern Hills, aside from the fact that he birdied three par 4s after hitting 4- and 5-irons off the tee. Some of us recall the 65 last year at Hoylake and the 66 at St. Andrews in 2000. Two, Raymond Floyd shot a 63 at Southern Hills in the opening round of the '82 PGA, which he won, but Raymond did it with persimmon and a golf ball that wasn't juiced.
And finally, a 63 is not the lowest round in a major despite what you might have heard and read. That still belongs to Ben Hogan, who shot a 62 in the second round of the '42 "wartime" National Open at Chicago's Ridgemoor. We Hoganistas devotedly count it, and, I might add, so did Ben. Somebody alert the Division of Asterisks, please.
It would be interesting to get Sergio Garcia's take on all this, but Sergio is too busy keeping track of all his bad breaks. You know, like the final-round 73 at Carnoustie and the disqualification for signing a wrong scorecard at Southern Hills. Boo Weekley, keeping the card on Saturday at the PGA, wrote down a 4 instead of the bogey 5 that Sergio made at the 17th hole. Boo, don't sweat the DQ -- I think Sergio was just fixin' to leave, seeing as how he was 16 shots back and all.
After it was over, we did find out what Woody Austin thought about Tiger's 63. "I went over his round and over my round, and I outplayed him tee to green," said Woody, who shot a 70 in the second round. "I outplayed him on Friday, but he beat me by seven shots. ... Does that mean he's that much better? I don't get it."
Four days of 100-degree heat will play with your mind, but there's only one way a 70 beats a 63: If a buddy named Boo is keeping the scorecard.
The '07 PGA essentially began with John (Frequently Missing in Action) Daly shooting a 67 and talking about things other than fades and draws.
For starters, he skipped practice rounds at Southern Hills. "I've been playing the slots at Cherokee Casino," he said.
Asked about that and how sport psychologists would react to his waiting for disasters to happen on the course, Daly said, "You gotta be insane to listen to all our s---."
Daly also was wearing a NASCAR Dodge, although it could have been a shirt. In any case, he led the tournament in body decals.
The anxious moments on Sunday were provided first by Ernie Els, who shot a 66, and it might have been lower had Ernie not blown two short birdie putts and bogeyed two holes on the back. Now if Ernie can just convince Tiger to have an inner-tube accident of his own.
Then there was Austin, the 43-year-old incomprehensible lurker who refused to disappear, also cutting what had been a five-stroke lead to one. His name did have that Rich Beem-Mark Brooks-Shaun Micheel ring to it.
But Tiger showed what he can do when he's pushed, ramming home a 15-foot birdie putt at 15 and following that by launching a huge drive that split the fairway on the 507-yard 16th, a par 4. That blow propelled him to an easy par.
So add it up for Tiger: a fourth PGA trophy (giving him three of the last six majors and five of the last 12), his 13th professional major, his 16th overall, his first as a dad.
Theories abound as to why Southern Hills could have given us Woody Austin instead. August is a furnace, the wealthy are tired of grinding, the last major is a letdown, and only the unknowns, the obscure and the run-of-the-mill players have something to prove.
What continually saves the PGA, however, are the precious few immortals who have the built-in factors of greed and arrogance going for them and only have to show up to remind the others that they are set decoration.
Tiger at Southern Hills was only the latest example.
Rock star onstage. Everybody take a seat.