News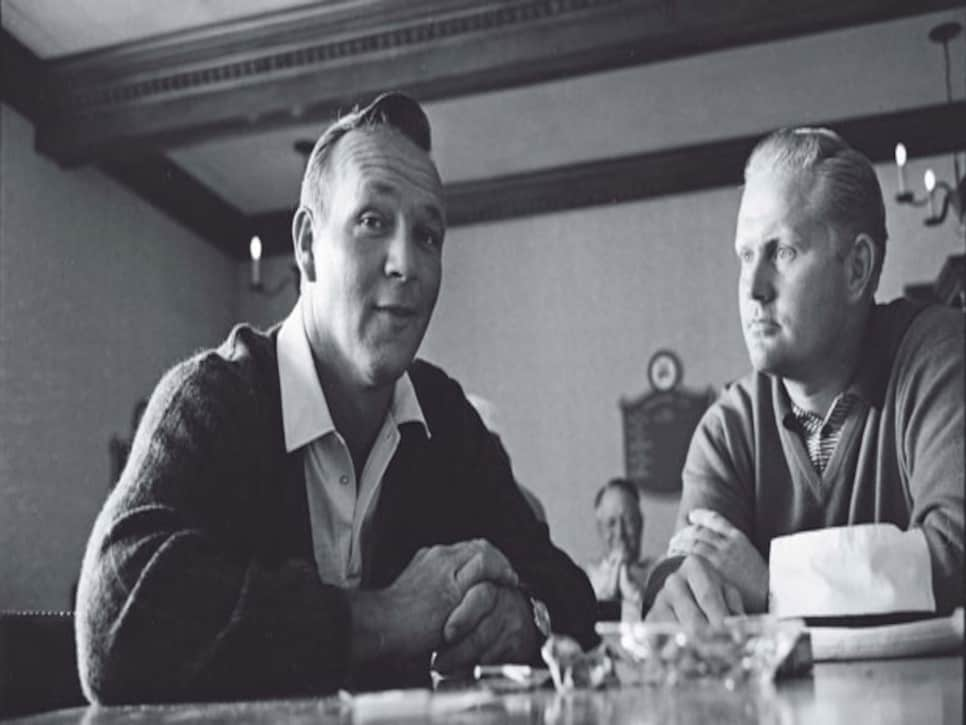 Arnold Palmer, who should have won the Masters six times instead of four, was evidently feeling nostalgic one day when he called up Jack Nicklaus, who should have won the Masters eight times instead of six, to ask him a question pertaining to golf that didn't involve agents, endorsements, appearance fees, course design or swing tips.
My telephone listening device, which I picked up from the CIA for a song, takes it from here.
"Hey, Jack, it's Arnold. How you doing?"
"Oh, hi, Arnold. What's up?"
"I'm just calling to ask you to do a deal with me."
"What kind of deal? I'm fairly busy."
"Well, you know how you've always said you would never be a ceremonial golfer at the Masters?" "Yes, I remember. I still say that."
"Jack, it's time you reconsidered. I want you to be an honorary starter with me at the Masters this April. I would love for you to do this. I think it's more than appropriate, considering how much you've meant to the tournament and the Augusta National."
"I appreciate the invitation, Arnold, but I still don't feel like a ceremonial golfer. I'm still competitive. I'm only 68."
"Jack, you're 70. I checked."
"That might be, but I won a bunch of money back in January. Didn't you read about it?"
"Skins don't count, Jack. I won a bunch of skins myself at Bay Hill the other day. I shot an 81, brought everybody in crisp."
"Did the husbands play, too?"
"Jack, you have to do this. It's not just me asking you to do it. Billy Payne wants you to do it. Every member at the club wants you to do it. The crowd will love it. You and me together again. Remember when we played our first round together as pros?"
"I'll never forget it. We were at Phoenix in '62."
"I helped you out that day."
"You sure did. You talked to me and encouraged me to birdie the last hole so I could finish second."
"I know why you did it, too."
"I was trying to be nice to a new kid on the tour."
"You ended up winning by 12 shots, Arnold!"
"Well, Jack, you got even with me at Oakmont...when you lucked out on me in the '62 Open."
"Lucked out, right. You were duck soup, Arnold. I was driving it a hundred yards past you on every hole."
"You made everything on the greens. I never made anything."
"Well, Arnold, we were very competitive, and we had our differences, but we wound up friends. That's the important thing. And I'm proud to look back and say that we always stood together on things that were best for the game and the tour."
"Absolutely, Jack -- and that's all the more reason you should be an honorary starter with me at Augusta."
"Arnold, I never thought the day would come when you would want us to be Jock Hutchison and Fred McLeod."
"We wouldn't be them, Jack. Think of us as being more like -- I don't know -- Byron Nelson and Sam Snead."
"Great. You know what Sam did when he hit his last tee shot as an honorary starter in 2002?"
"I'll tell you what he did: He flew it into the crowd on the right of the fairway. He hit a guy between the eyes, broke his glasses, and cut the bridge of his nose. I don't ever want to be the guy who hit that tee shot."
"Well, I can tell you how to avoid that, Jack. Just move your left hand over a little."
"Very funny, Arnold. Let me give you another reason this would concern me. Maybe you know the story. About Gene Sarazen and Hord Hardin, when Hord was the tournament chairman? One day Sarazen told Hord he was getting too old to hit the honorary drive. He said he was starting to feel like 'an exhibit in a museum.' That's when Hord said, 'Gene, the people don't want to see you play, they just want to see if you're still alive.' Well, I don't want to be Gene Sarazen any more than I want to be Sam Snead."
"Jack, we're not going to be Jock Hutchison and Fred McLeod, or Byron Nelson and Sam Snead, or Sam Snead and Gene Sarazen. We'll be Arnold Palmer and Jack Nicklaus -- the two guys who won the Masters seven out of nine times from 1958 through 1966."
"I seem to remember that one of those guys won it three more times after that."
"That's why I think Jack Nicklaus and Arnold Palmer sounds better."
The silence lasted so long, I decided to hang up.
Players who have served as honorary starters at the Masters prior to Jack Nicklaus joining Arnold Palmer in April:
Byron Nelson 1981-2001 (nonconsecutive)
Arnold Palmer 2007-present