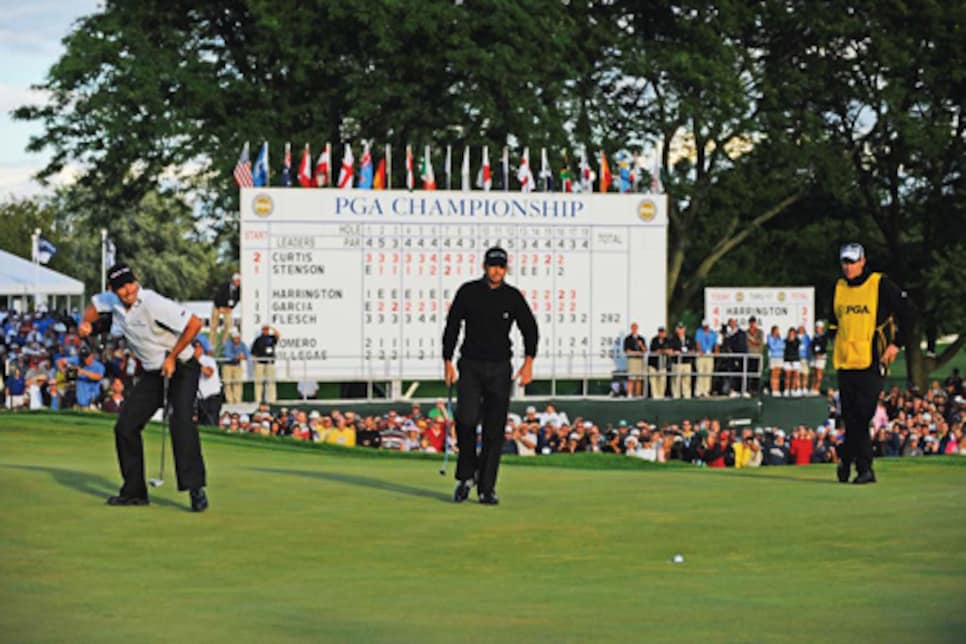 Harrington's par putt on 18 kept Sergio Garcia majorless.
Tiger Woods claimed he wasn't going to watch the year's last major on TV, the PGA Championship at Oakland Hills, but of course he did, and I have the evidence on tape to prove it. I was able to have his home bugged while he was off rehabilitating his bum knee by wrapping the microphone tightly in bearer bonds and stock certificates.
The voices are a little unclear at times because of continuous thumping sounds--the result of a private jet belonging to His Highness Sheikh Mohammed bin Rashid Al Maktoum of Dubai dropping bags of money on Tiger's roof.
Woods rather enjoyed watching the play at Oakland Hills the first two rounds. That was when the Rees Jones-toughened layout--7,395 yards, narrowed fairways, grabbing rough and big, puzzling greens--caused so much suffering. The pros are used to sissy courses on the PGA Tour, but Oakland Hills, outside Detroit, asked them to think and hit golf shots.
They whined and moaned, and Paul Goydos spoke for them when he resurrected an old joke: "If you had Rees Jones re-do Scrabble, he'd leave out all the vowels." It was remindful of what Ben Hogan said to Mrs. Robert Trent Jones after Hogan brought the monster to its knees in 1951. (Oakland Hills, a Donald Ross design, was also remodeled by Rees' father, Robert Trent Jones, before the 1951 U.S. Open.)
Ben said, "If your husband had to play this golf course for a living, he would be standing in the bread line."
Tiger watched most of the contestants wind up in jail on the course, just as the mayor of Detroit was in real life.
One of the first-day leaders was a Swede, Robert Karlsson, who said, "I'm so tall [6-feet-5] it's all up to what my arc wants to do." The other was Jeev Milkha Singh, whose name provided a typing test for everybody in the press center. Karlsson and Singh managed 68s.
There seemed to be others in the room with Tiger. Unidentifiable voices. Presumably trainers, medics, friends.
Tiger was heard to say on Thursday, "Karly's going good."
Tiger: "Karlsson. The Swede who got to walk inside the ropes with me at Torrey on Saturday. Had a great view of my two eagles and chip-in birdie on the final six holes. He was top 10 in the first three majors this year. Could win the combined with me out of it, but he won't win the PGA. Swedes can't close."
On his cell Tiger put in a call to his friend Doug Ferguson, the AP golf writer, to get some inside scoop.
Tiger: "Dougie, my man. Talk to me."
Doug: "Mickelson started off bad. He bogeyed the first two holes."
Doug: "You didn't watch Phil?"
Friday was the day Karlsson's arc took him to a 77, and Jeev's 74 made the correct spelling of his name less important. Meanwhile, the day was taken over by J.B. Holmes, the scandalously slow-playing 26-year-old Kentuckian--5-feet-11, muscular, goatee--who shot a 68 to lead at one under. One way he did it was to play the 542-yard second with a 400-yard drive, a 142-yard wedge and a two-putt birdie.
Tiger said, "Holmesy can launch it."
Voice: "That's him on the screen, huh? He's wearing a funny cap--like all the others. Can't read the company name on it. Some of these players wear more logos than a NASCAR Chevy."
Before the dueling rainstorms prevented Holmesy, the leader, from ever teeing off on Saturday, the day belonged to the strong, young Andres Romero, who has been described by those familiar with golf in Argentina as the real Angel Cabrera.
On a course where the PGA of America had buckled under to the complaints of the tour pros and watered the greens, trimmed the rough and shortened some tees for the third round, Romero, 27, went out and made seven birdies and shot a 65 despite two bogeys. He said that he hit every shot "excellent," "great" or "perfect," so it could've been a 63, right?
Thus, you had to give the PGA officials an assist for bringing this particular Oakland Hills monster to its toenails, not its knees.
Romero was trying to forget the quad he made at 16 on Friday that led to a 78. His explanation: "I was disconcentrated the rest of the round."
Tiger was on his cell again Saturday.
Tiger: "What's up, Dougie?"
Doug: "Water is leaking on my head through the roof of the press tent. You beat 'em again, buddy. You're two for two. You missed the blizzard at Birkdale and the typhoon at Oakland Hills."
Doug: "The sky is darker than Beijing. There's thunder and lightning, and it's raining another log-floater."
Tiger: "Who do you like to win it?"
Doug: "Right now? Michael Phelps."
Tiger slept late Sunday and joined his friends at the TV to find Ben Curtis leading at two under through 54 holes, one stroke ahead of Holmesy and another Swede, Henrik Stenson. Padraig Harrington, the British Open champion, and the majorless Sergio Garcia were three back. They had gone out in the morning and taken advantage of the soft conditions. Nobody did it better than Harrington, who hammered it with a 66, but Curtis' 68 is what had given him the lead.
Tiger: "Ben Curtis. Nice guy. Stole the British the year Thomas Bjorn gagged."
Tiger's nicknames for people reflect his upbringing. It's a California thing.
So it was that the majority of the field was asked to play 27 holes or more on Sunday, starting off two tees, the first and 10th. I couldn't even remember if the last round of any major had ever gone off two tees, and in threesomes at that.
Tiger missed all of the action on Sunday afternoon. He had meetings with bankers, hedge-fund managers, food tasters.
Friends filled him in on the good golf on the front nine by Sergio and his comedy of errors on the last three holes to hand the PGA to Harrington, who played the final 36 holes in 66-66 for a winning score of three under par.
They also told him how Holmesy made a triple-bogey 7 on the first hole and shot 81, how Romero remained "disconcentrated," and how Curtis, despite getting the greatest free drop in history after his tee shot on 16 landed in a hospitality area, couldn't pull off another shocker.
Sergio, after playing the best golf of the day for 15 holes, started to hit it with his throat and found a way to bogey two of the last three holes and blow a five-foot birdie in between. This after shooting 31 on the front to lead by one on the 16th tee.
But when you bogey two of the last three holes, it's hard to beat Harrington when the Irishman--who seems to own only one white shirt--is taking only 11 putts on the last nine holes.
With his British Open title in July, Harrington now becomes the first cross-handed putter to win two majors in one year.
Tiger absorbed all that news and was heard to say: "I guess Sergie is still the best player in the world who's never won a major."