News
Jay Monahan, the PGA Tour's next commissioner, will approach the job expertly, "and with a soul"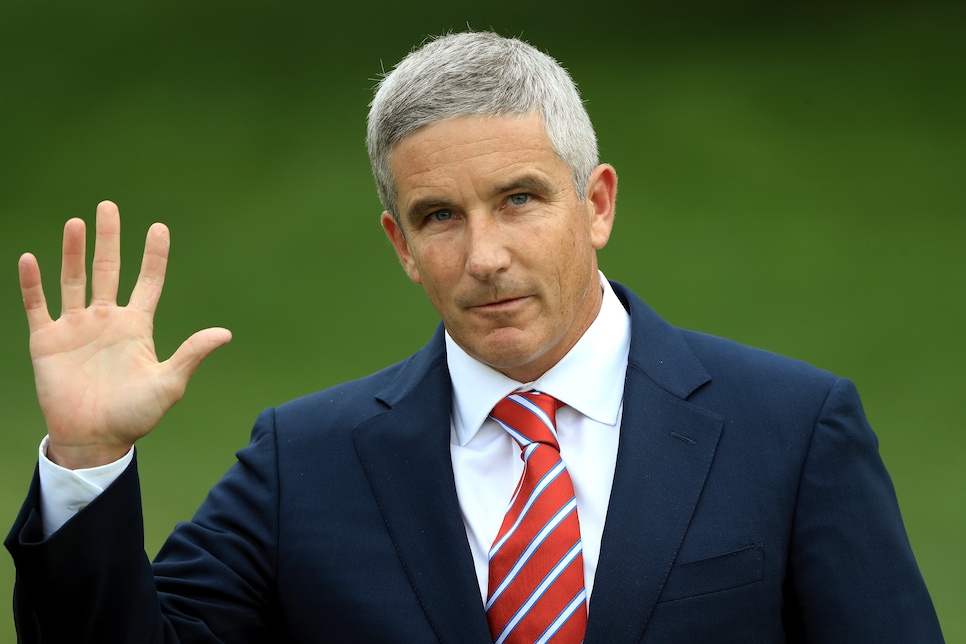 At the moment, he's mostly known as the trim, smiling, somewhat anonymous figure at PGA Tour functions and presentations who, despite his close-cropped silvery hair, appears younger than his 46 years.
On Monday Monahan became the tour's fourth commissioner, following two other trim - but generally more grim – figures who both served more than two decades in the job, Deane Beman and Tim Finchem. He officially takes over on Jan. 1.
A thumbnail profile: grew up in suburban Boston in a large, close-knit Irish Catholic family, the oldest of three brothers, and the descendant of three previous generations of prominent Boston attorneys. The whole family played golf, including his late mother, Joanne, who died in 2007, and his grandmother, at Winchester CC, a classic 1916 Donald Ross design.
Monahan attended Trinity College in Hartford, where he played hockey and golf and was a Division III Academic All-American. After graduating with a degree in history, and later a masters in sports management from Amherst in 1995, his early jobs included managing global marketing for EMC Corporation, which included overseeing the former ADT Skills Challenge and a world golf championship. After joining IMG, in 2002 he became the first tournament director of the Deutsche Bank Championship. In 2006 he went to Fenway Sports Group, where he directed sponsorship sales for the Boston Red Sox and NASCAR, before joining the PGA Tour in 2008, bringing his wife and two daughters to Ponte Vedra, where he was soon appointed executive director of the Players Championship. Other weighty titles – senior vice president for business development, executive vice president and chief marketing officer, and in 2014 deputy commissioner – followed, as Monahan clearly became a Finchem favorite and clear successor.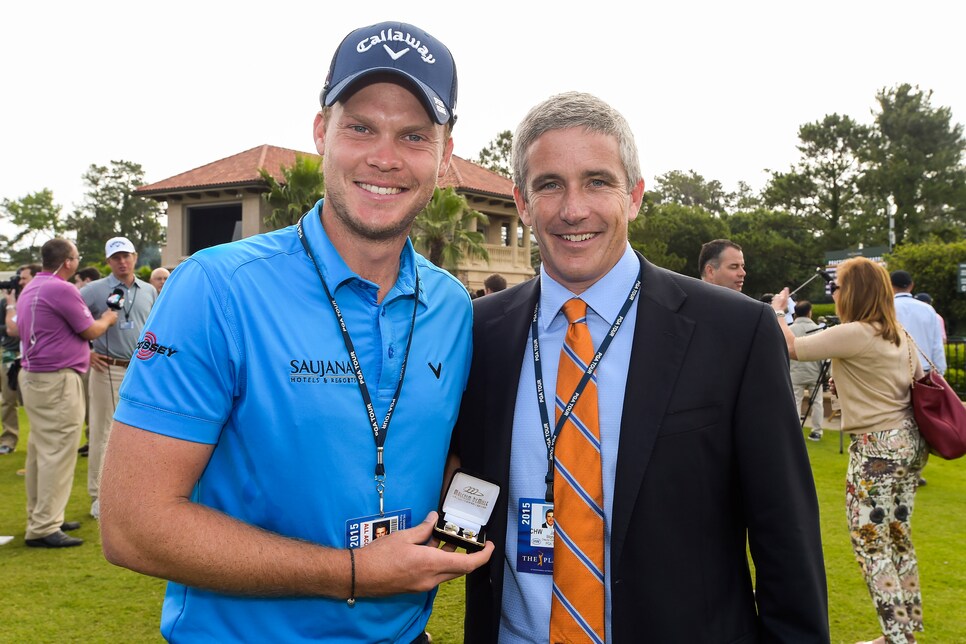 It appears a model resume for – to borrow from Peter Jacobsen's metaphor when Finchem took over for Beman – "keeping gas in the Mercedes." But influential insiders already see Monahan as an agent of change. One who will be more people oriented toward corporate sponsors, who are being forced to apply a more stringent standard of cost effectiveness to their sports buys.
"Tim did a great job, but the client-service part of it is not something the tour has done well, and I think Jay will change that," says Seth Waugh, who while CEO of Deutsche Bank Americas hired Monahan as his tournament director. "Jay makes everybody feel like a partner, because he thinks that way.
"The world has changed. Before if a CEO liked golf, he could probably have a tournament. The secret sauce of the whole thing is getting 35 companies to spend $10 million-plus a week. And that doesn't just happen. It should be kind of fun, and sponsors haven't been feeling that good about the deal. That has to be cultivated."
"The commissioner model at the tour with Deane and Tim has been kind of a monarchy," Waugh continued. "Peter Dawson at the R&A was also imperial. But just as Rob Manfred at MLB and Adam Silver at the NBA have adjusted, Jay's not going to run it that way. He works in concert more than by controlling."
Another longtime power broker, Alastair Johnson of IMG, said, "Jay's learned a lot from Tim, but he'll be his own guy. I think he will be generally more engaging. Tim often seemed scripted, and with Jay you know a lot of it is extemporaneous, from the mind and the heart. He'll have to say no, but will not say no as abruptly as his predecessors. Jay's great strength is building relationships -- personal, political or corporate. He has the gift for being personal, political and corporate at the same time."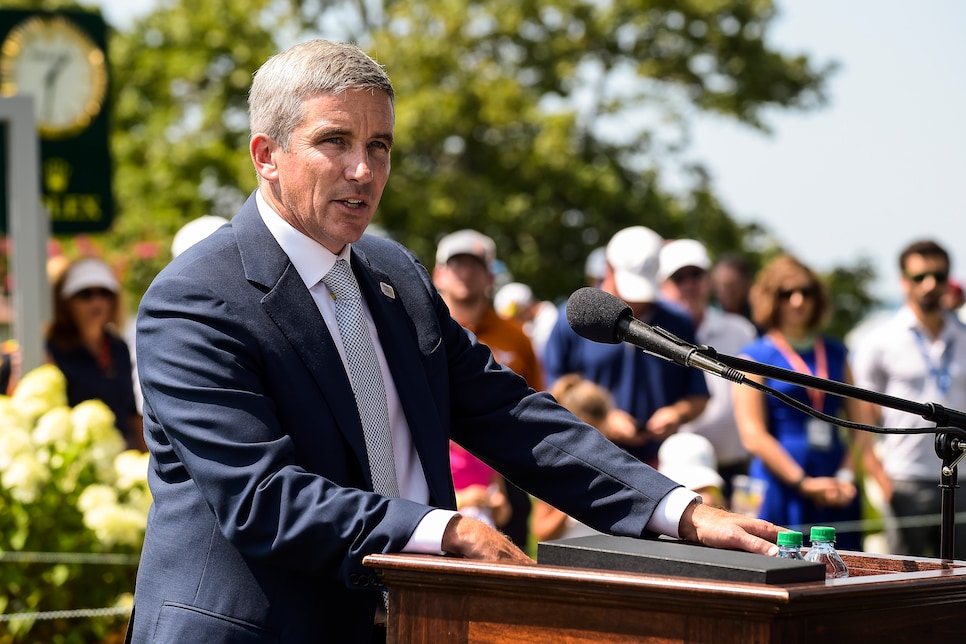 Monahan is often described as modest, deferential to elders, and a good listener. Brad Faxon, who Monahan once represented as an agent, considers him a stealthy high achiever.
"Jay never acts like he's completely got it, so he's kind of deceptive in his aptitude," says Faxon. "He's like the normal kid on the block who you knew would do well, but then you're surprised at how well he's doing. But ask anybody about Jay Monahan, and a smile instantly comes to that person's face. He's one of the greatest salesmen I've ever met. He can make anybody say yes."
It was Waugh who recommended Monahan to Finchem. "Tim called and asked, 'I need a guy in sales. Who's the best guy you know?' I said, 'Jay Monahan.' Then I told him, 'Tim, if you hire him, he'll be your successor someday. I'm serious.'"
At his last press conference at this year's Tour Championship, Finchem was effusive in praising Monahan as he passed the torch. "Getting him going is the right thing to do. It just feels good," said Finchem. "He doesn't have a negative moment in his day. He is a total glass-is-half-full individual, and I think you'll see that as we go forward."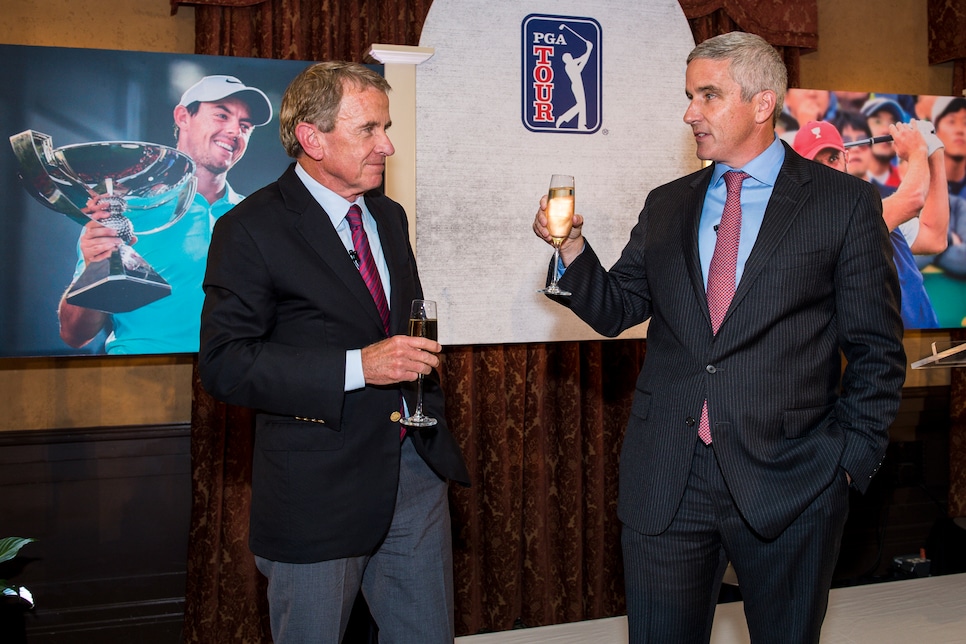 In a gesture of appreciation and respect for the end of Finchem's 22-year tenure, Monahan declined to be interviewed for this story. As did his father, Joseph Monahan III (Jay is IV), an attorney known for a cagey "Columbo" persona who on the golf course is renown as "Joe the Pro" for his prowess and now at 71, age-breaking rounds. In the Winchester Father & Son Invitational, which since 1919 has been the oldest father and son event in the United States, the elder Monahan has a combined 13 titles with his three sons, including four with Jay. They will pair in the pro-am of the PNC Father/Son Challenge in early December.
"Jay comes from the game, it's standards, it's rules, it's ethics," says Paul Spengler, executive vice president of Pebble Beach Company, who is a mentor Monahan calls "The Godfather." "And he's a better person for it."
Monahan's character was displayed in the first year at Deutsche Bank. A bus carrying spectators to the tournament from a parking area at Gillette Stadium hit a windblown steel gate. Tom Kelly, a 64-year-old high school football coach and English teacher, eventually died from his injuries. The tournament was not liable in the resulting lawsuit, but Monahan made a point of reaching out to the Kelly family, making sure they have been part of the tournament every year since.
"When that happened, Jay went to the hospital, sat with the guy and his family," says Waugh. "He owned something that he didn't have to own. He did it quietly, and with a soul. That's Jay Monahan."