The Loop
Jason Dufner's similarities to hero Ben Hogan go beyond his golf swing
If he were alive today, you'd have to wonder what Ben Hogan would've thought about the art of Dufnering. Out of respect to the 95th PGA champion, would the Hawk have sat with his back up against a wall, legs straight in front of him, and sent out a Twitter pic in celebration of Jason Dufner's victory yesterday at Oak Hill?
"Absolutely not," Dufner said when we sat down Sunday night. "And if he did, he wouldn't let me publicize something like that on Twitter."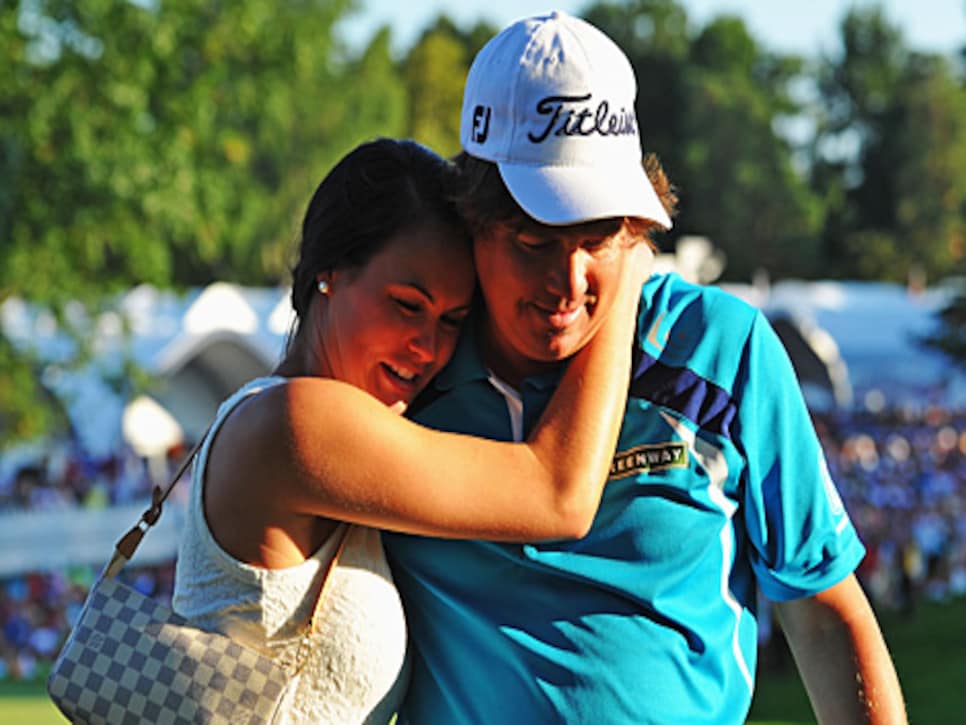 Notwithstanding Duf's tousled mop of hair and the social media craze he invented, chances are Hogan would have admired Dufner for being respectful of his mystique, and most of all, for the way he can strike a golf ball. After he had broken Hogan's course record 64 on Friday, I asked Dufner about his reverence for the Hawk, and he admitted, "You feel like you're fighting him a little bit, trying to not let it happen."
Dufner told me he admired Hogan because of the adversity he went through. Hogan came back from a near-fatal car crash, Dufner from his parents' divorce, walking on at Auburn because no D1 schools were offering a scholarship and, later, losing his father to cancer when he was in his mid-20s.
And although his swing isn't a carbon copy of Hogan's, it is pretty close in the eyes of Chuck Cook, his 68-year-old instructor. "If you look at it in slow motion, it's pretty flat," Cook said. "Personally, I think it's the most efficient swing out there."
The toughest part about shooting 63 and tying the 18-hole major championship record is that there were two rounds to go. And with a shaky putter, knowing he let the 2011 PGA slip away to Keegan Bradley, the tough part lay ahead. As Dufner's wife, Amanda, told me that day, "Too bad it's not Sunday night."
Come Sunday, Dufner was Hoganesque, knocking down flagsticks, doing what Valerie Hogan once told Ben when he was struggling with his putting, "Hit it closer." Dufner did, time and time again, striking the ball about as well as you can hit it over the final 18 holes of a major championship. He followed the words of Cook, who told him Saturday night, "Go ballstrike the heck out of them tomorrow."
Never has there been a more unassuming flat-liner to win a major. Remember, this is the same unassuming Jason Dufner who stood at the podium on Friday and said, "I don't think I've been the first to do anything in my life."
Well, this was a first. No golfer from Auburn had ever won a major championship. And, of course, nobody ever shot 63 at Oak Hill before, or finished a major on the East course at double digits (-10) under par. In the 1956 U.S. Open, Hogan missed a 30-inch putt on the 71st hole to miss a playoff with Cary Middlecoff by a stroke.
"I didn't practice many four-to-six inchers to win a tournament," Dufner said. "But you know, it was the perfect ending for me."
Just like the Hawk, understated.