News
Jason Day's emergence, Jordan Spieth's mini-slump, and Nicklaus' record tied: Dew Sweeper, May 22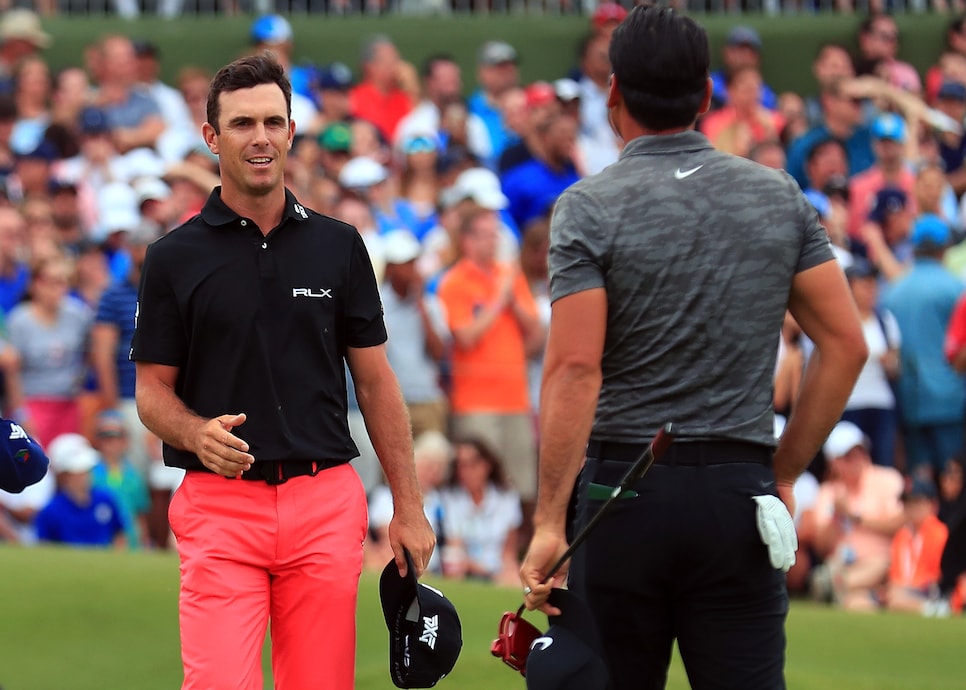 Welcome to the Dew Sweeper, your one-stop shop to catch up on the weekend action from the golf world. From the professional tours, trending news, social media headlines and upcoming events, here's every golf-related thing you need to know for the morning of May 22.
Back in the high life for Billy Ho
Since his breakthrough fall in 2014, Billy Horschel has made more headlines for his wardrobe and candor than his play. And the AT&T Byron Nelson wasn't envisioned as a turning point as Horschel entered Dallas with missed cuts in his last four appearances. Yet the former Florida All-American was the last man standing Sunday night, defeating Jason Day in a playoff to win the event's final run at Las Colinas.
Final-round conditions did not facilitate graceful performances from the field, Horschel included. Yet he dropped a 59-foot bomb for birdie—the longest putt of his career—on the 14th hole to jumpstart the action, and he and Day traded birds on the 15th and 16th to force overtime. A three-jack from Day at the first playoff hole gave the title to Horschel, his first since the 2014 Tour Championship. More importantly, it gets Horschel into Erin Hills, as well as a return trip to the Masters after missing the year's first major in April.
Damndest thing, Horschel hadn't played the Nelson in five years because he hated the course. Go figure that the event moves to Trinity Forest starting in 2018. Don't know what you got til it's gone.
Yes, that missed putt was groan-inducing, but Day didn't need a trophy to walk away a winner.
It's easy to forget that this time last year, the Aussie had just captured the Players Championship, his seventh W in 17 events. But Day has battled demons on the course and off in 2017, correlating to just one top-10 in his previous 13 events heading into the Nelson.
However, for the first time since Riviera in February, Day had the stride of the star we witnessed the previous two years. Though his putter was shaky throughout Sunday, he still finished second in the field in strokes gained/putting, and more importantly, was 16th in strokes gained/off-the-tee. Considering his struggles in both areas this season (52nd off-the-tee, 69th in putting), it's progress that should give Day hope—and strike fear into the competition. For Dustin Johnson, Jon Rahm, Justin Thomas and others have put on a show this season. But when Day has his complete game working, it's a fireworks display few can match.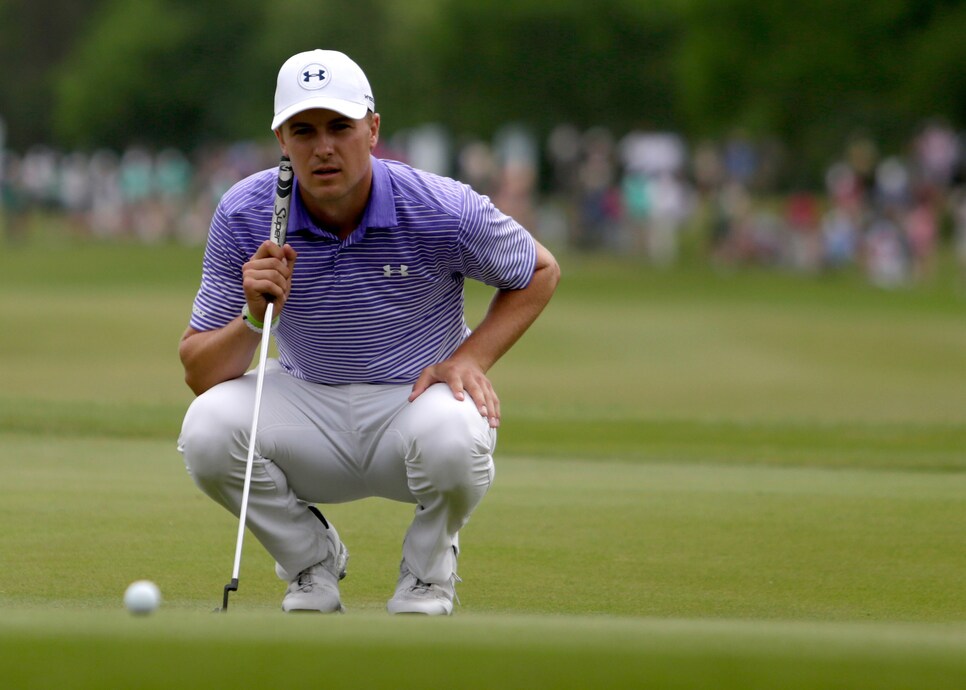 Thanks to a quadruple bogey late in his Friday round, Jordan Spieth missed the cut at the Nelson. The result itself is not alarming, (although not making the weekend at a sponsor's event in his hometown had to be a bummer). However, it is Spieth's third MC in his last four individual starts, and he hasn't posted a top-10 finish in seven starts since winning at Pebble Beach. (Spieth did finish fourth with Ryan Palmer at the Zurich Classic team event.)
The source of this slump lies with the flat stick. Entering the week, Spieth ranked 39th in strokes gained/putting and 95th in overall average. For context, he ranked second in strokes gained and first in overall average last season. So frustrated was Spieth on the greens that he changed putters on Thursday; alas, he still finished with a -1.557 sg/putting figure for the tournament.
"I'm standing over it and I don't feel like I've got a stroke that's producing contact at the right time and I put in a lot of work this week," Spieth said on Friday. "I put in plenty of work. It's kind of a thing in my head. I got to get a couple to go in and right from there and didn't quite happen."
Luckily for Spieth, he heads to the friendly confines of Colonial; in four career starts, he has three finishes of T-7 or better—including a victory at last year's Dean & DeLuca Invitational. And as Horschel and Si Woo Kim have proved in back-to-back weeks, momentum in golf can be overblown. Nevertheless, for a guy who's lost ground to his rivals the past 14 months, it's time for Spieth to right the ship.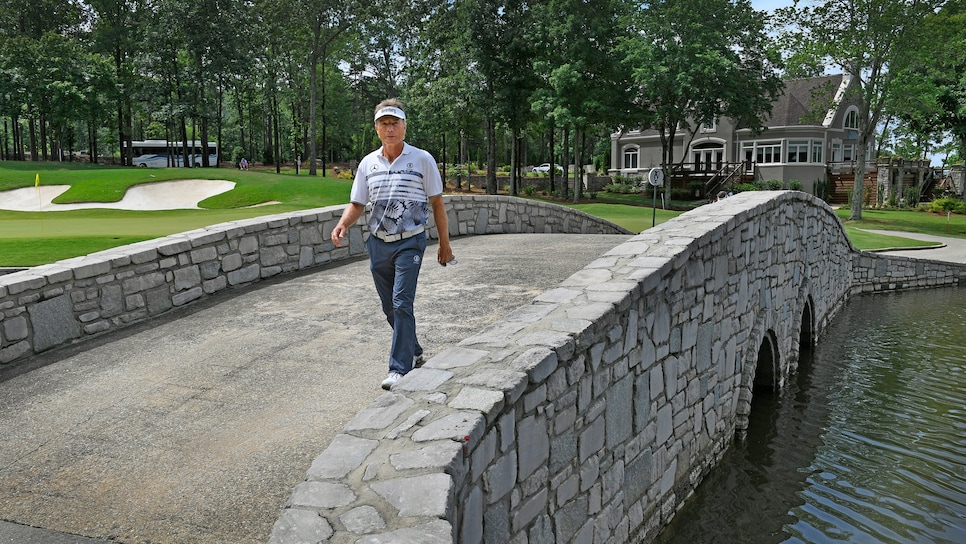 Langer ties Jack for majors (kind of)
Never thought we'd write this, but Jack Nicklaus' major record has been tied.
No, you didn't go comatose and miss a Tiger comeback. Bernhard Langer made nine birdies at Greystone Golf & Country Club on Sunday in route to a 64 and five-stroke victory at the Regions Tradition. It was the 59-year-old's eighth major on the senior circuit, tying the Golden Bear's Champions mark.
"It's a great honor," Langer said. "Not many people can say they match Nicklaus in anything. To have won as many majors on this tour as he has is outstanding obviously and a thrill for me."
Langer had a Hall of Fame career prior to turning 50, winning 40 times on the European Tour to go along with two green jackets. But in terms of prestige on the Champions, the German is in another stratosphere; only Hale Irwin has more Champions wins than Langer's 31. Revere golf's youth revolution all you want. Just don't exclude Langer's ageless wonder routine from the conversation.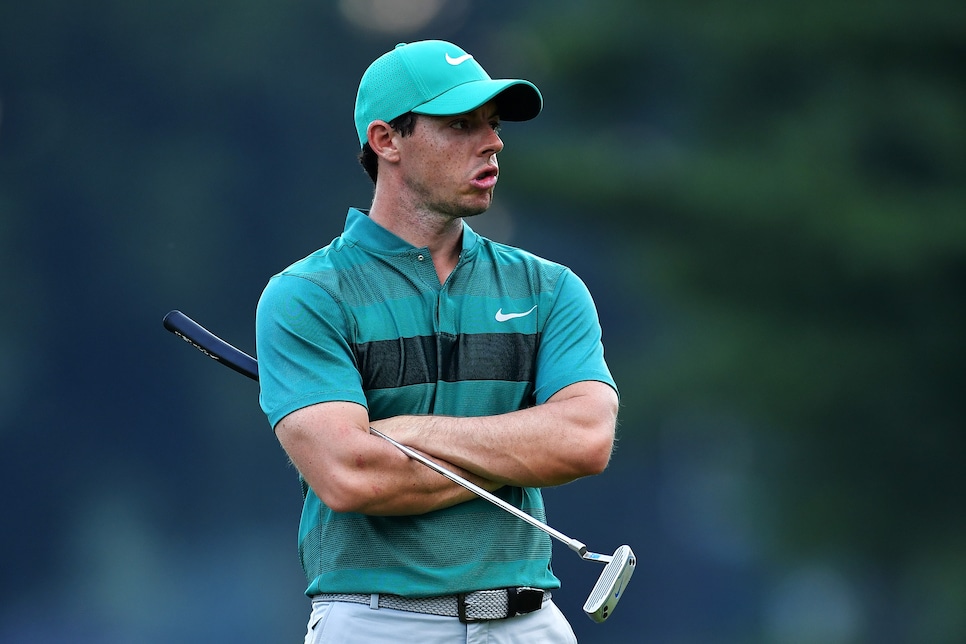 McIlroy to miss more time with rib injury
In a startling admission, Rory McIlroy told reporters after his first round at the Players Championship that his back was still bothered by the rib injury that sidelined him earlier this season. Though he played all four rounds at TPC Sawgrass, the four-time major winner announced on Friday that the issue will keep him out of this week's European Tour BMW PGA Championship.
"It's a disappointing decision to have to make, but I have to ensure I make a full recovery," McIlroy said in a statement. "I will now continue the process of preparing my game for the US Open and the rest of the season."
How bad it is? McIlroy's so banged up he has alignments even he's not privy to:
Though the injury is not considered serious, it may limit McIlroy's preparation to the U.S. Open. Given his recent vexation at the tournament—since his win at Congressional, the 28-year-old has finished inside the top 20 just once in five tries—it's an inauspicious start to his Erin Hills rehearsal.