PGA Tour
Jason Day is grimacing, sniffling, cringing—and (somehow) in posititon for a narrative-flipping win at the Travelers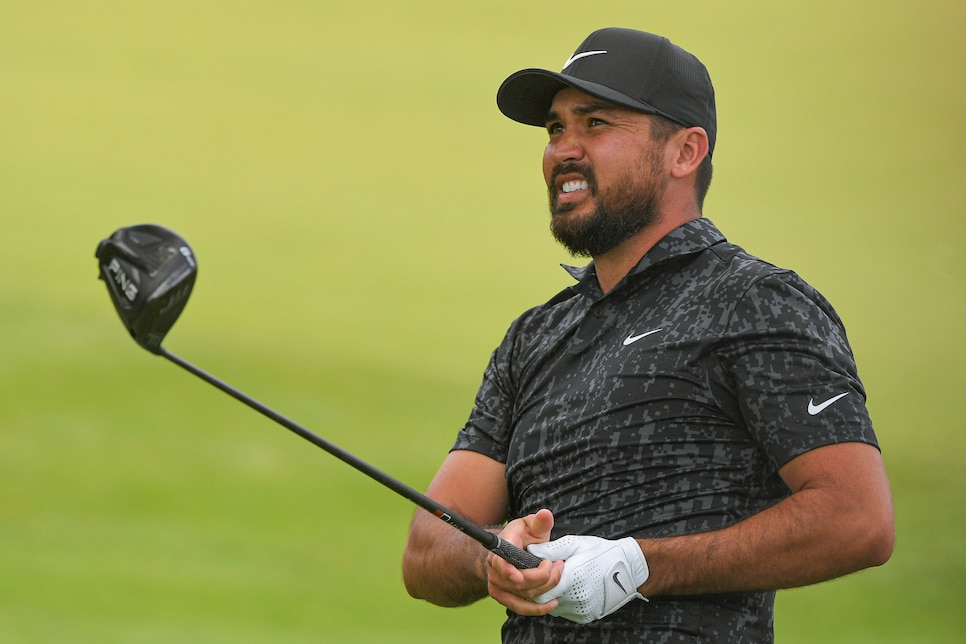 Jason Day of Australia watches his drive on the third tee box during the third round of the Travelers Championship.
Ben Jared
CROMWELL, Conn. — It wasn't so much that the streak ended; it was how it did. Beginning with the 2012 PGA Championship, Jason Day had played in 34 straight major championships. But, having fallen outside the top 60 in the World Ranking and out of exemptions, he faced the sobering reality of having to qualify for the U.S. Open if he wanted to keep the streak alive.
Rickie Fowler found himself in a similar position. He swallowed his pride and teed it up in Golf's Longest Day, eventually missing a playoff by one. A valiant, even charming effort. But Day? In May, when asked if he planned to play his way into the field, he said he would not because of a prior obligation. Namely, a NetJets corporate outing. Still, he at least registered for the 36-hole Final Qualifying site in Columbus, Ohio—that is, until he withdrew from the Memorial with the newest iteration of an ever-present back issue. He then pulled out of qualifying and, just like that, the major streak died without fanfare.
The whole ordeal was a depressing indictment of the State of Jason Day. At 33 years old, he "should" be in the prime of his career, for whatever that's worth. A former World No. 1, he "should" be filling out his trophy case with additional hardware. But the Australian has not won in more than three years now, has just one top-10 in 11 starts this year and sits at World No. 71, a number that makes him cringe. After the NetJets comment, you wondered about his motivation levels. This guy is skipping a U.S. Open qualifier for a corporate day? After the Memorial withdrawal, you wondered if the man's back would ever allow him to return to golfing relevance. How many times has he pulled out with a bad back?
All of which makes his performance at this week's Travelers Championship rather intriguing. Watching Day play, the spectacle jibes with the overall vibe of the last couple years. His movement is labored, his gait more tip-toe than strut, his countenance bordering on joyless. Day is struggling with significant back stiffness this week and some gnarly allergies to boot; he grimaced after nearly every swing on the back nine Saturday and needed eyedrops, which playing partner Bubba Watson happened to have in his pocket. (Golf: a gentleman's game, where you share eyedrops with your competitors). He looks an entirely different human from the one who dominated world golf in 2015-16, winning eight times including a major over in a 15-month stretch.
And yet, optics aside, Day has a great chance to win the golf tournament. Despite a bogey at the last, Day's even-par 70 has him at nine under for the week, just one back of the lead shared by Watson and Kramer Hickok.
"It was killing me to watch the U.S. Open sitting at home," Day said. "I said that to my wife. I'm just trying to slowly work my way back to where I need to be. Right now I feel where I'm at world-ranking wise, I just need to go and take some time off and just try and get my game back to where it should be. I'm just slowly stepping in the right direction."
Day insists the back cannot get worse, that there is nothing structurally off. Before the Memorial, he was feeling the best he has in years. "Bulletproof," is how he put it. "One-hundred percent, like I never had a back pain in my life." Last winter, he began working with instructor Chris Como in an effort to build a swing that does not ravage his back, and the work seemed to be paying dividends. Then, during a routine exercise the week of the Memorial, a tweak. Another tweak.
This week marks his first start since the PGA Championship, a full month ago. If the back has indeed healed even a little, it's not showing. And still, there he is, sky-high on the leader board.
"It's fine. It is what it is," Day said. "I was just saying before, it's not stopping me from hitting some good golf shots, which is nice. The stiffness is not stopping me from hitting good golf shots."
In a perfect world, Day would take a few weeks off and get the back sorted. But his poor play has denied him that luxury.
"In the middle of the season, you don't have time to kind of get ready," he said. "I'm not 21 anymore, so it doesn't recover like it used to. I'm really high on the FedEx [Cup standings], so got to try and do something to get myself into the playoffs. Definitely got to try and get myself inside the [World Ranking] top 50 so I can get back into the majors. It's a pretty critical time for me. It's just to have an injury like this—or not even an injury, but have a stiff back knowing that I have to go out and play. So I just got to suck it up and just do it."
I have to go out and play. Does he, though? Day is inching toward $50 million in career earnings, 12th all-time on the PGA Tour. With 12 wins, including a major championship and a Players Championship, he's likely already a Hall of Famer. He and his wife, Ellie, just welcomed their fourth child. He has set up his children and his children's children, seen the view from the very summit of this sport. There is nothing left to prove.
That was a strange paragraph to type, for it resembles a career eulogy. But Day is 33, not 43 or 53, and what you said last month and what you do after you swing and how you look as you walk do not matter in this game. What does matter is your score, and Day's this week has been excellent. A victory Sunday at TPC River Highlands would vault him back inside the top 50 in the world. It would flip the narrative completely. It would get him into all the majors and jumpstart a comeback that, just a few days ago, seemed non-existent. Hell, it still looks non-existent.