News
Jason Day continues push to plug missing hole from his golf resume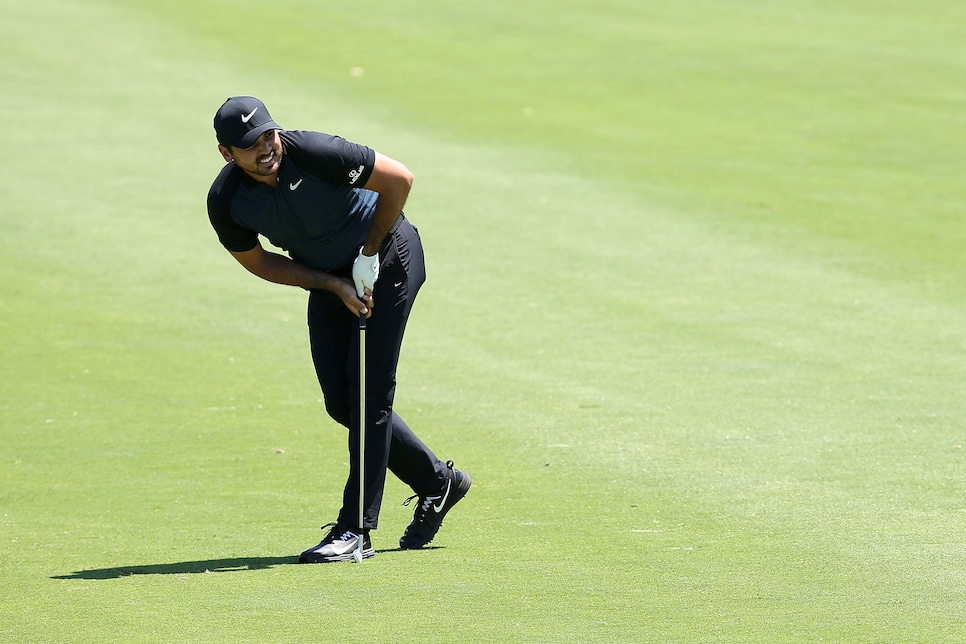 Jason McCawley/Getty Images
Jason Day's motivation this week at the Australian Open is obvious. Nearly every prominent golfer in the country's history has won this title, something Day has yet to accomplish in his burgeoning career. But with a second-round 68 to go with his opening 66, the 30-year-old former World No. 1 is just one-stroke back of fellow Aussie Lucas Herbert at eight under through 36 holes at The Australian Golf Club.
And that's with a bogey on the 17th hole and only a par on the vulnerable par-5 18th.
OK, so it wasn't the finish Day wanted on Friday. But his four straight birdies on the back nine hint that his swing and game are crisp. He nearly chipped in for a fifth straight on the par-4 16th before his late stumble.
"This would be a nice little end-of-year cap," Day said. "A win is a win regardless of where you play. To have the Stonehaven Cup on the mantle would be great. I know I just don't want to win one of these; I want to win multiple Stonehaven Cups and Australian Opens."
Day hasn't competed in the event in four years, but has been vocal about returning to play in the event and wanting to win. His last victory in his home country came when he teamed with Adam Scott to win the World Cup of Golf at Royal Melbourne in 2013.
A victory, too, would help put a bright spot on a year in which Day failed to win a tournament for the first time since 2014, his closest call coming in a playoff loss to Billy Horschel at the AT&T Byron Nelson in May.
At the start of the week, Day talked about a showdown with the tournament's other top-ranked star, defending champion Jordan Spieth. Yet for a second straight day, Spieth struggled to build any momentum, this time being hurt by a balky putter as he shot an even-par 71 with 34 putts. His one-under 141 leaves him eight off the lead, and seven back of Day.
Despite the hefty deficit, Spieth is confident that he's not out of it just yet.
"I feel like you can make up ground on this course just about more than any other we play," he said. "So I think you can come from behind in this tournament more than at any tournament I have played this year. Out early on Saturday morning in the calm conditions, I am going to have a pretty gettable course to play. But in the afternoon the guys are really going to have to watch themselves. So if I can post something like 65 or 66 I'm going to be very much in this tournament."