Instruction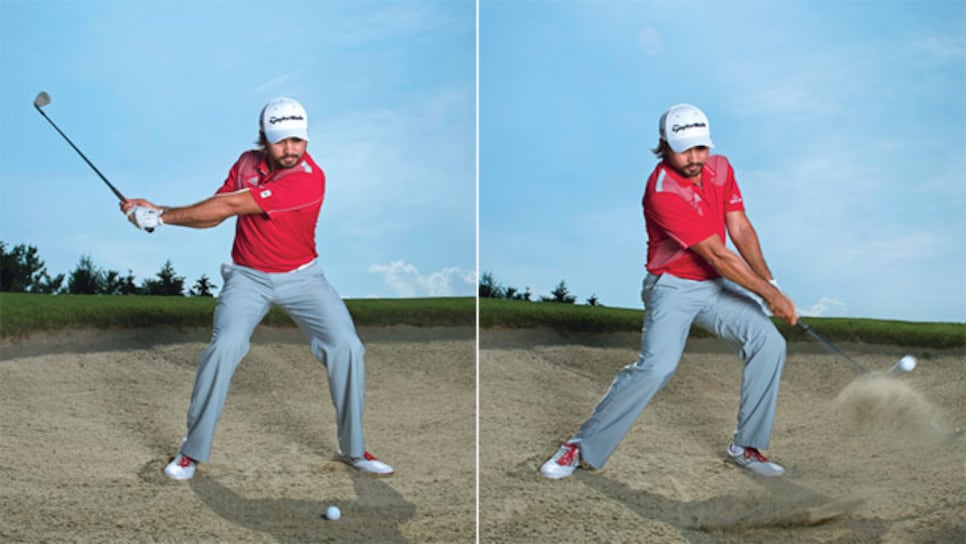 One of the biggest reasons amateurs struggle with bunker shots is that they don't keep a level head. No, I don't mean they panic. I mean literally. Their heads dip as they swing the club down into the sand, or they pull up to try to help the ball out of the bunker. If you want to consistently skim the club through the sand under the ball—which is the whole deal on bunker shots—keep your head as level as possible. Here's how you make that happen.
It's really hard to slide the clubhead through the sand and under the ball if you swing from your standard address height. The motion is too up and down. You can see here I've widened my stance to get lower to the ground. Keep in mind that whatever posture you're in, you'll need to maintain it. Don't get so low that your body isn't stable.
Even though you're supposed to hit a greenside bunker shot fat, you don't want the club entering the sand too far behind the ball. You still have to propel it out. Pick a spot just behind the ball, and focus on that spot when you swing. It might help to pretend the ball isn't even there.
Another thing I see amateurs do is quit on the swing when the club enters the sand. Don't be afraid you're going to hit the shot too far. Trust me, you can make a full swing as long as you skim the clubhead under the ball. It'll come out high, land softly and stop fast. That's how to set yourself up for a sandy.
Jason Day, who won the WGC-Accenture Match Play in February, got up and down from greenside bunkers 81 times on tour in 2013. His sand-save percentage (61.4) ranked 11th.