Equipment
Jamie Sadlowski takes us behind the Grandpa Jamie shoot and discusses his budding pro career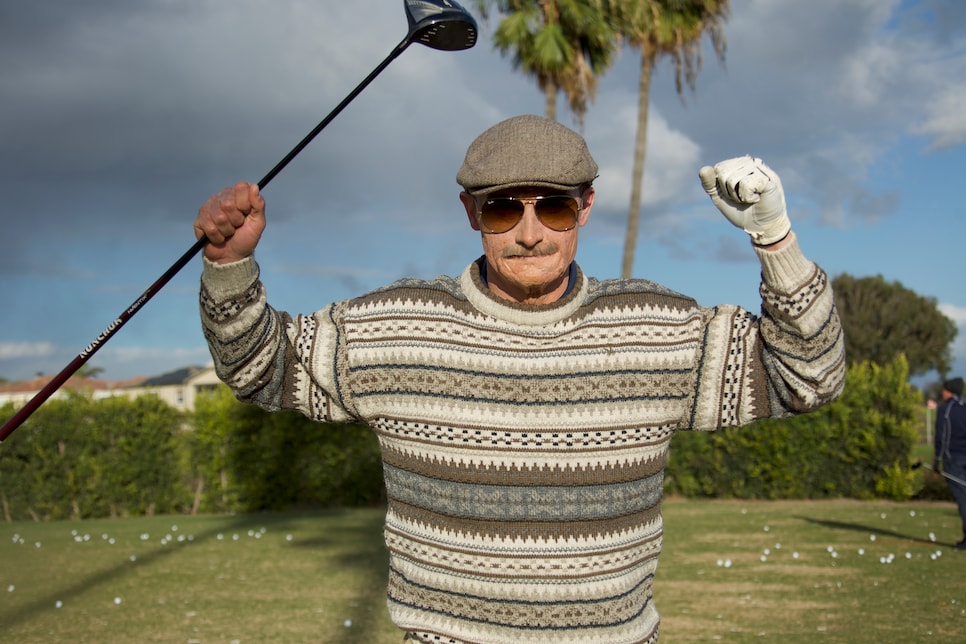 Jamie Sadlowski is a former two-time World Long Drive champion, winning back-to-back titles in 2008 and 2009. Now transitioning into playing professional golf for a living on the Mackenzie Tour in Canada, the 29-year-old Sadlowski went through a transition of a different kind recently when his equipment sponsor, Cleveland Golf, asked him to play Grandpa Jamie, a crotchety old geezer who roams the range offering tips and then bedazzles golfers by ripping 400-yard tee shots with his Cleveland Launcher HB. Cleveland filmed Sadlowski in character at the range at Sea Cliff Country Club in Huntington Beach, Calif. We caught up with Sadlowski to ask him about the experience, including whether anyone recognized him and the need for a little "liquid courage" to fully get into character.
That looked like a fun thing to do. How did it come about?
Cleveland had the idea and they rolled around with it a bit with my agent. When they finally came to terms they pretty much told me what we were going to do and to start preparing. I didn't have much say, but I thought it would be fun. And it was once I got out of my shell.
Have you ever seen Kyrie Irving's Uncle Drew?
I have. I watched a lot of those and they were funny. I'll never be a great actor but I watched those videos just to see what he did and took some cues from his voice and some different mannerisms. They were well done and funny and I was hoping we could do the same.
Have you ever done any acting before, even grade-school play type stuff?
Nothing. I've always shied away from it because it's really not in any of my fibers to do this. I've done commercials and since 2007 I've done a fair amount of stuff in front of a camera. But something like this, where I have a producer in my ear telling me to go over to some guy and tell him his breath stinks, well, that's not something you can really prepare yourself for. I'm not totally new to it, but it's a different experience for sure.
How long did the makeup process take?
It took about five hours. It was pretty grueling and then to take it off afterwards took about another 90 minutes. It doesn't happen overnight. I don't know how actors in Hollywood do that every day for months on end as they shoot their movies. That's beyond me. It's not easy to deal with. That said, I was stunned by the transformation. When they first put the face mold on and other pieces it looked good, but once they did all the small touches and final makeup, the nose hair, the dots, the mustache, it was very meticulous.
Did you pattern any of the mannerisms after anyone you know?
Being a grumpy old man is almost protocol at country clubs and I'm a country club guy so I've seen those guys that go out at 7:30 in the morning to get out before everyone else and are pretty set in their ways. So I think some of that came out. Also being around my grandparents and seeing how cranky my grandpa can be was good material.
How cool was it to be in character and just being able to go off and say whatever you wanted to people?
It's kind of fun being that person that can say anything they want to and have a free pass. So I used that up a little bit. No repercussions or anything? Yeah, I liked that. I had a couple vodkas to start the day to calm my nerves because I'm shy and quiet and for this to happen I needed a little liquid courage to loosen me up. By the middle of the shoot I was feeling pretty good and let's just say there's some pretty classic stuff that ended up on the cutting room floor that I probably shouldn't have said.
Did anyone catch on pretty quick that it was you?
When I first got to the range I sat down behind a young kid who was hitting balls and his younger brother was there and he kept staring at me. I was messing with his brother for a little bit and then walked away and he followed me. After I hit a shot he asked me, "Are you Jamie?" and of course I said I had no idea what he was talking about. But he said he had only seen one swing like that and that was Jamie Sadlowski's swing. So yeah, he knew right away from the golf swing. He was only 13 so he must have watched a lot of YouTube videos.
What was the reaction of people in general?
The younger generation honestly didn't seem all that impressed. The older folks were like, "Did you see that?" But the younger kids couldn't care less. There was one group of three I tried to join and they were like, "No, we're good." Then I hit a tee shot in front of them and it was dead downwind and probably went 430 yards and they didn't bat an eye, then just got in their cart and kept driving. So there was a difference in reaction.
Did you have to watch yourself to remind you to do something, or not overdo it?
It's weird when you are in character. There were some times when I would realize I was walking normal and be like, "Oh man, I have to walk slowly, use my cane and be a bit of a jerk to people." But for the most part I was able to stick with it. If there's a "Grandpa II" I'll do a better job.
Now back to the day job. How's the transition been going from Long Drive to playing professional golf for a living?
Last year was my first full year playing the Mackenzie Tour and I learned a lot about my game. Since late September I've been working hard in Arizona with Peter Kostis doing some fine-tuning. Last week I had Q School again after missing my card by a few hundred bucks and finished tied for ninth, so we're good to go for another year in Canada and hopefully get one of those five cards for the PGA Tour. From now until summer it will be play, play, play. I think it will be a good year. My game is a lot better and I've cleaned up a lot of stuff. My wedge game is much tighter and I have enough knowledge to where I can play with confidence.