The Thrill In Life Is In Going For It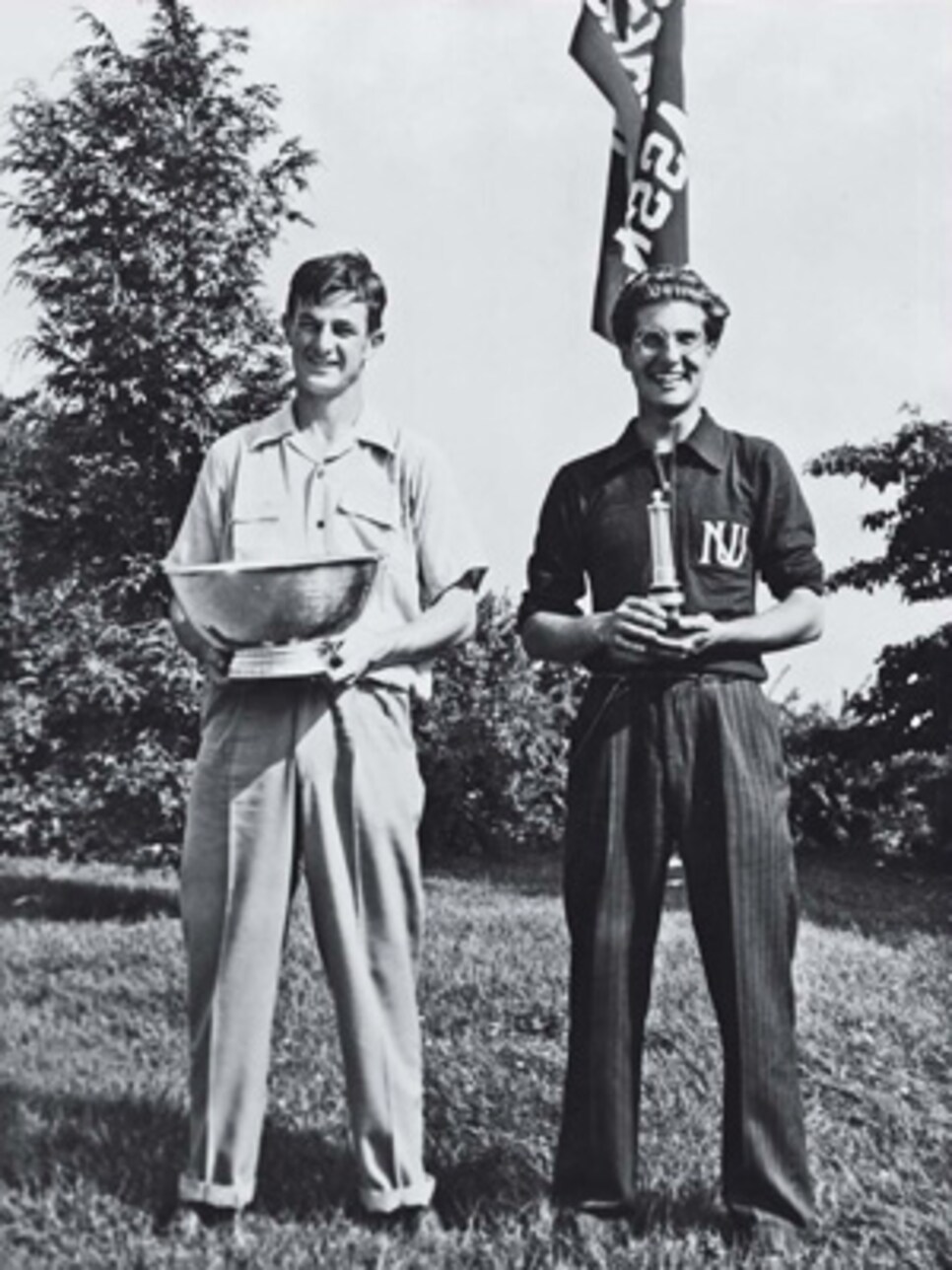 Sandy Tatum (left) won the NCAA cup against Manuel de la Torre in 1942.
Every golfer, regardless of ability, should have at least one moment -- a tournament or a round or even a shot -- when he or she maxes out when it matters most.
The details can be relished in the warm reverie before sleep, or called up for comfort during crisis. And as the years go by, the memory becomes richer and the recognition of the lasting reward greater.
For Arnold Palmer, it's the 1954 U.S. Amateur. For Bill Murray, it's already this year's AT&T Pebble Beach National Pro-Am. For Sandy Tatum, it is the 1942 NCAA Championship.
Tatum, 90, has lived a life full of accomplishments: Rhodes Scholar, USGA president, champion of golf's life-enriching powers. His post-college amateur playing career is also distinguished. He won the 1948 Danish Amateur, and just five years ago, he shot 73 at San Francisco Golf Club. But the week that culminated with the then-Stanford senior's 5-and-4 victory over Northwestern sophomore Manuel de la Torre at South Bend (Ind.) Country Club has been "my Grand Slam."
"I was aware at the time it was an unbelievable accomplishment, the ultimate that I could conceive," Tatum says of winning the championship, the 114th edition of which will be May 31-June 5 in Oklahoma. "My name does not belong on the list of winners. But something mystical happened."
His opponent in the final, who went on to become a legendary instructor and will turn 90 in October, sensed as much. "Sandy was a gentleman, but he was on a mission," says de la Torre, who finished second and third in PGA Tour
events and won the Wisconsin Open five times. "That day, I could feel his will was greater than mine."
Tatum had entered Stanford as an avid but somewhat unrefined golfer whose love for the game had been formed through his close relationship with his father. "To play on the Stanford golf team for four years was a significant accomplishment for me," he says, his voice raspy from recent radiation treatment for cancer of the vocal cords. He had worked up to No. 3 man in his senior year, and toward the end of the season hit a groove.
But the war was on, and it was decided that the athletic department could not justify the $2,500 needed to send the six-man team by train to South Bend. "The opportunity to play in the championship one more time was so significant to me that I simply could not accept that decision," Tatum says. "I thought, By God, I'm going to raise the money." With the kind of enterprise and powers of persuasion upon which he would build a successful legal career, Tatum organized events and hit up enough alumni to do just that.
In the 36-hole team competition, Tatum played over his head to shoot 146 as Stanford and LSU tied for the championship. "My teammates were wondering, What the hell's happened to Tatum?" Still, among the 64 golfers who went into match play to vie for the individual title, Tatum rated himself in ability as "somewhere in the middle of the pack."
But Tatum rode what the Associated Press called a "peppery putter" to defeat his first five opponents, including future Walker Cupper and USGA Senior Amateur champion Dale Morey in the quarterfinals. Against de la Torre, Tatum shot 69 in the morning round, and never looked back. "I played better than I knew how," he says. "I was in a zone, one like I never reached again the rest of my life."
The satisfaction was immense. When he called his father in Los Angeles, all Tatum could manage were the words, "Dad, I won."
"After that," Tatum says, "it was a while before either of us could speak."
Sixty nine years later, Tatum has no answers. "Maybe that it mattered to me so much had something to do with it," he says. It was a capacity deeply bred into Tatum, tangibly apparent in the lovingly rendered and wonderfully preserved 32-page leather scrapbook that his mother filled with clips and telegrams to commemorate the occasion.
"I learned early -- and never more than in 1942 -- that the thrill in life is in going for it, " he says. "You might lose more than you win. But it's the way the moments happen."