Instruction
These two tips from the U.S. Amateur champion and his coach will help you tune your game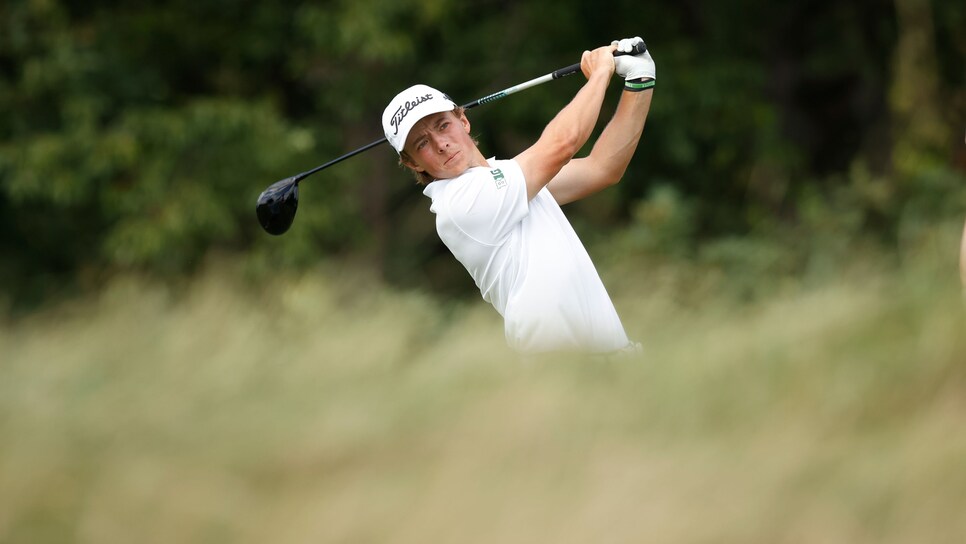 James Piot hits his tee shot on the fourth hole during the semifinals in the 2021 U.S. Amateur.
Jason E. Miczek
New U.S. Amateur champion James Piot counts Jordan Spieth as his golfing hero, and he has adopted Spieth's relentless practice ethic as his own during his standout amateur career. But instead of becoming the range rat you might see hitting three large buckets in the next stall over at the range, Piot focuses on two strategies that help him take his game to the course.
Do More On-Course Practicing
"At Oakmont, you definitely saw a lot of players beating lots of balls, but I like to get out and hit lots of different shots on the course as my main form of practice," says Piot, who has progressed from Big Ten Freshman of the Year to Honorable Mention All-American—and U.S. Amateur winner—in four years at Michigan State. "I hit flighted wedges, experiment with short-game shots and focus on my speed control."
Those "game skills" directly translate to score, and often get overlooked by handicap players. Piot's long-time coach, Brian Cairns, takes pains to make sure the technical things they work on together get connected to feels Piot reinforces by watching on video or confirming with a device like a V1 Pressure Mat—which shows how a player is shifting during the swing. "I try to simplify it all in my mind, and dumb it down. I want to have a feeling I can go to," says Piot.
Trailing 3 down with nine holes to play at Oakmont, Piot reconnected with a feel he had about his arm plane and won four straight holes to take the lead from North Carolina junior Austin Greaser. "My mistake tends to be high and right, and it had been a long, hot week," he says. "My body took a beating, and my arms weren't getting into the right position. I got back to where I needed to be and started hitting it better."
Keeping video footage and data from a V1 or BodiTrak from when you're playing your best golf gives you a faster way to reconnect to those good feelings again, says Cairns, who started working with a 10-year-old Piot at the Fox Hills Learning Center in Plymouth, just outside Detroit. "It's less about what he knows, and more about what he feels," he says. One takeaway you can try if you're hitting your own foul balls to the right? "Hit some flighted shots and make sure you rotate and get that left shoulder around," says Piot. "When I do it, I start hitting a push draw and I know I'm ready to go."
Challenge Yourself with Better Players
As he developed into a competitive junior player, Piot's first big goal was to beat his coach from the same set of tees. Cairns is a member of the Michigan Golf Hall of Fame for his on-course exploits, which include playing on the Korn Ferry and PGA Champions tours and qualifying for three PGA Championships and five Senior PGA Championships. When Piot could get his coach, he knew he was ready for whatever college golf could throw at him. "We played a lot of golf together, trying to beat me for so long made him continuously focused on shooting low scores, and not so much on golf swing," says Cairns. "You obviously need to develop skills, but the 'using them' part can't get lost."
Next up for Piot is preparing for his final college golf season, which starts in early September in Michigan's Upper Peninsula. And in 2022, Piot is exempt into the Masters, U.S. Open and British Open. "I'm trying not to look too far ahead and enjoy every minute of this," he says. "I'm excited to see what happens next."