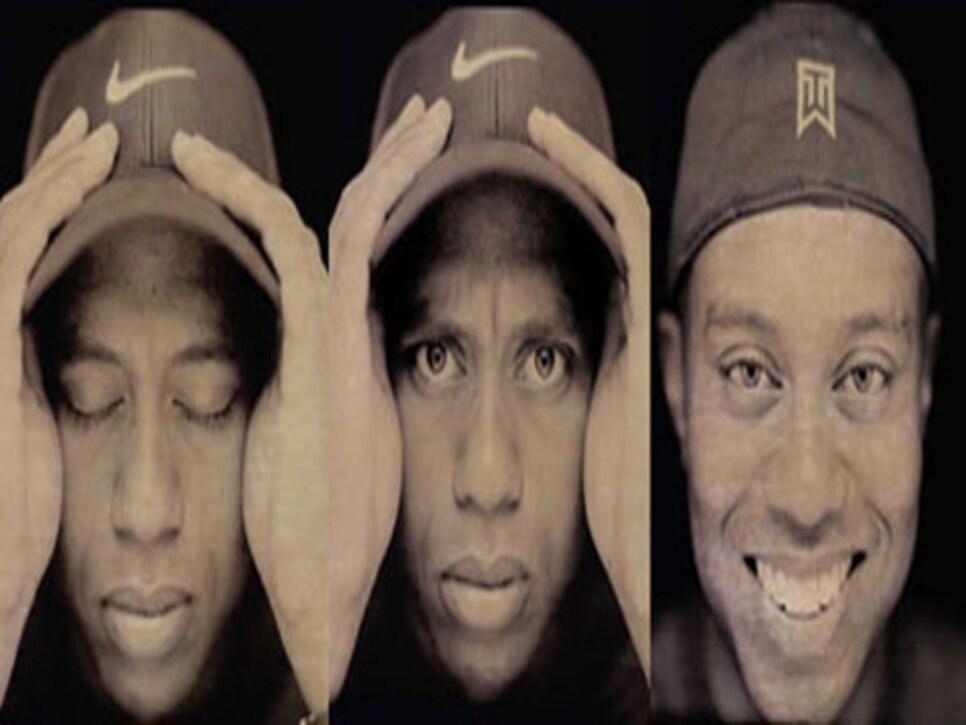 "Achieving trust is always the final step with a change. That's the hardest thing, taking Ranger Rick to the course." --Tiger Woods
For the legions conditioned to believe that Tiger Woods was invincible, 2004 was as surreal as the 81 he shot at Muirfield to end his 2002 Grand Slam bid and start his ongoing 0-for-10 streak in majors.
On the heels of a relatively disappointing 2003, the numbers that had always substantiated Woods as the game's best player no longer added up:
• Woods was supplanted by Vijay Singh as the No. 1 player in the world (and even was briefly passed by Ernie Els for No. 2).
• Had his worst year in the majors (with his best finish a tie for ninth in the British Open).
• Tied career lows for full-season victory totals (one) and position on the money list (fourth).
• Hit new depths with his percentages for driving accuracy (56.1, to rank 182nd on tour) and greens in regulation (66.9, tied for 47th).
• Fittingly, he ended the official season by failing for the first time in his last 12 tries to win after holding a third-round lead.
As Woods slipped, the once-visible summit of Mount Nicklaus seemed to fade in the foggy distance. An insidious thought crossed the game's collective mind: Is the Tiger Era over?
So cataclysmic seemed the struggle that theorists looked for causes in life issues: marriage, his father's health, burnout, injury, even ennui.
Woods probably hoped the second-guessing would be diffused when he gradually acknowledged the process of a swing change, one that had its beginnings in 2003 when he left Butch Harmon but started in earnest when he took on Hank Haney as an instructor in March 2004. Instead, the disclosure of changing the swing begged the question: Why in the heck would he do that? How could the player who from 1999 to 2002 had produced arguably the greatest golf ever played want to change his swing? It was like Michelangelo going back to chisel a more impressive six-pack on David.
Woods, who turns 29 on Dec. 30, maintained that the changes weren't as extensive as the ones he undertook from 1997-'98, calling them "refinement." But as the year went on and he finished 33 strokes behind Phil Mickelson in the majors, and as the misses to the right piled up, it became clear Woods had undertaken a formidable task. But his standard reaction to his apparent swing quagmire was always this: "I'm close."
The stoicism spurred all sorts of random analysis, from Johnny Miller insisting Woods needed to forgo a draw for a fade, to Singh opining that Woods hadn't made necessary swing adjustments to accommodate his maturing body. Meanwhile, Harmon accused Woods of being "in denial." In self-defense, Woods clung grimly to his achievement of 133 consecutive cuts made, something like Robert DeNiro as a battered Jake LaMotta proclaiming to a victorious Sugar Ray Robinson, "You didn't knock me down, Ray."
Finally, with his clubs for once not doing the talking, Woods was compelled at the season-ending Tour Championship to open up for the first time about his work with Haney and explain why he was changing. What emerged was the Tiger creed: I improve, therefore I am.
"I felt like I could get better," he says. "People thought it was asinine for me to change my swing after I won the Masters by 12 shots. ... *Why would you want to change that? *Well, I thought I could become better.
"If I play my best, I'm pretty tough to beat. I'd like to play my best more frequently, and that's the whole idea. That's why you make changes. I thought I could become more consistent and play at a higher level more often. ... I've always taken risks to try to become a better golfer, and that's one of the things that has gotten me this far."
Later, in the first of three one-on-one interviews, Woods was more succinct. "Only two players have ever truly owned their swings: Moe Norman and Ben Hogan. I want to own mine. That's where the satisfaction comes from."
Woods might characterize his mission as business as usual, but the real answer to "Why Tiger Changed" can be found only in the details. And it starts with another question, the most asked in golf for more than a year: Why did Tiger leave Butch?
From the time the two began working together in 1993, Woods won three straight U.S. Amateur titles and eight majors. But before the PGA Championship in 2002, Woods told Harmon that during the tournament week he wanted to spend his time on the range alone. The two stayed in tenuous contact, but the last sustained sessions between them took place in Las Vegas the week before the 2003 U.S. Open.
The conventional wisdom is that Woods made a change primarily because of Harmon's extroverted personality, which had begun to annoy Woods on the practice tee. But it has become clear that Woods above all believed there was nothing more of substance he could learn from Harmon as a teacher.
"Our biggest task was basically from '97 through '98," Woods says. "That was the biggest jump I've made. And after that it was basically kind of maintenance." Harmon confirms as much. "I'm of the belief that if something's not broken, don't fix it and don't tinker with it," he says. "The season Tiger had in 2000 was the greatest year I've ever seen in golf. He literally had players afraid of him. I don't see that now."
Woods now has a relationship with Harmon that is cordial but chilly. "Butch and I are still friends," he says. "As far as asking him for help with my golf swing--no." Adds Harmon: "I honestly believe what Tiger did in 2004 is one of his biggest accomplishments. He hasn't played well, but he's still up there. That shows how great he is."
Even when Woods was at his performance peak, he admits that he still felt susceptible to his swing "fingerprint" developed in his childhood. As is common among undersize youth who are above all interested in hitting the ball farther, Woods jerked the club back inside the target line with a shut clubface, which put his shaft "across the line" at the top of the swing. From there, Woods dropped the club below the ideal swing plane, which left his lower body too far ahead of his arms as he approached the ball. It was the original recipe for the "stuck" position Woods would continue to fight for years.
Woods, through his work with Harmon, was successful in dramatically improving his positions to reduce the frequency with which he got stuck. And even when he did, his athletic ability and hand action would usually allow him to save the shot. But just knowing his swing needed saving increasingly rankled him.
"You can play from the wrong position for a long time with good hands," Woods says, "but eventually it's going to catch up with you."
Although he managed to win five times in 2003, and miraculously in three of his first four events after returning from knee surgery, Woods felt the flaws in his technique catching up to him, saying now that he performed "with smoke and mirrors." He was still getting stuck, and the fact that it persisted--along with his determination to get rid of it forever--was the biggest reason for Harmon's exit.
"I have the same faults," Woods said wearily on the eve of his victory at the 2003 Western Open, when Harmon was supposedly still his coach. "It's the same thing every time. I don't have to reinvent the wheel. Butch can say that until hell freezes over. It's the same thing we work on--trying not to get stuck. When I get the club out in front of me just by speeding up my arms and slowing down my body, I hit good shots."
By this time though, that specific fix was being buried by the ripple effect of Woods' wounded knee. Woods has had a bad left knee since childhood, caused from being a preteen daredevil. "It's because of the stuff I did as a kid," he says. "Wiping out on skateboards, crashing on dirt bikes, jumping off things, I banged it up pretty bad." When Woods had surgery on the knee in 1994 to remove a cyst that was putting pressure on the joint, doctors found substantial scar tissue from what they termed childhood injuries.
A specific move in Woods' golf swing wasn't doing him any good, either. Just past impact with longer clubs, Woods regularly snapped his left knee into hyperextension. Woods considered the move a key source of distance, and as a small-boned person of 6-feet-2--who still has a 29½-inch waist and weighs 178 pounds--it was an important one as he competed against bigger men like Singh, Els and Mickelson. In his book How I Play Golf, Woods writes that he would exaggerate the move "when I need an extra 20 yards."
Woods' super-fast hips and leg snap were also a necessary reaction to his tendency toward a closed clubface. Players who attack the ball from such a position--see Lee Trevino, David Duval and Paul Azinger--employ an early and complete clearing of their hips to give themselves enough room to "hold off" clubhead rotation and avoid a hook.
But in 2002, a constant ache in Woods' knee was severe enough to cause him to take pre-round painkillers. It also gave rise to a bad habit of staying back on his right side on the downswing by lowering his upper body and raising his right heel, rather than rotating a more level upper body through impact.
"The more the knee hurt, the more I'd have to make alterations in the swing to try to make solid contact," he says. "The more alterations I made, the more distance I lost, because I was actually moving away from the ball a lot, slowing down, trying not to make it hurt."
In December 2002, after playing in pain for much of the season, Woods underwent knee surgery in Utah to remove fluid and another cyst. This time during the operation, doctors noticed that Woods' anterior cruciate ligament was significantly stretched. After being informed of the discovery, Woods told friends in the post-operating room that he had to change his swing. "I really had no choice," he says today.
With longevity in mind, Woods' most obvious change was simply to go at the ball with less force. "I don't snap the leg as much, don't go at the ball as hard," he says.
But the injury also stirred Woods to examine possible improvements in his technique to take stress off the knee. Woods the swing wonk delved into his large stash of instructional material. "I always thought there was more," he says. "I'm familiar with the different instructors, read their books and watched their videos, and there are different ways to do it."
Finally, Woods seized on a unifying theory that struck a chord--the swing plane. "I just felt that I enjoyed understanding the plane of the golf swing a lot more," he says. "I think the golf swing is all about rotation, all about trying to keep the club on plane."
It was a sensibility that led Woods to Haney, whose entire swing theory is founded on the fundamentally sound positions golfers achieve when they swing the shaft on the proper plane. There's a logical argument (one that Harmon believes) to be made that Woods--through his close relationship with Haney's prize student Mark O'Meara--was being exposed to information that would predispose him to gravitate to Haney. But if so, it has taken a long time.
Woods has known Haney longer than he has known Harmon. They met when Woods was a guest of the Kuehne family, for whom Haney at the time served as the swing coach, during the Big I junior tournament in 1991. The two have seen a lot of each other since Woods moved to Isleworth in 1996 and began regularly practicing with O'Meara, his neighbor and friend.
During his 20-plus-year relationship with O'Meara, Haney has stayed in the background. By all accounts he did not improperly invade Harmon's teaching territory. But Haney and Woods became friends who would often engage in discussions about the golf swing. "I felt the things he had to say were very intriguing," Woods says, "and I really enjoyed the conversations I had before I started working with him."
Woods is an inveterate borrower of ideas, and inevitably he began to absorb some of O'Meara's habits. As early as 1998, Woods could be seen doing the same practice-swing rehearsals as O'Meara, in particular one that resembles a baseball swing, designed to encourage proper rotation of the left arm on the backswing to avoid a shut clubface. Still, even after splitting with Harmon, Woods was hesitant to formally align himself with Haney, giving the strong impression that he was coaching himself. "I haven't reached a point where I really need a pair of eyes when I'm struggling that badly, where I need some help," he said in early 2004. "I'm sure there will be a point in my career, yeah."
That point soon arrived, when Woods was unhappy with his ball striking even as he won the World Golf Championships Match Play in late February. Since then, Haney has frequently worked with Woods at Isleworth, and occasionally at his golf ranch in McKinney, Tex. Tired of the persistent questions about his swing, Woods has remained reluctant to publicly open the Haney chapter of his swing evolution. When asked specifically at the Tour Championship if Haney was his coach, Woods gave the kind of strained answer more suited to a hostile witness in a deposition: "Yeah, I've been working with him, yes," he said. "I've been talking to him. I've been working with him, yes."
Under Haney, Woods is working less on "matching up" the speed of upper and lower body and more on putting his backswing and downswing on the same plane. He and Haney believe when that objective is achieved it is much easier to make a tighter, more connected swing in which the body fires in proper sequence. Woods' swing is also less upright than it was under Harmon, encouraging a more rotational body release that is designed to produce a longer "flat spot" at the bottom of his swing, a classic key for accuracy and consistency exemplified in the swings of Hogan, Trevino and Moe Norman. Such an action is wider and more "around" than the narrower and more vertical movement that more naturally produced Woods' snapping left leg.
The differences between Woods' old move and the new one were made more apparent on Wednesday afternoon at the Tour Championship, where by coincidence he hit practice balls only a few yards away from Adam Scott, who is coached by Harmon and possesses a swing uncannily similar to Woods' old one. That the Harmon-Woods relationship retains a soap-opera allure even among the players and caddies was clear when the sight of Woods arriving on the range and striding in the direction of Harmon caused a discernible lull in surrounding activity. Onlookers sneaked furtive glances at Harmon congratulating a smiling Woods on marriage, then returned to normal business a little too quickly.
Once Woods settled in and began banging out balls with the upright-swinging Scott as an easy reference point, it was clear that Woods' plane is flatter and more constant, free of the slight re-route to the inside that is a feature of Scott's swing. "A lot of it is the takeaway and making sure I've got enough width and room coming down," Woods explains. "If I get the takeaway with the club with its true loft on the proper angle, it's cake coming down. When I get it off, then obviously I've got to make compensation with my hands on the way down."
Woods is still fighting a tendency--exacerbated by his compensations for the knee--of dropping down to his right side on the downswing. It's a tempo-destroying action that makes Woods appear to be swinging too hard, when in fact, he says, the inefficiency slows his release and reduces his clubhead speed. To counteract the accuracy-robbing move--the most common cause for Woods' miss to the right--he is working on making his backswing wider and deeper as well as keeping his head high and rotating toward the target on the downswing, similar to the signature move of Annika Sorenstam.
Under Haney, Woods is taking noticeably more practice swings, most of them with an exaggerated move designed to ingrain the sensation he is after. They vary, but include the baseball-style swing to produce proper arm rotation, a stretching of the left arm directly away from the target to encourage width on the backswing, an elongated, flatter follow-through designed to resist "flipping up" of the wrists after impact, and a novel "kick-back" of the right foot behind him on the downswing, developed by Woods to counteract his tendency to sink into an overactive right leg.
It was the move Moe Norman commented on just days before his death in September: "Tiger Woods must be having a wonderful time searching for that one little thing he's doing wrong," Norman told Golf Digest. "I wonder when he'll notice it--the way his right heel lifts straight off the ground now instead of coming up and toward his left. His weight shift is terrible right now, that's all."
Of course, knowing what you want to do and doing it are two different things, even for Woods. He reports frequently achieving a perfect groove on the practice range or in practice rounds, only to see it fail on the course. "Achieving trust is always the final step with a change," Woods says. "That's the hardest thing, taking Ranger Rick to the course."
Woods for much of 2004 was plagued with big misses with long clubs, especially to the right. He maintains, however, that his misses in that direction are no longer the result of being "stuck" but more about his lack of confidence in swinging along the proper plane instead of under it. With his arms approaching the ball more along the target line than inside it, it may still feel to Woods as if his club is swinging to the left. Out of fear that he will hit a pull or a hook, he inhibits the release and leaves the clubface open.
"I've probably gotten stuck only a couple of times in the last few months," he says. "Now when I lose it, it's just an issue of trust, not letting the shot go."
It has made his rounds hard work, with the glue not hardened on different sensations and swing thoughts.
"When you have to play golf courses that difficult and you're not comfortable with it, that's tough," he said after battling on the difficult Quail Hollow Club during the Wachovia Championship in May. "You start trying to steer it, and that's the last thing you want to do. ... The green shrinks, the hole shrinks, everything shrinks."
Woods is waiting for effortless again. "That's the whole idea of making a change, that you need to try to get it where you don't have to think about it," he says.
"Hey, he's human," says O'Meara, the most frequent witness to Woods' flawless practice-round golf. "Even Tiger Woods has moments of nervousness, doubt, lack of confidence. And he's had more of those lately. But believe me, I know him and I've seen what's coming. I've seen it in practice. I guarantee you he is more complete, has more shots, has more control. We haven't seen the best of Tiger Woods."
It's clear now that 2004 was no "refinement" project. The evidence would suggest Woods' current changes are actually more extensive than the ones he made in 1997-'98. Then, his was a cleaner canvas to work on. Now he's trying to get rid of habits that have been more ingrained. Woods also started these changes as a more complete player than he was in 1997, and the better any player gets, generally the smaller and harder-earned the increments of improvement.
Still, Woods is content with his decision. "Have I ever second-guessed it? No," he says. "I took some steps backward to go forward--to make some giant leaps forward."
If not giant leaps, Woods made positive inroads at the end of the year, finishing second three times in his last four events. After losing the season-finale Tour Championship, where Retief Goosen blew by him with a fourth-round 64 to Woods' 72, it marked only the third time in 33 career attempts as a pro that Woods didn't win after holding the third-round lead. He candidly admits that his confidence is not at the level it once was, but he also says it was the most productive week of the year in terms of his swing changes because he was able to correct some flaws mid-round while fighting for the lead.
For all the criticism thrown Woods' way, his year had some remarkable parallels with his rebuilding year of 1998. He had the same number of victories, finished in the same position on the money list, and had one more top 10, with 14. The next year he started the year strong with a victory at Torrey Pines and then went on a tear that didn't end until 2003.
Quietly, Woods believes he is similarly poised for a resurgent 2005. His knee is healed and strong, the result of therapy and training that includes swimming instead of his former long runs. At the Tour Championship, Woods for the first time in competition used a 460-cubic-centimeter driver with a 44½-inch graphite shaft, a major departure for a player who as recently as 2003 was using a 340cc model with a 43½-inch steel shaft. The driver provided effortless extra distance. (Woods was statistically the longest driver at East Lake.) Putting the driver in play also indicates that Woods is finally convinced that the longer flight with less curve produced by bigger driver heads outweighs the advantages of the increased "workability" he was seeking by playing smaller retro models.
Woods also has a target in Singh, whose nine-victory 2004 season was compared in some circles to Woods' epic 2000 season. The last time Woods lost the No. 1 position in the Official World Golf Ranking was to Duval in August 1999. Coincidentally or not, it was that very week that Woods embarked on his seven-for-11 major streak.
More than ever, Nicklausian numbers will be thrust before Woods in the coming year. To avoid equaling Nicklaus' 0-for-12 streak in majors, which took place between ages 27 to 30, Woods has to win a major by the 2005 U.S. Open at Pinehurst. Woods has achieved eight victories in the 32 majors he has played as a professional, the same as Nicklaus through his first 32 as a pro. But from there, Nicklaus embarked on a run of six victories in his next 21 major championships, a pace Woods will be tested to match.
Woods carried his burden in 2004 admirably, with patience and perseverance. Entering his 10th season as a professional, he has learned the lesson of every champion, that a career is a marathon in which few things go as perfectly as they tend to in the blithe early years. The Golden Child has now paid dues, understanding intimately Gary Player's axiom that "Golf is a very fractional thing"--being close can be quite far. The challenge, in those extended periods when the game inevitably has its way, is to endure.
If he does--and everything he did in 2004 was designed to last--so will the Tiger Era.