Watching the closing ceremonies of the Olympic Games in Rio on Sunday night, the thought occurred that we shouldn't have doubted golf doing well in what amounted to its debut in the world's greatest sports event.
The ceremony is always joyful, but ultimately always sad. Because for as imperfect as the Olympics are—and in our complicated world, the imperfection is likely to increase—it's the occasion that gets us closest as people. What President Obama said about the Olympics not ending war or eliminating poverty but nevertheless building a sense of common humanity and empathy was right. Seeing such an occasion conclude after 17 days that went by too quickly is sad.
Everyone who bet against golf succeeding—players, agents, commentators, fans—were wrong. Golf was swept along by the immense power of the Olympics and was watched by millions who might never have seen a golf shot before.
These Olympics, which justifiably invited skepticism, ultimately did what the Olympics do. They gave us transcendent athletes—in this case, the trio of Usain Bolt, Michael Phelps and Simone Biles—who filled us with wonder for what the human body and spirit can do.
And though it nearly didn't, Rio finally gave us the magical moment when the host country, so starved for its moment, is able through an iconic triumph to lose itself in sheer joy that is carried around the world. Brazil's came when its men's soccer team won its first gold medal against its nemesis, Germany, on a final penalty kick from its superstar, Neymar. In a country that used to represent the epitome of the beautiful game, but which has seen its national teams fall into a slump that mirrors its economy, the sound that came from the sold-out Maracana Stadium—even through televisions—was deeper and wilder and more sustained than any Super Bowl or World Series.
That Brazil, and Rio in particular, were so obviously ill-equipped to hold the Games, yet had dug deep to find a way to pull off the show, made the explosion more poignant.
Similarly, watching veteran NBA star Carmelo Anthony, whose career frustrations could excuse him for being cynical, get too choked up to speak after winning his third gold medal in basketball, and then to express how his team's effort was a reflection of our own imperfect country getting better—that was the Olympic spirit.
With that larger context as the backdrop, everyone who bet against golf succeeding—players, agents, commentators, fans—were wrong. Golf was swept along by the immense power of the Olympics and was watched by millions who might never have seen a golf shot before. Who knows how many future golfers that inspired? More than we have now.
The players who did play were unanimous in expressing how fulfilling it all was. An effervescent Justin Rose and a serene Inbee Park conveyed deep emotion in victory. Those who didn't win medals still had experiences for a lifetime. The IOC next year will vote to approve golf in the Olympics beyond 2020 in Tokyo, and the game's best golfers won't bet against their sport on the world stage again.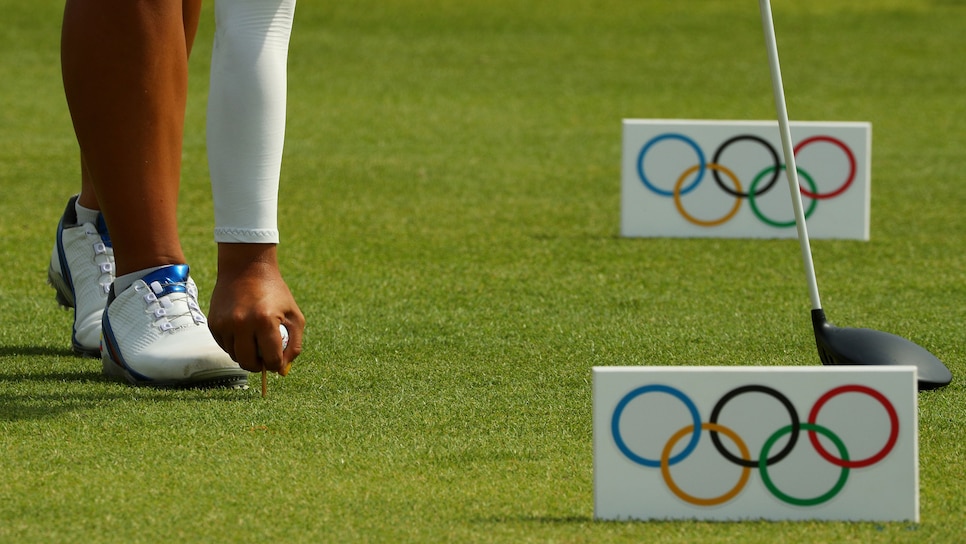 In essence, Olympic golf has become the closest thing to the Ryder Cup: Worth it to play for free. A place—especially if it becomes, as expected, more of a team event—to deepen friendships. Something worth sacrificing for and not to be missed. Amid the distortions that come with professionalism, commercialism and politics, on the field at least, a chance for pure golf amid what aspires to be pure sport.
The message was brought to the Wyndham Championship by two of the four U.S. team members, Rickie Fowler and Patrick Reed, who rushed back for the opportunity to earn Ryder Cup points.
Fowler, Bubba Watson and Matt Kuchar, before and during Rio, had played Pied Piper for golf in the Olympics through their actions, social media and texts to their peers, and undoubtedly will continue to. But in North Carolina, Reed, 26, who hung back in Rio as the most introverted and lowest-profile player on the team, finally had his say and reflected a view that will spread among the rank and file.
"You didn't know how things were going to be really run throughout the whole week," Reed said. "But, no, it was flawless. The people were great. There was a lot bigger turnout than I expected out on the golf course with the galleries and, you know, just the traveling to and from, the security and everything, it was awesome. You felt safe."
The Olympics had him at hello. "Once you get on-site and you see all of the rings everywhere and you see all the people, you see the flags from around the world, you see all the Rio 2016 Olympics signs everywhere, just kind of puts chills down your back, thinking one, Wow, I'm an Olympian, and two, We're here and get to go play. That was just amazing."
Reed expressed hope that the format will be tweaked to make it more team oriented, but added, "I know they might change some things for 2020, but I mean, even if they kept it with how it was, I feel like almost everyone would play, because it's an experience."
Peter Malnati, who improved his position in the FedEx Cup from 94th to 93rd with his T-42 at the Wyndham, agreed. Though "Rio was a long way to travel at a time when the schedule was already saturated with events," Malnati said, "Olympic golf will be thought of as a much bigger deal in the game in four years."
Last month, Rory McIlroy got testy at the pressure he was feeling from organizers, declined to play and then blew off steam defending his decision, as young men can. "All of a sudden you get to this point, and there is a responsibility on you to grow the game, and I get that," he said. "But at the same time that's not the reason I got into golf." Fair enough, if a bit myopic. But then McIlroy disrespected his sport, saying he would not watch golf but rather "track and field, swimming, diving—the stuff that matters."
It was a useful statement, if only for its juxtaposition. Just like the Olympics matter, golf in the Olympics now matters. Imperfect but still-inspiring Rio proved that.