The Loop
Jack's Place, Annika's Blog
Annika, I have heard you mention your "brand." What exactly do you mean by "build your brand?" Annika: Jerry, great question!
In order to have a genuine brand, you must consistently deliver a promise that is genuine and distinct in people's minds. I try to deliver the promise of "inspirational experiences" through all of my businesses. I hope that makes sense.
It will be very interesting to see how that translates into the program at Annika's Academy of Golf, where instruction, I suspect, will be much closer to Pia Nilsson "Vision 54" than typical how-to.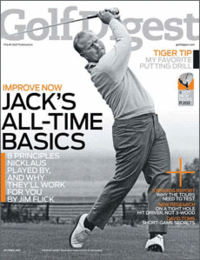 Jack made more old-fashioned kind of news. He inaugurated an impressive Nicklaus exhibit at the World Golf Hall of Fame, an exhibit that includes a soda fountain (like the one at his his Dad's pharmacy) and eleven separate video presentations, including family movies his mom had saved, among others.
I hate to see kids specialize. My grandkids are going to the same school that my kids did, and my kids got to have the opportunity to play all sports. They played football, basketball or baseball or golf or whatever they played, and they played that all through school. Now that silly school is specializing in sports.... You see kids specialize in golf. I think that is idiotic. It's crazy....To play all sports is great. I played everything. My dad played everything. Golf was just another sport to me until I was about 19. When I won the National Amateur at 19, I finally said, hmm, I must be a little better than I think I am. It was just a game, still is a game...
It was a good week for Jack. He also presented the first Irishman to enter the hall, Joe Carr. It could be a perfect week if his Buckeyes usher another Carr, Lloyd, into his own post-career period in Ann Arbor. Nonetheless, Go Blue.