The Loop
It's Time To Ambush. Are You Next?
I've read through over 700 Ambush entries so far. I just went through almost 100 itineraries taking place in the month of May.
If you're wondering what I'm looking for in picking a winner--I think Darrell Scott says it best in his entry below: "We have a group of 16 diverse golfers who come together to share a few days of golf, food and drink with our motto: 'Best of Friend--Fore the Love of Golf.'" Remember, if I don't catch up with you and your group this year, there's always next year.
For the August issue, I'm considering the following: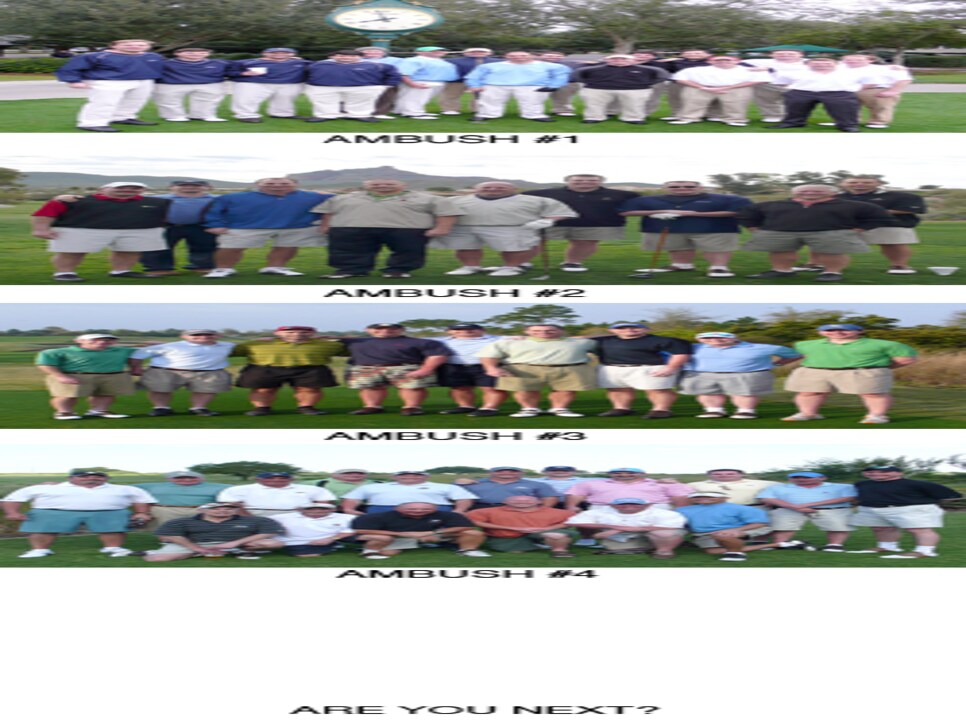 Mitch Katz of Tega Cay, South Carolina: This will be the 20th anniversary trip for most of the people in this group. We are a group of 16. I think this is my ninth year (Tampa, Myrtle Beach, Biloxi, MS., the Trail in Alabama, Mesquite, NV., Treetops, MI., Whistling Straights, Williamsburg, VA.--maybe a little out of order). We always go around the same time of year, end of May or early June, because our wives don't give us grief since Father's Day is right around the corner. This year it's Pinehurst on May 29 through June 1. We'll play No.6 on Thursday, No.4 Friday morning, No.1 Friday afternoon (followed by a cookout outside our villa that Friday evening), we'll play No. 2 on Saturday, and finish up with No.7 on Sunday. A great bunch of guys who have a great time together. (Last year, David Lee drove a pink ball through an elderly couple's kitchen window while they were having breakfast. We all chipped in $5 to pay the $100 tab for the broken window.) It's all about the golf (with some cards and beverages in the evenings) and for many of us, we consider Pinehurst "The Mecca" of places we can go. Hope you join us!
Troy Feldpausch of New Boston, Michigan__: Every year my buddies and I get together in "Mid-Michigan" for a weekend getaway. No wives, no children, no girlfriends, no discussions of work. We always leave the Thursday after Memorial Day (the courses tend to be empty) and play 99-holes in three days (and drink about that many drinks each). There's a resort area known as Canadian Lakes in Mecosta, MI. (www.stivesgolf.com) that has access to three awesome 18-hole courses (Tullymore - #14 on the Golf Digest list of public courses, St. Ives and the Royal Canadian Country Club) and a nine-hole course (The Highlands) that is one of the most fun courses you'll ever play (drivable par 4's, lots of wildlife, breathtaking views). Another great thing is that the courses are all close to the house we stay at--we can crawl home if necessary. We've been doing this trip for 15 years, and every year it gets better. Since I got a hole-in-one on this trip in '07, the only way it could get better would be for Golf Digest to "Ambush" us this year. We typically have 12 guys on this trip, so it makes for some great pairings.
Tom Messmer of San Diego, California:__ Myself and two buddies, Tim O'Neill and Mike Cornelius, are going to Pinehurst for all of our 40th birthdays. We arrive in Pinehurst at the Manor Inn on Monday, May 26th (Memorial Day). We leave Saturday May 31st. Basically we plan on gambling, drinking and eating all while playing golf 36 or 54 holes a day.
Monday is Pinehurst #5, Tuesday is Pinehurst #6, Wednesday is Pinehurst #7, Thursday is Pinehurst #2 and  Pine Needles, Friday is Pinehurst #1 and Pinehurst #4, Saturday is Pinehurst #8. We will also try to do replays in the afternoons of Monday, Tuesday and Wednesday. We just aren't sure what courses will be the least crowded. There shall be plenty of good cigars and good scotch that we would love to share.
Dick Payne of Lakewood, Colorado:__ We're staying in the North Tower Villas at the Barefoot Resort in North Myrtle Beach. We arrive on the 25th and play the next three days, leaving on the 29th. There are four of us. On the 26th, we play the Love Course. On the 27th, we play the Fazio Course. On the 28th, we play the Norman Course. On one of the days we will have a putting contest for year-long bragging rights. This is only our 2nd annual trip (first was Hilton Head). Any putt left short is a "wommie" named after Womack, one of our foursome, for obvious reasons.
Darrell Scott of Eagle Point, Oregon__: Our group is going for number 10, as in our tenth get together.  We call our group "Boondoggle" and for the last few years we've met in Sunriver, OR., just south of Bend, OR. We have a group of 16 diverse golfers who come together to share a few days of golf, food and drink with our motto: "Best of Friend--Fore the Love of Golf". We have a majority of us who work for Kraft Foods, but over the years, as we went from 12 to 16 players, we've brought in a few family and friends to fill in. We take pictures and video and send them to one of the guys who creates our own DVD from the two previous years, which gets thrown into a DVD player to inspire us before we start play. This year we have two homes in Sunriver, rented from May 31st through June 4th. We will arrive on the 31st to play Quail Run in LaPine, Oregon and then Sunday we play 27 holes at Sunriver's Meadows Course. Monday we go to Sisters, OR. to play Aspen Lakes (one of our favorites) for another 27 holes and then Tuesday mid-day is capped with a round of golf at Crosswater at Sunriver. Our Champion's Dinner is at an Italian restaurant called Marcello's, where we celebrate the team winners and recap some great times from the rounds of golf. We love this game. We have golfers from scratch to 36-handicaps who love to play and be together.
My only parting shot: If David Lee is in my foursome, and he puts a pink ball through an elderly couple's window, he's going solo on that repair bill. All pink balls should be forwarded to my favorite LPGA player, Paula Creamer.