RANCHO MIRAGE, Calif. – It was Throwback Thursday at the ANA Inspiration. In the first round of the first major of the 2016 LPGA season the leader board was littered with proven winners who haven't proven much lately.
At five-under-par 67, tied for the lead with Azahara Munoz, was Ai Miyazato, an enormously likeable player whose early days on tour were chronicled by dozens of Japanese journalists who followed her every move. That media throng has thinned out as the 30-year-old Miyazato (shown above) is four years removed from the last of her nine LPGA and 25 worldwide wins.
At four under par with 2014 ANA winner Lexi Thompson, Shiho Oyama and Lee-Anne Pace was Catriona Matthew, 46, who picked up the last of her four LPGA victories in 2011 and the last of her 11 worldwide wins in 2013.
Stuck in a group at three under par is reigning U.S. Women's Open champion In Gee Chun, who missed a few tournaments after a freak airport injury in which she was wiped out when Ha Na Jang's father lost control of a suitcase on an escalator. Among those Chun is tied with, ironically, is Jang, this year's only two-time winner.
And at two under, along with seven-time major winner Inbee Park, Rolex Rankings No. 1 Lydia Ko and others, was Michelle Wie, who hasn't won since the 2014 U.S. Women's Open.
The missing element for Miyazato, Matthew and Wie was confidence, especially on the greens. Each member of the resurgent trio employed changes this week to kick-start their games.
For Miyazato, the magic elixir was a bit of tinkering with her equipment. "The loft on my putter was only 2 degrees last week," Miyazato said, "I talked to my caddie, and it wasn't really enough loft, so we switched to the 4 degrees, and it seems like it's working so far."
Miyazato also went through a bit of an attitude adjustment after getting her first top-10 since 2013 last week at the Kia Classic.
"I was kind of really happy to play golf again, like my game again, because I was kind of struggling the last couple years and it was rally hard," she said. "I'm still in the process, but I know that I'm moving forward."
Matthew, who won the 2009 Ricoh Women's British Open and whose best finish at the ANA was T-2 in 2007, switched her putting grip. "I've been playing well all year, just not holing any putts," Matthew said. "So I thought I'd try left-hand low this week. A couple little shockers, but on the whole putted better is just the difference."
Asked when she decided to try left-hand low, Matthew, whose humor is a lot drier than her Scottish homeland, said: "I think after [shooting] two under with 35 putts last week."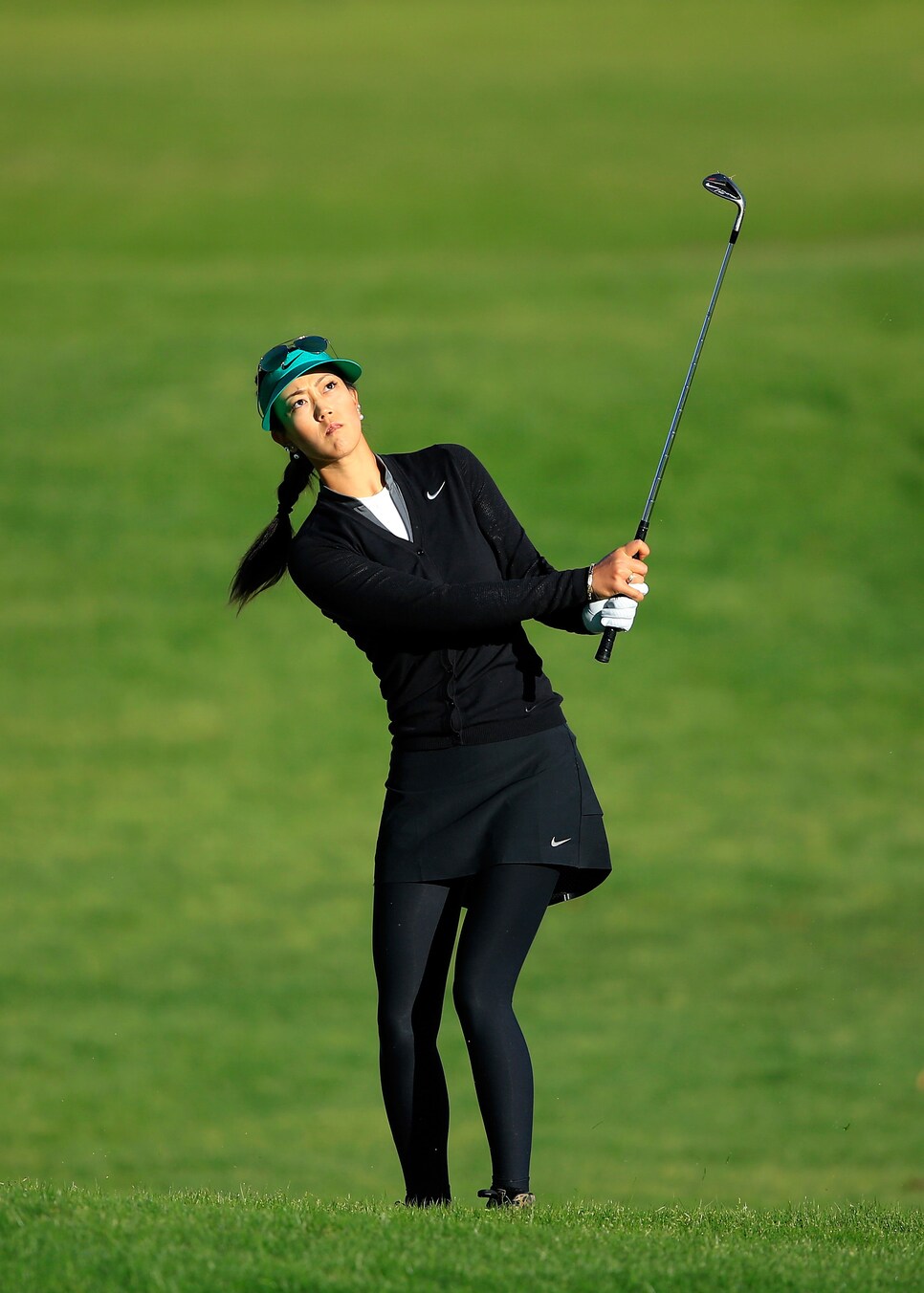 Wie, who's been using a bent-over, tabletop putting stance the last few years, made a modification, moving her feet closer together and bending her knees more on her short putts. "I kind of always saw how Jack [Nicklaus] putted and it kind of worked out okay for him," Wie said. "So I've always been kind of like Jack in putting and stuff, and I decided to go a little more narrow."
For at least one day, this threesome, well removed from the winner's circle, was feeling it. Now we'll see if it holds up.