Hagestad inches closer
It looks like this mid-amateur legend is headed to the Masters one more time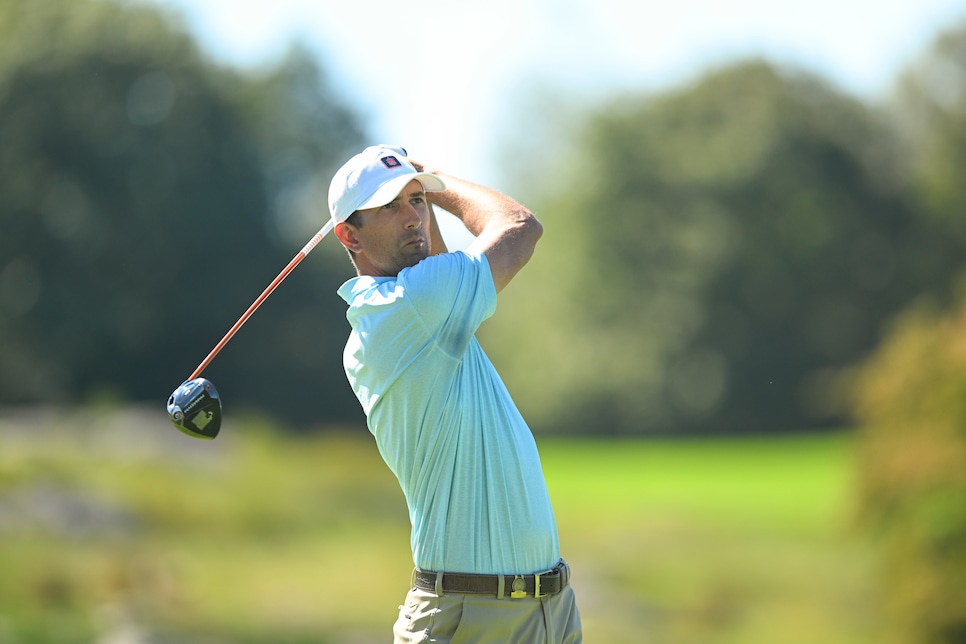 Stewart Hagestad watches his tee shot on the 13th hole during the final round at the U.S. Mid-Amateur at Sleepy Hollow Country Club in Scarborough, N.Y.
Kathryn Riley
Take the accomplishments of the man who is leading and couple it with the score that he's leading by and it appears that the winner of the U.S. Mid-Amateur is going to be someone with which the golf world is familiar. A third trip down Magnolia Lane next April doesn't seem too far away either.
Stewart Hagestad holds a 5-up lead over Evan Beck after the first 18 holes of the championship match Thursday at Sleepy Hollow in Scarborough, N.Y. Weather has plagued the championship most of the week, and the second half of the final match will resume early Friday.
For now, this is Hagestad's championship to lose. He's ranked No. 16 in the World Amateur Golf Ranking, has already won this championship twice (2016, 2021) and is looking to join Pennsylvanians Nathan Smith (4) and Jay Sigel (3) as the only men to win three Mid-Amateurs. He also hasn't trailed in a match for 78 consecutive holes and owns a 26-4 career record in match play at the U.S. Mid-Amateur.
"Yeah, I played solid," said Hagestad, a California native who now lives in New York City and works as a financial analyst for BDT & MSD Partners. "But it's no different than anyone else in the field. I think that's the only way to really approach it is like everyone is really good, and he knows he's really good. He's got plenty of gas in the tank. Got to go just decompress and do it all over again."
Hagestad, 32, won the second hole to take an early lead and then won Nos. 7 and 8 to move 3 up. He won three holes consecutively from Nos. 12-14—two with birdie—to move to 5 up, then halved the final four holes of the first session to keep that 5-up lead. Hagestad made seven birdies, including concessions, over the first 18 holes.
"Make birdies," Beck, a 33-year-old from Virginia Beach, Va., said when asked what he has to do in the second round. "What did I make, two today [actually four]? That's just not good enough. He didn't make any mistakes. The only bad shot he hit turned out to be eight feet on No. 8, made birdie there. But yeah, he played great. There's nothing I could really do aside from play better."
Hagestad, of course, is no stranger to this type of spotlight, with this being the 29th USGA championship in which he's played. He played in the 2017 Masters off an exemption from winning the 2016 Mid-Amateur and tied for 36th place to earn low amateur honors. He missed the cut in the 2022 Masters, earning that from his 2021 Mid-Amateur victory. He's also played in four U.S. Opens (winning the Mid-Am also will exempt him into next year's U.S. Open at Pinehurst), 14 U.S. Amateurs and was a member of four winning U.S. Walker Cup teams (2017, '19, '21, '23), including just two weeks ago at the Old Course where he collected a 2-1 record and won both of his singles matches.
With that pedigree and a 5-up lead at the midway point, it's difficult to see how Hagestad doesn't earn one more trip to Augusta National next spring.