The Loop
Ishikawa makes a mess of his first round
JOHNS CREEK, Ga. -- After five double-bogeys, a triple, and one bogey in the first round of the PGA Championship, Ryo Ishikawa sat on a folding chair surrounded by a cadre of maybe two dozen Japanese reporters whose work requires them to ask the Bashful Price, for such is his lordly nickname at age 19, "What the ratzenfratzin' happened, Ryo-san?"
An 85 happened, is the short story.
Six balls in the water, is the longer story.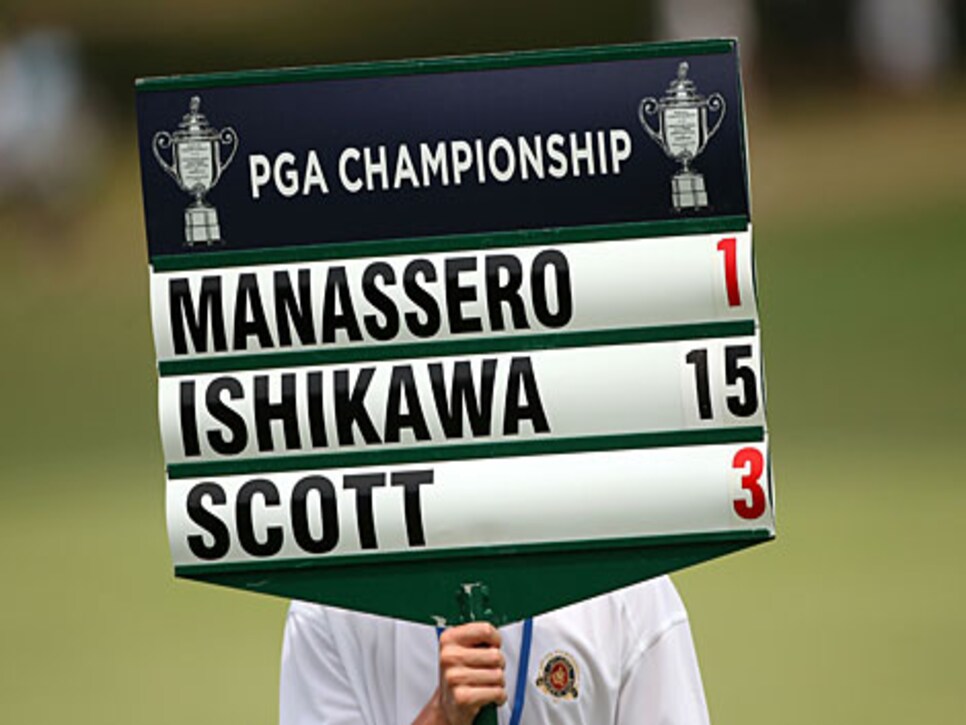 Photo by Andrew Redington/Getty Images
The really long story is that for all the precocious brilliance of his golf game -- he finished in the top 30 of both the Masters and U.S. Open this year, and only a week ago shot 67, 68, 64, and 69 to finish T4 at the World Golf Championship event in Ohio -- Ishikawa is a teenager who has not yet learned it's a bad idea to come into a major championship feeling nervous on the big stage while simultaneously creating a new swing pattern.
So, once it started going bad for the kid Thursday, it got worse. Among his misfortunes was a starting time that sent him to the back nine holes first, meaning he had to play the unforgiving 15th-through-18th early in his struggles. "Yesterday, I was good," he said. "Today, my swing was stiff." Only an hour into his day, then, he came to the par-3 15th, 260 yards -- a triple bogey, followed by a double, a bogey, and another double for a first-nine 45, 10-over par.
He quickly went to 15 over through 13 holes before settling down with five pars at the end for his 85. "First, it was a major," he said, explaining the calamity through an interpreter. "Secondly, every bad shot, water." Three weeks ago, he said, he decided to rework his swing, bringing it from an inside-and-flat plane to more upright. "Last week, it was good," he said. "This week, no." He took it all calmly, sitting through a half-hour conversation with his traveling press corps before stopping for a few American questions, among them this
"What number do you need to shoot tomorrow?"
He smiled even before the translation was made.