The Loop
They are more than 25 years apart, but when you delve into the golf upbringings of Jhonattan Vegas and Seve Ballesteros, the similarities start to come to life. Of course, the Spaniard came on the world scene at an earlier age--still a teenager--but both players found the game by chance, and learned to play by feel.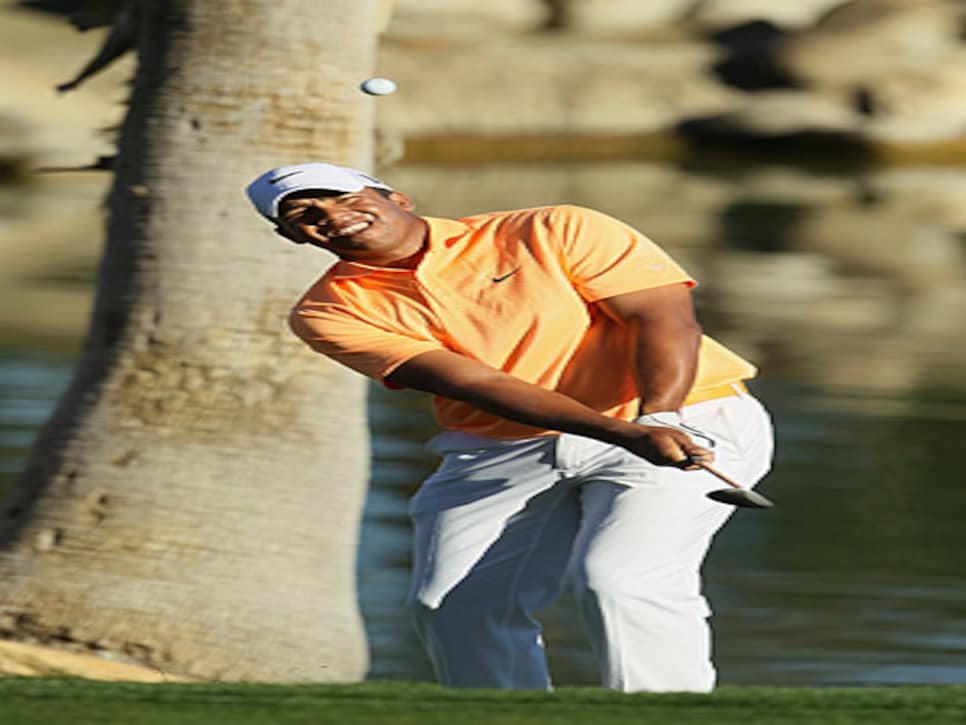 It's well known that Seve developed his vast array of magical shots and honed arguably the best set of hands ever to hold a golf club by hitting a cut-down 3-iron on the beach in his native, golf-poor Santander. Vegas, who grew up in the newly golf-poor Caracas, where golf courses have been plowed under to make way for affordable housing, learned in a similar way, swinging broomsticks at rocks. "I generally just picked up what I could find and swung at everything I could find around," he said earlier in the week of the Hope. "So usually I hit plastic balls, rocks, whatever I could find around the house, breaking windows and all kinds of stuff. That's kind of how my game started. [My dad's] been always a good and big fan of golf, and so just by looking at him I just started doing it."
Just by looking at him I just started doing it. What a great way for a youngster to learn to play, something that unfortunately is all too rare these days when so many teachers (and parents) rely on videotape and computer technology to impose swing mechanics and positions on young golfers, who often get confused and later burned out. They don't have a chance to develop the feel and touch and natural golf instincts that so many true champions of the game have shown us, from Bobby Jones and Sam Snead, to Arnold Palmer and Gary Player to Lee Trevino and, yes, Seve.
Just as Seve was exposed to the game by chance, growing up near a golf course and caddieing, Vegas' father, a caterer who was unemployed for three years, also grew up next to a course, where he picked up range balls. He gave Vegas his early lessons, but Jhonattan soon "graduated" to a real teacher, the three-time Venezuelan World Cup golfer Franci Batancourt. Vegas later moved to Houston and lived with his mentor, refining his game under his watchful eye, but the roots of that natural talent were established long before that.
That's why the miraculous flop shot Vegas hit on the first playoff hole had the markings of something Seve in his prime would do. Short-sided, about 30 yards from the hole, the shot looked impossible. From a fluffy lie, he would have to hit the ball nearly straight up and land it softly on a downslope in the rough and hope it would trickle onto the green. He hit the shot perfectly, the ball landing in exactly the right spot, rolling onto the green and actually hitting the hole before finishing three feet away. His birdie extended the playoff with Gary Woodland (Bill Haas parred), and then Vegas made a Seve-style par on the next playoff hole to win. After pulling his drive into the water, unfazed he took a penalty drop, knocked a 9-iron onto the green and made the 12-footer for the victory. I hope Seve was watching.
See how Golf Digest Playing Editor Phil Mickelson executes his famous flop shot.
(Photo by Jeff Gross/Getty Images)
](www.twitter.com/rogerschiffman)*