News
Is Tiger Woods done? 5 reasons why he's far from finished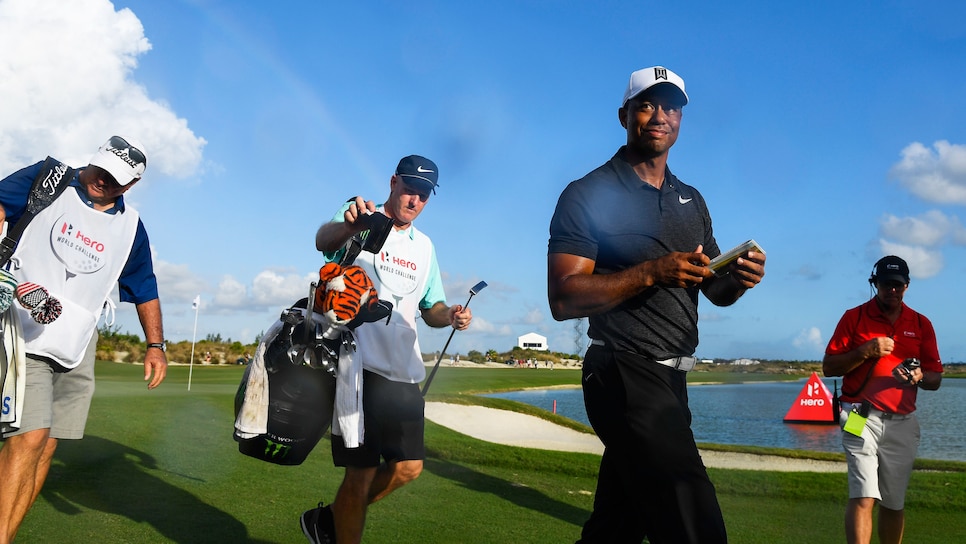 He might be done. That's been the tone when discussing Tiger Woods. It gained force when he missed the Masters for the third time in four years, and a surgery and DUI arrest did nothing to hush those whispers. Hell, Woods himself fanned the flames at the Presidents Cup, acknowledging a future where he was finished with competitive golf.
Woods is familiar with these forecasts; people have questioned what's left in his tank to varying degrees for years. And yet because of the mileage accrued -- and they've been some hard miles -- his latest comeback is cloaked in a finality that hasn't existed in returns past. If this try goes south, Tiger may call it quits.
At least, that's the insinuation. But no matter how this shakes out, this is far from the last chapter in Woods' playing career. Here are five reasons why Woods is far from finished.
Sports fans can be an impatient bunch. Rationality ain't their jam, either. If Woods looks flat out of the gate -- not just in the Bahamas, but in the upcoming months -- expect an avalanche of "He's FINISHED" takes.
The temptation is there and understandable: subtract testimonials from Brad Faxon and Rickie Fowler, and optimism has been hard to come by for Woods in 2017. But succumbing to instant analysis is misguided, for time is on Tiger's side.
And according to Lee Trevino, who dealt with his share of back issues, Woods may need it.
"It will take him a year to really trust it and feel like himself and get confident," Trevino told Golf Digest after Woods' April procedure.
That time frame is not what Tiger supporters want to hear. However, though golf is sports' ultimate meritocracy, Woods' past accomplishments and stature have guaranteed all the tournament entries his heart desires. Meaning, he has the latitude to suffer some pains in the assimilation process without stalling his recovery. That's a runway few athletes, including golfers, get when returning from injury.
Admittedly, we've seen this rodeo before from Woods, but his latest procedure was fundamentally different than previous operations. As Woods' agent Mark Steinberg remarked, "Everything he had done in the past was a temporary fix, so to speak." April's surgery was more radical in nature, a fusion of discs. And it appears Woods has come out clean.
"I feel fantastic," Woods said on Tuesday. "I didn't realize how bad my back was. Now that I'm feeling the way I'm feeling, it's hard to believe I was living the way I was living."
Coincidentally, Woods' latest updates have included "pain free" so many times you wonder if Woods and his observers are reading off script. That may seem like a small step, playing without physical suffering, and many, many more need to happen for Woods to return to formidability. But, for a guy who was so broken he had to use a makeshift bedpan, it's an important one, and spurs belief that -- barring a separate injury -- this return is for the long haul.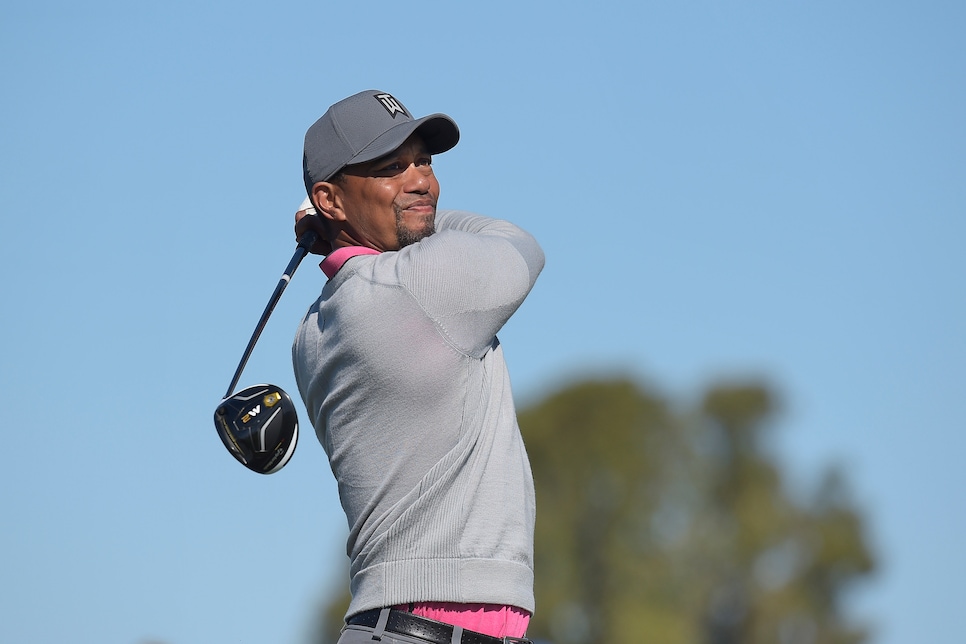 The gym work will pay off
In the past, Tiger's bulky frame and intense regimen have come under fire. While not without merit, Tiger's intensity in the gym is vital to his staying power.
Because, while Woods blowing it past Fowler and Dustin Johnson makes for intriguing headlines, there's real value to these feats. Stats have shown the corollary between driving prowess and success. Perhaps it's no surprise that, out of the world's top 10, Jordan Spieth is the lone non-bomber. Hitting it long is no longer an asset. It's a must.
One upshot of Tiger's fusion is limited mobility. In order to generate the necessary swing speed, power will need to come from the arms. Judging by his current build, that shouldn't be an issue. As long as he has the muscle, the distance numbers will be there, and thus, give him the chance to compete.
There's also the equipment component. Reaching age 40 used to be a death sentence on tour, but thanks to advances in club technology, fitting and education, players are extending careers far deeper than their predecessors. The young guns remain leaders in driving distance, but there's not the proverbial Walmart between them and the old fellas. Irons constructed with more forgiveness and power have boosted shelf lives as well. Seven players 38 or older ranked inside the top 20 in strokes gained: approach last season. Modern equipment has shortened the gap between the very good and great.
At the moment, this area remains an "if" for Woods, as he's notoriously failed to take advantage of the resources at hand. That he's enjoyed success in spite of this speaks volumes about his game. Alas, this area could become a very real handicap.
Though his woods at the Hero are 2017 models, Tiger is using relatively outdated Nike blades. In fairness, while other clubs can be substituted with ease, it takes time and trust for a player to make an iron switch. Given Woods only recently resumed full golf activities, that the older models are in the bag is not necessarily surprising.
On the other hand, Woods has been under contract with TaylorMade for a year. That he doesn't already have their sticks is a bit curious. A shame, because Tiger's game is a prime candidate to receive more forgiving-based clubs, particularly in the long irons.
Eventually his reluctance should subside, and when it does, add some sand to the top of his hour glass.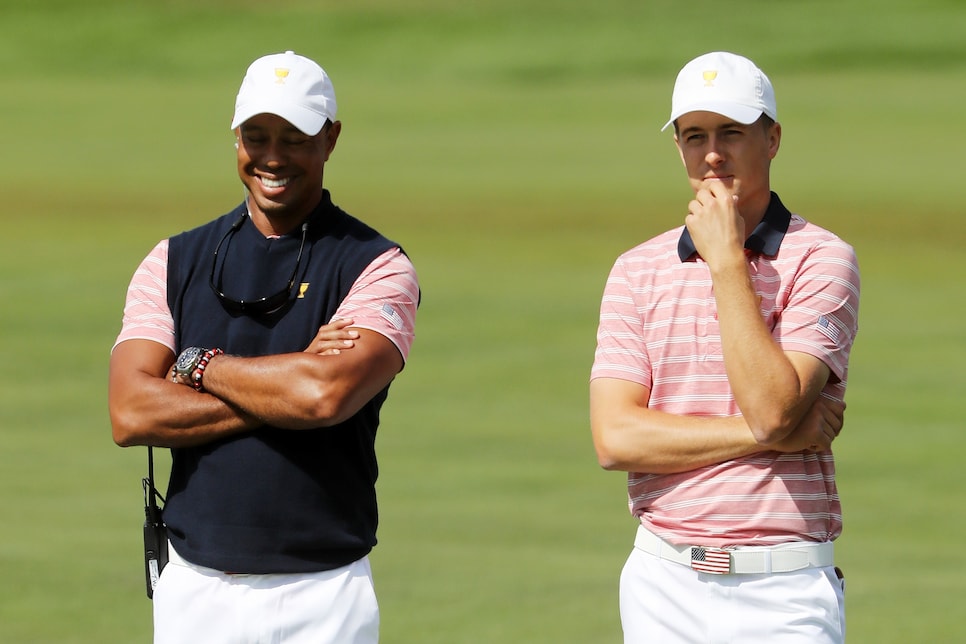 We'd be remiss in failing to mention the elephant in the room: Woods' fire. Through his trials, it's easy to wonder if the setbacks and injuries had taken their toll. He made his money, the trophy room is full. No one would blame the guy if he took his ball and went home. Tiger would still be around; he had endorsement appearances to keep, and in golf, no one truly retires. But in the competitive sense, the Woods of yesteryear could be gone.
And yet, we're talking about one of the most ferocious, fearless competitors of the past century. Absence doesn't necessarily douse a passion. It potentially makes a man more hungry. Woods may not be his same dominating self, but his edge and drive seem to remain.
Even his rapport with golf's new generation seems to have acted as a rejuvenation of sorts. Golf may be a game for all ages, but at its core, it's for the young of heart. Strolling Liberty National with his old swagger—the one flaunted during all those fist pumps and club twirls—along with mixing it up with American golf's 20-somethings, Woods showed those sentiments ring true.
Make no mistake, there are hurdles in Woods' road to competitive viability. The game's talent pool is deeper, the list of comeback successes at his age is brief, etc. But Woods will get his chance. And it's far from his final one.