The Loop
Is Singh ready to jump-start his season?
CHASKA, Minn. - Vijay Singh for years has made a habit of devoting his post-round hours to assiduously working on the driving range until he ran out of daylight or golf balls.
This year, however, the three-time major champion has had to cool it. Literally.
Singh, the PGA Tour's defending FedEx Cup champion, is weathering a sub-par season, but on Thursday at the 91st PGA Championship, the lithe and laconic Fijian showed signs of his feisty self with a three-under-par 69 at Hazeltine National Golf Club.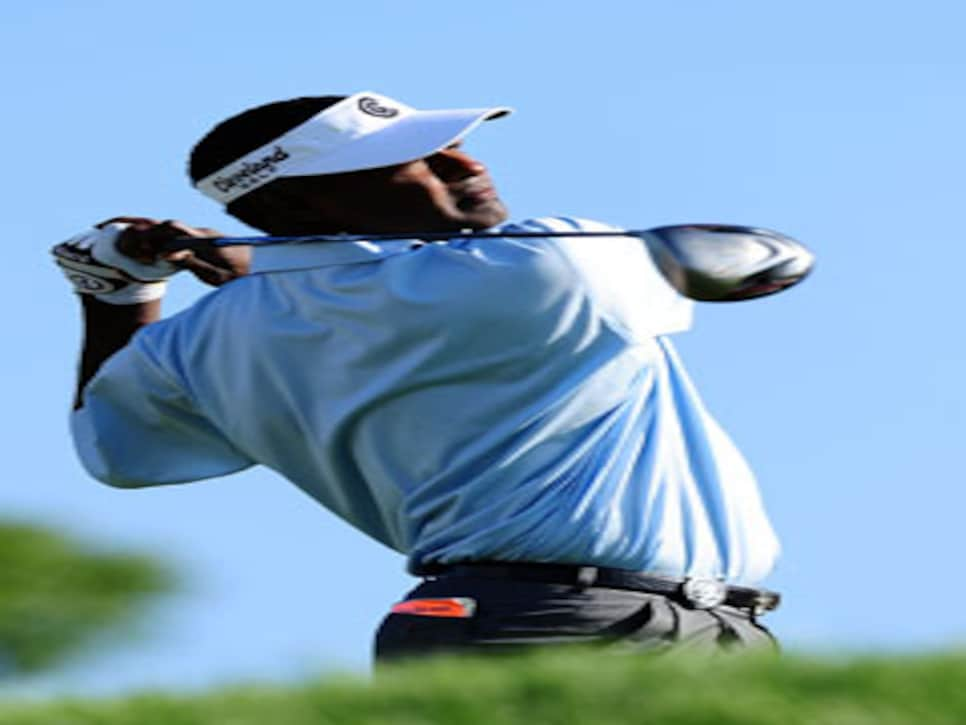 Winner of the PGA in 1998 and 2004, Singh fired his best opening round in the season's final major since his victory at Whistling Straits five years ago, and he tied 2001 PGA champion David Toms for low round of the afternoon, when the winds kicked up and the greens were chewed up. He trails leader Tiger Woods by two strokes.
"All around, this is definitely the best round I've had in a while," said Singh, 46, who has yet to win in '09 after three victories a year ago, including consecutive triumphs during the playoffs that enabled him to lock up the second FedEx Cup title. "This is the first time I felt like I could just go play. That's my mindset this week is to go play and not worry about anything else.
"I'm just now beginning to play well and feel good about my game and about myself."
That Singh has posted just three top-10 finishes and is languishing in 63rd place in the FedEx Cup standings underscores how relatively poorly he's performed this year. But the truth is he is only now returning to full health after undergoing arthroscopic surgery on his right knee in mid-January.
Singh, whose putting has improved since he went back to a short putter last week at the Bridgestone Invitational, admitted Thursday that his knee is still swollen and sore. He has to ice it after every round, which cuts deeply into his post-round decompressing on the practice tee.
"It definitely sucks," Singh said with a hearty laugh. "I can't do things that I want to do. There are certain things I haven't been able to do with my golf swing. I haven't gotten down to line up a putt all year. But it's definitely coming along."
Singh said if he had to do it over, he wouldn't have returned to competition so soon. He underwent surgery to repair torn cartilage in the knee on Jan. 14 in Jacksonville, Fla., and he competed in the AT&T Pebble Beach National Pro-Am on Feb. 12.
"Yeah, I came back too early," said Singh has missed the cut in the PGA the last three years. "But it's getting better now. Mentally I feel like my game is getting back to where I want it. I can just go out and play my game and not worry about the mechanics, how I'm swinging it. That gives you confidence - to just think about playing as opposed to being distracted because you think it's going to hurt."
That he has been shutout thus far in his bid to add to his 34 PGA Tour titles does not make Singh happy. He last went winless in 2001. He's not about to press though, be it this week or once the playoffs begin.
He's taking the long view.
"Winning this week would be great," he said, "but having the ability to win down the road is the big thing."
Right, he wants to compete until he runs out of daylight.