The Loop
Is Rory McIlroy back after a 64 in Malaysia?
The casual golf fan emerged from the Masters wondering "Who is Charl Schwartzel?" For the more avid followers, the more pressing question coming out of Augusta National was, "Will Rory McIlroy be able to bounce back?"
It may not be a major championship and it's still not even a Sunday, but the 21-year-old McIlroy, who's painful-to-watch final-round 80 cost him a chance at his first major, hasn't even needed a week to display some gritty resilience.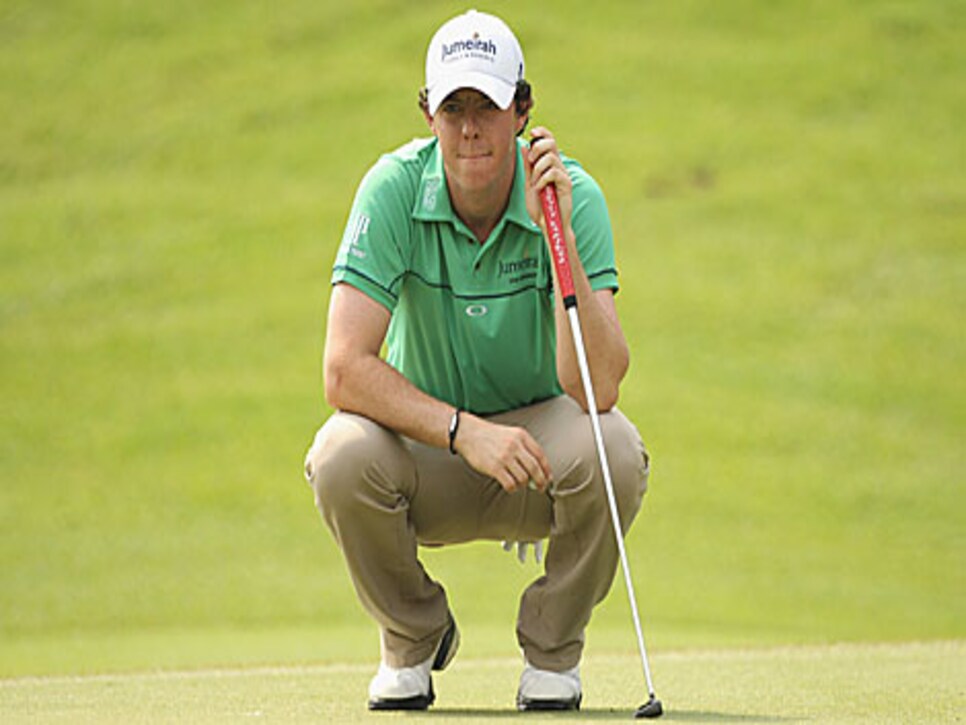 Playing in the European Tour's Malaysian Open, McIlroy fired an eight-under 64 in the second round to tie for the lead with Alexander Noren. Play for the day wasn't completed due to heavy rains.
Following his Masters meltdown, punctuated by a disastrous triple bogey on the 10th hole Sunday, McIlroy handled the situation with grace, stating simply, "I'll get over this." Regardless of how he finishes this tournament, McIlroy has already proven that he's certainly not going to hide and sulk about last week's events. That was apparent even by a post on his Twitter feed Monday which featured a photo of him smiling next to Schwartzel in his new green jacket.
What McIlroy still needs to prove, however, is if he can close golf tournaments, majors or not. He's only won once in five tries when taking a lead into Sunday. Even that time, at the 2009 Dubai Desert Classic, McIlroy needed to get up-and-down from a back bunker on the 72nd hole to win by one, despite having a six-shot lead on the back nine. His one win on the PGA Tour was a come-from-behind effort at Quail Hollow last year when he closed with a 62.
Of course, when evaluating McIlroy, it's important to remember he is still only 21. And even coming off the most disappointing T-15 in Masters history, he still has finished T-3 in three of the last six major championships. There will be plenty of future opportunities for him to show off his skills on golf's biggest stages. It's just hard to imagine him not being affected by what happened on the back nine at Augusta, where charges are supposed to be made up the leader board, not off of it.
So what does this latest performance mean? Is it possible McIlroy is already over his Masters debacle? If not, will he ever be? Does have all the tools to eventually win multiple majors?
Last Saturday night, most people were pretty sure about the answer to that last question. Even given what followed on Sunday, there's still plenty of reason to think they're not far off.
__UPDATE:__McIlroy was one under through nine holes when play was suspended Saturday. He holds a two-shot lead over Matteo Manassero and Gregory Bourdy heading into Sunday.
Follow on Twitter: [@AlexMyers3
](http://twitter.com/AlexMyers3%22)
(Photo: Ian Walton/Getty Images)