The Loop
England's Charley Hull is ready to join golf's youth parade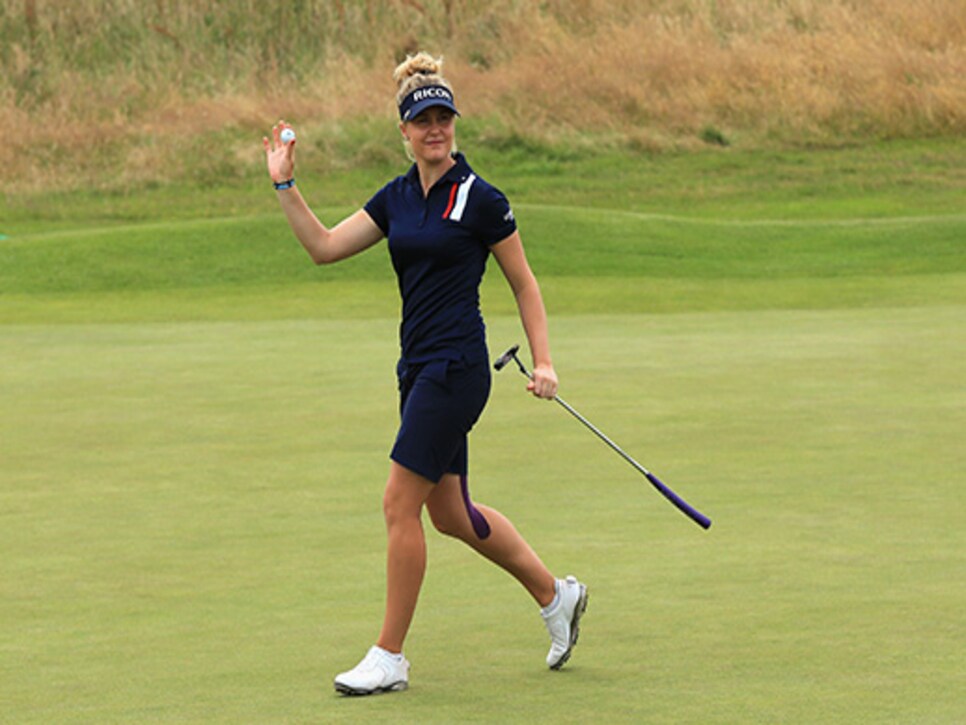 SOUTHPORT, England -- The first time Charley Hull popped onto the golf radar for most fans was last year's Solheim Cup when she dispatched Paula Creamer, 5 and 4, in singles -- then asked for her autograph.
Viewers are likely to learn a lot more about Hull on Sunday at the Ricoh Women's British Open. She's sitting at one-under 215 after 54 holes, a score that will be within striking distance in the final round.
With an early Saturday tee time, the 18-year-old Englishwoman made two quick bogeys but then charged into contention with a third-round 66, the low score of the week thus far at Royal Birkdale.
There is something fresh-faced and fun about Hull that reminds you of a young Dame Laura Davies. They both approach the game with the same "hit it, go find it and hit it again" philosophy. Hull, however, probably practices a wee bit more than Davies.
It was that no-look-back attitude that buoyed Hull's spirits following a 76 on Friday -- which included a 40 on the back nine after driving out of bounds for the second straight day on No. 18 -- that left her 11 strokes behind 36-hole leader Mo Martin.
"I said to my Dad last night, 'I'm not out of this championship,' " Hull said. "Some one was 10 shots off the lead …"
Paul Lawrie when he won the 1999 British Open at Carnoustie, she was reminded.
"And that was in the final round, wasn't it?" she said.
After opening with those two bogeys, Hull made birdies on eight of the next 14 holes, including all four par 3s, before a three-putt bogey on No. 17 slowed her slightly.
"I really felt like I was going to hole my first one," she said about her 17-footer for birdie. "So I raced it about five-feet past and left myself a tricky putt, downhill, left-to-right."
But she closed with a birdie on the par-5 18th where she had made a 7 and a 6 the previous two days. "I'm most happy about hitting 18 fairway because I've hit nearly three balls out-of-bounds to the right off my tee shot this week," Hull said with amused annoyance.
"Yesterday, I hit it out right, hit a provisional off the tee and hit it two inches in bounds, so I had to take the drop," she said with delightful matter-of-factness. "Hacked it out, pitched it up, holed a putt for 7. It was the best 7 I've ever had."
This is only the second time Hull has made the cut in an LPGA major, missing the previous two years in the Ricoh Women's British Open and last year at the Evian Championship. She finished T-7 in this year's Kraft Nabisco Championship, fading with a Sunday 76 after a third-round 66, and did not qualify for the U.S. Women's Open.
Hull passed on an exemption to the final stage of 2013 LPGA Q school in order to focus on the Ladies European Tour this year. That's paid off. She got her first LET victory at the Lalla Meryern Cup in Morocco when she birdied the first hole of a playoff against Gwladys Nocera.
Hull emerged as a star during Europe's first ever Solheim Cup victory on American soil at Colorado GC last August, going 2-1-0.
On the first tee of her singles match with Creamer, Hull innocently complimented her on her shoes, when went out and waxed her. And as for that autograph request?
"My friend at home, he's a big fan," she said. "So I thought I might as well get one."
The youthful spontaneity with which Hull answers questions reflects the same carefree, aggressive enthusiasm she brings to her play.
"I don't realize that I play aggressive golf, but I probably do," she says. "I just hit it. If it's a stupid pin, I'm not going to take it on, but if it's reasonable, I just go for it."
"Like I always say, hit it, find it, hit it again, just do that," Charley says. "Just go out there and do my thing."
Something Dame Laura would say. Then Hull went off with her coach to practice. Something Dame Laura would never do.
In a sea of fresh-faced young talent in women's golf, Hull just may emerge as one of the best, and already is one of the most interesting. Her next star turn comes on Sunday at Royal Birkdale.