The Loop
Is it okay to like Tom Brady now? A very brief investigation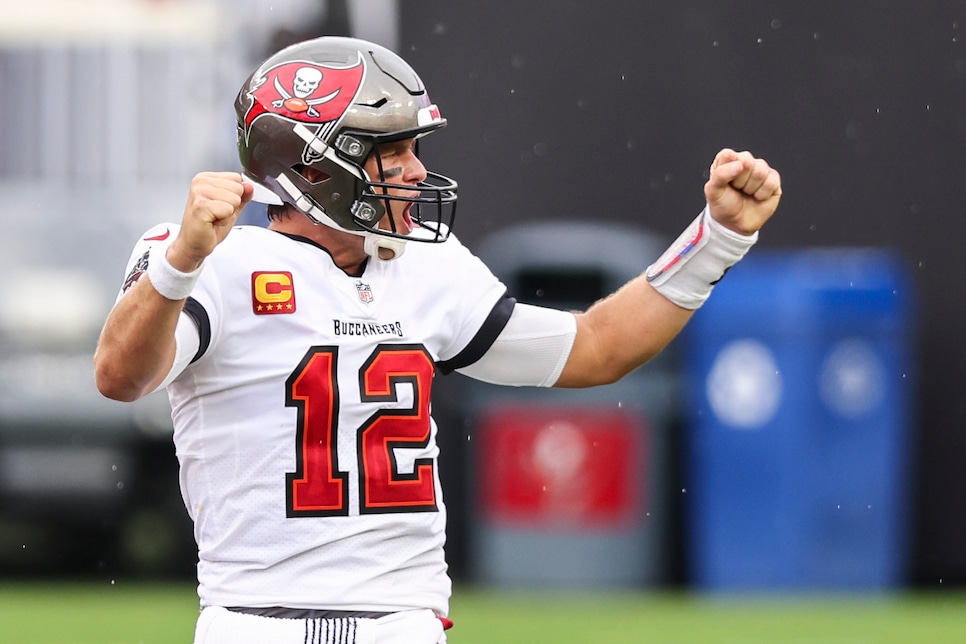 A couple weeks ago, we asked whether NFL fans in North Carolina were right to continue rooting for Cam Newton now that he's a Patriot. The answer was no, of course not. Screw the Patriots. But we might as well ask the opposite question today: Is it okay to cautiously start enjoying Tom Brady now that he's left Belichik's evil empire?
After all, he's doing Tom Brady things and still apparently quite good. The Buccaneers are 3-1, and on Sunday Brady threw five touchdown passes en route to leading his team on a massive comeback against the Chargers. Watch this man:
Is it time to put our hatred aside and just appreciate his talent now that it's divorced from the world's most grotesque franchise?
In a word, no. First off, even though Belichick is the arch-villain in the Patriot narrative, we can never forget the leading role played by Brady. He was there at every critical juncture, ridiculously good, and just annoying enough off the field to make you resent him and all his success.
Second—and this is far more important—you can only appreciate someone like Brady when he has fully entered the novelty act stage of his career. It's like that time Jimmy Connors went deep at the '91 U.S. Open as an oldster. Everyone involved in tennis knew that Connors was a legendary douche, but now he was well past his prime and no threat to win the title. Based on lifetime achievement and the knowledge that this was a last act that would fall short of the big prize, the American fan could enjoy it without guilt.
Brady is not dead. If you think a nightmarish Bucs-Patriots Super Bowl is out of the question, you haven't been paying attention to the hellscape that is 2020. Brady is still way too good to shed the well-earned hatred from a long career, and with his hyperbaric voodoo-and-vegan health regimen, I'm pretty sure he's going to remain elite until about age 60. Don't sleep on Brady: Keep the hatred strong.
The "Please Kill This" Entity of the Week: The XFL
Once you get past the clever PR spin there, the real story is that the XFL will not be around for 2021. This is a league that quickly tanked when it was first introduced in 2001, and which ran into terrible timing this year when the return season was cut short by COVID. Or maybe it was terrific timing, because let me assure you: this is never going to catch on. The only remote prayer of success for the XFL hinges on the NFL's conservative fan base getting so mad at the political situation that they boycott en masse, but this is a fantasy and everybody involved should know it. Football is popular, yes, but not even America can sustain a third league (after the NFL and NCAA) that has fewer resources, absolutely no fan or media enthusiasm, and a worse competitive product. KILL IT.
Rare, Arcane Play of the Week: UNC Football
To root for Carolina football is to root for stress, as it seems like every single of their games—whether they're playing Clemson or a scrub—comes down to the bitter end, often hinging on a two-point conversion attempt. That was the case again against Boston College this past weekend, with the Eagles lining up for two, down 24-22, in an attempt to tie the game with less than a minute left. Watch what happened at the 1:20 mark here:
That's called a defensive two-point conversion, it's only been allowed in college football since 1988 and in the NFL since 2015. Unfortunately, UNC was favored by about two touchdowns, so this bit of weirdness didn't break any gambler's hearts.
The Obligation Watch of the Week: NBA Finals
I wrote last week about how it seems harder to care about sports in general, but nothing is quite testing our collective patience like the NBA. I was psyched when the bubble came back, somewhat enjoyed the beginning, and then fell off completely. Now the finals are on, and LeBron James is on the verge of becoming the first player to lead three different teams to a championship (John Sally and Robert Horry have both won with three different teams, but were role players). What's more, he's facing his old team, and they actually won a game. This should be good.
Instead, it's a dud, and injuries have not helped. We must be in strange times where watching the finals feels like an obligation, but that's exactly where most of us are at—you can't exactly miss it, since that would be missing out on a part of history (not to mention one of the premier sporting events of the year), but 2020 has warped us to such a degree that it's barely even fun. It's hard to imagine that we'd have to watch LeBron win a title out of duty and habit, but...here we are.
Hero Junkballer of the Week: Hugo Gaston
Hugo Gaston is one of those names that you almost definitely have never heard before this week, and for all I know, you might never hear of him again. But the 20-year-old made an incredible run at Roland Garros this year, taking out Nishioka and Wawrinka to reach the fourth round, where he faced U.S. Open champ and two-time French Open finalist Dominic Thiem, a.k.a. the world's second-best clay court player. And what he did in that match Sunday night in Paris will be remembered long after this bizarre year has ended. Facing a 2-set deficit and looking very much like the next straight-sets victim of Thiem's run, he scratched and clawed his way back to the fifth set, and he did it by becoming the tennis version of a knuckleballer. With constant drop shots, lobs, and kamikaze charges on Thiem's second serve, he managed to make his opponent supremely uncomfortable, and came within a hair's breadth of pulling off the greatest French Open upset since Rafa Nadal lost to Robin Soderling.
Watch this terrific moonball-moonball-winner sequence:
You can get a sense of the variety here, and notice in particular the match point save around the three-minute mark:
And he also managed to electrify a limited crowd. For some reason, this shot is pretty great despite the strangeness of the scene:
Thiem moves on, but with incredible touch and the kind of strategic creativity that's very rare even among veterans, Gaston gave us one of the best matches of the year.