News
Is anyone's best good enough against Tseng?
CARLSBAD, Calif. -- Suzann Pettersen is likely more familiar with Yani Tseng's game than anyone on the LPGA Tour inasmuch as they are friendly rivals who often play rounds together when both are home in the Orlando area.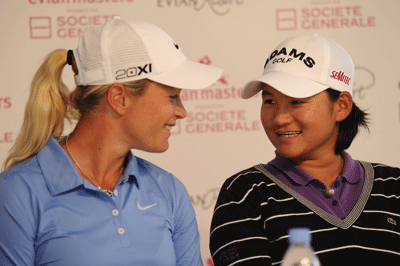 So what is it about Tseng's talent that has allowed her to dominate women's golf?
"She gets some lucky bounces every now and then," Pettersen said, clearly kidding. Pettersen was alluding to to a fortuitous kick on a modestly errant approach that Tseng hit to their 18th green at the La Costa Resort in the first round of the Kia Classic on Thursday. The ball wound up two feet from the hole, an easy birdie that concluded a round of 67, which gave her a share of the lead. Pettersen, meanwhile, missed a birdie putt at 18 that would have given her a 67 as well. "I really wanted to make that last putt," she said. "You hate to lose, so you just want to win all the friendly matches."
Friendly or otherwise, odds aren't favorable these days given the roll Tseng is on -- 12 victories internationally last year, two already this year. "I know when I'm on my best I can take her down or anyone down," Pettersen said. No doubt Pettersen, third in the Rolex Ranking, believes that, but the reality is that even at their best, the other elite LPGA players would not necessarily prevail against Tseng these days.
Moreover, Tseng seems to be growing more comfortable and by extension confident. "I don't feel as much pressure at the beginning of this year," she said. "I'm enjoying it. I'm always excited for every week, trying to win every tournament. I'm learning from mistakes and every tournament I'm learning something. It's very exciting to see this year what I can improve on my game, what I can improve on my fitness, my mental game, and to see how far I can go."