The Loop
Is anyone surprised the Americans are lurking after Day 1 of the Women's British Open?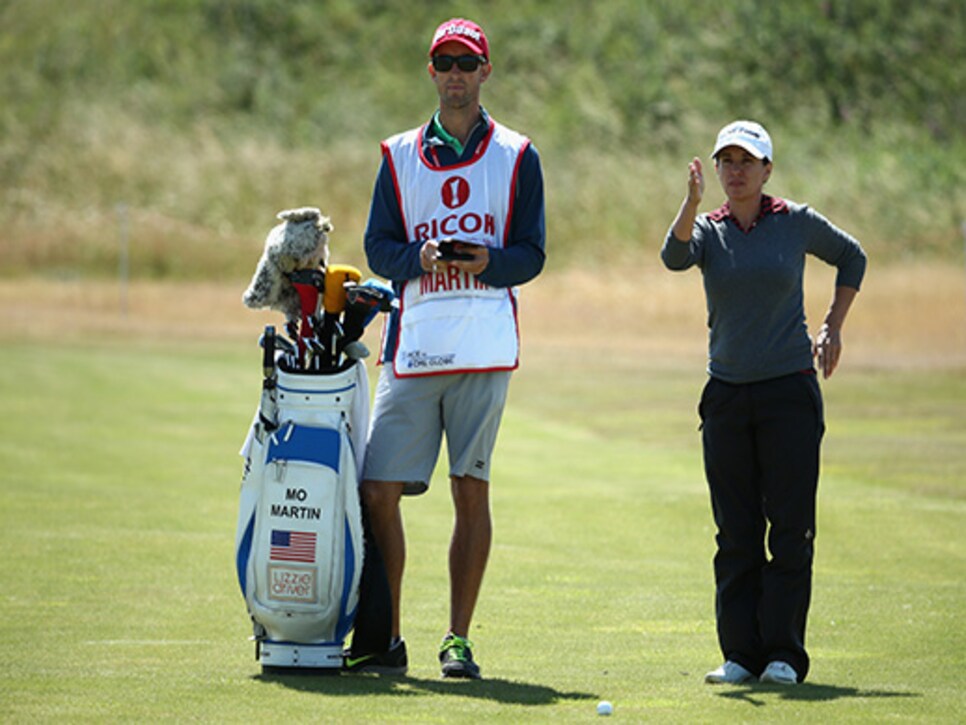 But 2014 is turning into the Year of the American.
Coming into the Ricoh Women's British Open, U.S. players had won 10 of the 16 LPGA tournaments, including both majors -- Lexi Thompson in the Kraft Nabisco Championship and Michelle Wie in the U.S. Women's Open. The last time Americans won the first three majors of the year was in 1999 when Dottie Pepper won the Kraft Nabisco and Juli Inkster took the LPGA Championship and the U.S. Women's Open.
And while Ayako Uehara of Japan shot a four-under-par 68 to take the first-round lead Thursday on a very stingy Royal Birkdale, a band of Americans were not far behind.
Mo Martin (above) finished Round 1 a stroke off the pace with a 69 while Morgan Pressel and Mina Harigae were at 70. Lewis, the defending champion and No. 1 player on the Rolex Ranking, posted a 71 with Thompson, Jessica Korda, Marina Alex, Amelia Lewis and amateur Emma Talley at 72.
Sweden's Anna Nordqvist, twice a winner in 2014, also opened with a 72, and was joined by Suzann Pettersen of Norway, South Korea's Inbee Park, who won three majors last year and has one LPGA title in 2014, and Karrie Webb, a two-time winner this year from Australia.
Pretty much everyone traces the resurgence to the stinging defeat by Europe in last year's Solheim Cup at Colorado Golf Club outside Denver, the first time the U.S. squad lost a home game in that competition.
"I think all of the Americans are very motivated," Wie said. "We kind of got our butt kicked [at last year's] Solheim and I think after that, I think a lot of us just really looked into ourselves and kind of just re-evaluated what was happening. It was a good reality check."
Wie, however, got off to a slow start, opening with a three-over 75. She may need to abandon her conservative game plan and hit more drivers.
"I definitely felt like my tempo was a little bit off," she said after playing early on what passed for a calm day on the west coast of England. "But it's a long way until Sunday and I battled. Definitely not the score I was looking for on Thursday, but it could have been a lot worse and I really hung in there today."
Related: MIchelle Wie's Wild Ride Rolls On Entering the Women's British Open
Wie hit seven of the 14 extremely narrow fairways -- think of them as lumpy bowling alleys -- and nine of the 18 postage stamp-size greens, using 30 putts.
"You look at the first half of this year and how many Americans have won and there's definitely been a switch," says Lewis, the only three-time winner on the LPGA Tour this year. "I think we have all been kind of motivated from Solheim and from answering those questions all the time of where are the Americans."
Lewis, who played the last nine holes two under par, took advantage of the mostly calm conditions during her 6:52 a.m. tee time with Uehara and Charley Hull, a Solheim Cup star from England, who shot 73.
"I think anything under par on this golf course is a good score," she said. "It's nice to have it pretty calm. Sunday looks like we are going to have worse weather, which I would love to see on Sunday. It was nice to play the golf course the way it should be played instead of wind-whipped."
While some big-name Americans disappointed along with Wie -- Angela Stanford shot 74; Paula Creamer 75 and Cristie Kerr 81 -- plenty are well-positioned after 18 holes.
Sunday at the Kraft Nabisco was a shootout between Thompson and Wie; the final day of the U.S. Women's Open saw Lewis pressuring Wie and finishing second. Perhaps this coming Sunday at Royal Birkdale will provide the next response to the question: "Where are the Americans?"