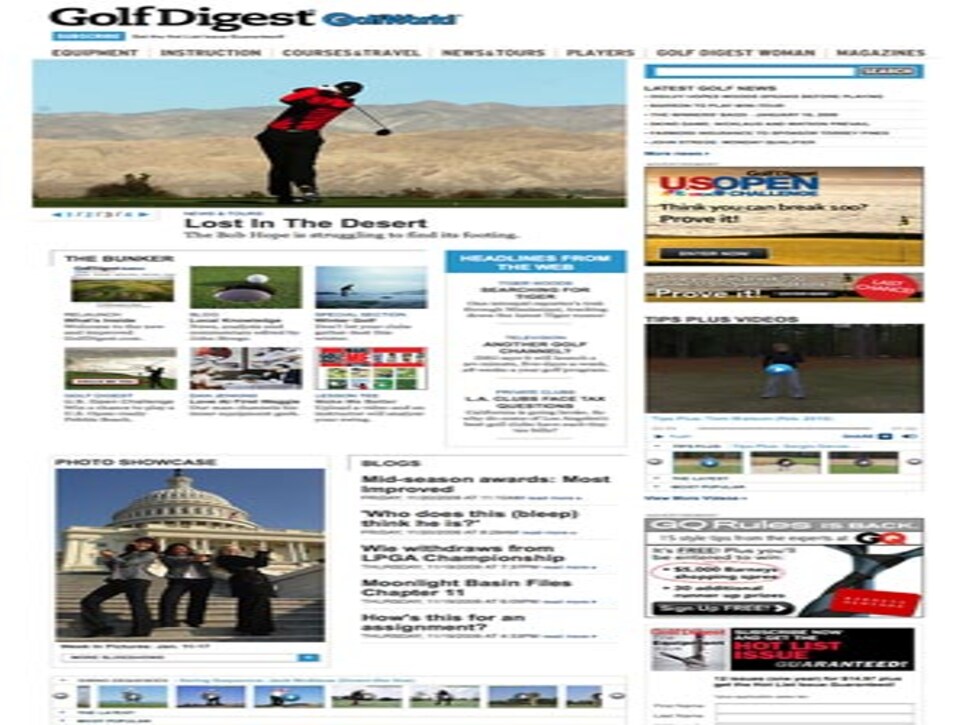 The new GolfDigest.com features a sleeker look and enhanced navigation.
Sometimes a solid course layout needs to change with the times. We felt the same way about GolfDigest.com. While we didn't call in Rees Jones or Tom Fazio for our own makeover, we did decide to make some moves to help you get the most out of our site. On that note, we go into the 2010 season with a new look and a number of new features.
As you hit the homepage, you'll see a crisp, clean new design where our photography, writing and video jump off the monitor. We have a new drop-down navigation bar that helps you find exactly what you're looking for within the categories we believe are the reason you come here: Equipment; Instruction; Courses and Travel; News and Tours. New sections include a Players area offering a comprehensive look at some of the game's biggest names; and Golf Digest Woman, an exciting destination for women golfers.
Ultimately, this site is about you. In the world of golf there are spectators and there are players. GolfDigest.com is for players. And players primarily care about only one thing: My game. Our goal is to be the favorite site of golfers who think about the game every day. To be the companion in the grillroom who listens to their buddy describe every shot, who sends his partner to the best teacher for help, who compares equipment, shares opinions and exchanges jokes.
If Golf Digest the magazine's mantra is "How To Play, What to Play, Where To Play", GolfDigest.com is all of that and more. We're not only the practice range, the instruction tee, and the bag room, we're the grillroom of golf. And as we celebrate Golf Digest's 60th anniversary, we hope GolfDigest.com will be the place you feel most at home.
Golf Digest Digital Properties