Interview With Ian Woosnam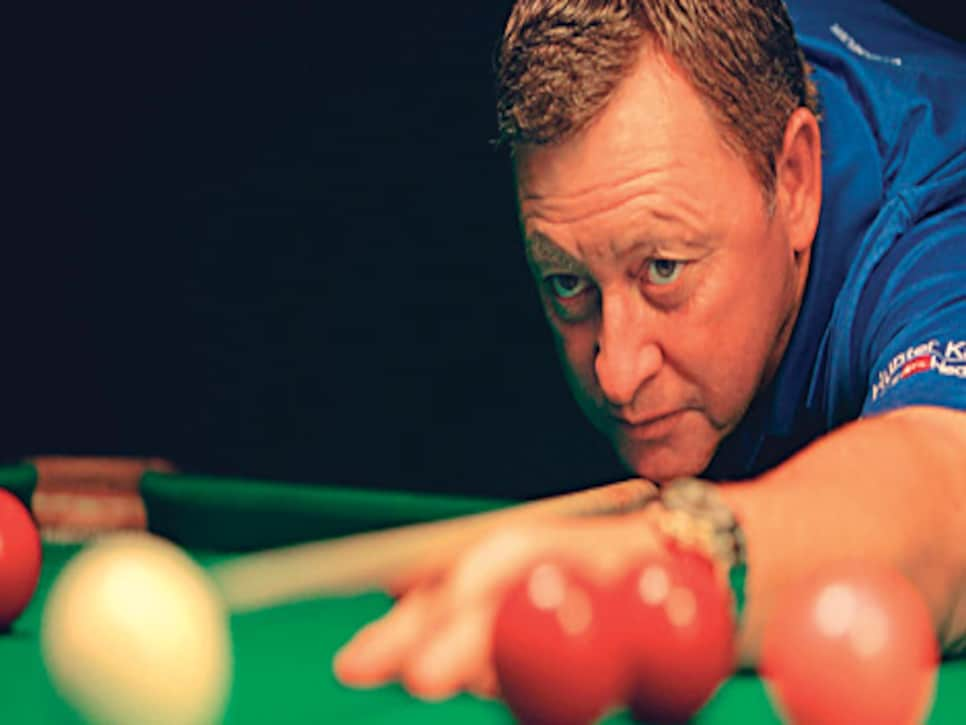 He's probably the most down-to-earth–and at 5-feet-4½ inches, perhaps the shortest -- world-class golfer ever. Equally at home conversing with tax-exile millionaires on the Channel Island of Jersey where he makes his home or with mates on bar stools around the world, Ian Woosnam is a true working-class hero. In a taxi en route to an in-depth interview with the 1991 Masters champion and 2006 European Ryder Cup captain, a passenger mentions Woosnam's name to the driver.
"Woosie?" says the cabbie. "Great lad. I was playing golf with him just the other day."
Tom, the taxi driver, calls Woosnam at home to say his interviewer has arrived early at La Moye Golf Club. Wee Woosie, a stickler for punctuality, arrives soon after.
Woosnam spends the next four hours, and in a follow-up interview, conversing easily and humorously on a range of subjects covering his 30 years as a golf professional. He is refreshingly candid, detailing his early struggles on the European tour, that extra club in his bag at the 2001 British Open that might have cost him the claret jug, and his prominent role on European Ryder Cup teams since 1983.
For Woosnam, life has always been about living. On and off the course.
Golf Digest: Before we get to your golf, tell me about your boxing career.
Ian Woosnam: [Laughs.] Me dad always wanted to be a boxer, but his parents wouldn't let him. It was, "You'll be a farmer, lad." He was always interested in the sport, though, and that was why he took us to a holiday camp. We went every year.
You were good at boxing?
I was. I used to just pummel everyone. But it was just a bit of fun, really. I was about 10 or 11. It wasn't real boxing, just scrapping. And in the end, no one would fight me.
Me dad brought us all up to stick up for ourselves. He had a bit of a reputation for fighting. He played for the local football team, and there's a story about him going against his mate, Ron Scott, and Ron's two brothers. One of them tried to go past, and, bang, me dad chopped him down. A few minutes later another brother tried the same. He got the same treatment, so he got up and took a swing. Me dad dropped him. At that, his twin brother came over, and he was flattened. Then Ron did the same. Three brothers lying flat out. [Laughs.] Me mum is the opposite. Very mellow and quiet. I'm definitely me father's son.
You became a professional golfer at 18. What was your lifestyle at that stage?
I was like any 18-year-old. I liked having fun, having a few pints. I was playing at a lower level to get some money, then going off to the European tour to see how I could do. When I ran out of money -- and I did a few times -- it would be back to get a job for a while. I was buying experience, really. And I lived like that for five years. It was fun and a great experience.
Any experiences you can share?
I used to travel with a guy called Joe Higgins. We were in Nairn [Scotland], and the next week we had to be in Italy. It took 10 hours to drive to Glasgow because the roads were so bad. Anyway, it's off to Dover and the ferry to France. We had to get off the motorway because the tolls were too expensive. So we take what we thought was a shortcut, and what happens? We break down, that's what. We finally got going, but on the outskirts of Milan the engine went again.
We took it to five garages; can't fix it. The petrol gauge looked funny, so we thought that might be the problem. I went off with a can at 7 a.m., got some fuel, and the attendant offered me a lift -- on his bike. There I was going through the streets of Milan on the handlebars of his bike. [Laughs.] I wish we had a picture.
Did you ever consider playing more in America?
Not really. I've been over there for four or five weeks at a time and found that every city was the same. The players are all over, so there's no atmosphere at night. Over here the players are all in the same place, so it's easy to find someone to have a few beers with.
Your image is one of a man who lives life. How true is it?
Pretty true. I try to be normal. I don't go around saying I'm a top golfer and I want this and I want that. I just want to walk into a bar and merge into the background. That's one great thing about living here on Jersey, I can do that. No one ever bothers me. I'm just a working-class lad with a talent. I wish I could have made it to the top in golf without having to be famous. But that's impossible. And sometimes it's annoying.
You've never enjoyed the fame?
Not really. Winning the Masters was great, but what came after was not my thing.
What do you mean?
The public eye on me all the time. I don't enjoy that.
How did you end up in Jersey?
We had a house in Oswestry [England] and a flat in London. We were there until 1994. We were having a bit of hassle in Oswestry. Certain people were jealous. When we'd go out, we'd get people shouting at us. What had I done to deserve that? I'd be expected to buy all the drinks, too. I didn't like that. There were so many jealous people. So we moved. It was pathetic.
It's been fantastic here. No hassle. I sign only the occasional autograph. I can go anywhere and no one bothers me. I'm a member of the "Round Belly Society." It's mostly taxi drivers. But I mix with everyone. It doesn't matter who you are. I like that.
What don't you like?
People who lie. They don't last long with me. I like people to be on time, too. I hate being late. I find it hard to understand when people are late. I do everything on time. Drives the missus mad. And friends. If someone is late, I always tell them they have a two-shot penalty.
I love to play with fast players. Tom Watson in the Masters was perfect for me. He gets on with it. I love playing with John Daly. I played with him four rounds in the Masters one year.
His line about you was, "I've had shorter relationships with some of my wives."
[Laughs.] He's a good lad.
He's had his problems. Has alcohol been a positive or a negative in your career?
Interesting question. I don't see it as a big issue. I'm a normal lad who drinks like a normal person. I don't drink more than two or three beers in the evening. Maybe a glass of wine with my meal. I had more than that when I was younger. But I could do it. As long as I had eight hours' kip [sleep], I was fine. But those days are gone. I'm not one for all night -- 2 o'clock is late enough.
So it's never been a problem for me. I see it as my way of getting a bit of relief from the golf and the pressures. If I'd done what Nick Faldo did and dedicated myself to golf completely, would I have won more majors? I don't even think of it. Off the course we're completely different characters. I like smoking and drinking, and he's into the lemonade and off to the gym.I couldn't have been that person even if I'd tried.
You, Faldo, Seve Ballesteros, Bernhard Langer and Sandy Lyle were Europe's Big Five in the Ryder Cup in the '80s. Now you're the captain. What have you seen, good or bad, from captains you've had?
Tony Jacklin was phenomenal. He was great at blending people. He got everyone together and was very open.
What kind of captain will you be?
Bit of everything, really. Bit of inspiration. Bit of excitement. I'm not a Bernhard Langer. I'll bring a bit more excitement to the job. I'm more aggressive; that was the way I played. But until you do it yourself, I'm not sure you really know what kind of captain you'll be. Ask when it's over.
What did you learn from 1997 when you and Seve had some problems at Valderrama? [Woosnam played in only one four-ball match, a victory with Thomas Bjorn, before losing to Fred Couples, 8 and 7.]
That everyone has to be involved and know what's going on. When my team sits down to the opening ceremony, the players will all know who is and who isn't playing. Because I will have told them face to face. That's part of the job. I'll be able to talk to anyone who isn't playing well about sitting out. But I would also expect that person to come to me and volunteer to stand down.
What was the best thing you did as assistant captain four years ago?
Helping with the pairings. I listened to what the players had to say. Some were unhappy, and I was able to help them understand the thinking behind the pairings. Mark James and I also helped Sam [Torrance] with his team talks. We were always passing him little notes on what to mention. We were his eyes and ears.
With the singles order, Sam wanted to go with his strength at the top and try to win the thing early. I agreed with that but suggested one change: Sam had Garcia out first, but I wanted Monty [Colin Montgomerie]. He was playing the best golf and was liable to provide the right inspiration. And he did. He was unbelievable that week.
Have Monty's problems over the last year or so [players vehemently criticized Montgomerie for replacing his ball in what they said was a more advantageous position after a delay in play] had any effect on whom he can and cannot be paired with?
Oh, you're talking about that are you? [Laughs.] Eh, I haven't really thought about it. I have dismissed it to the back of my mind. But I see what you mean. It isn't something I really want to get into. All I can say is that I'll handle it at the time. Team players play with anybody. That will be my message.
How big a role does someone like Monty play in your mind?
Monty seems to revel in the match play. I'm not sure why, maybe because he doesn't have to worry about his score. He just gets up there and hits the ball so straight. When you do that, your opponent is under pressure on every hole. He enjoys it, too. He enjoys having all the people cheering him on.
What has tended to work and not work in pairings you have seen?
It depends. Mickelson and Woods didn't work [the two were 0-2 together in 2004 at Oakland Hills]. I'll go with my instinct, but I have to think I'll use pairings we've seen.
Tom Lehman has said he considered playing and being the captain.
I think it's impossible. I would never think about doing that. If he plays, it's good for us.You can't do both. There would be times when he would be playing and having to think about pairings for the next series. He would end up relying on his vice captains [Corey Pavin and Loren Roberts] doing the job for him. If he feels like he can do it, fine. I couldn't.
How do you explain Europe's recent success in Ryder Cups?
We gel so well together. The players really enjoy it. They take it seriously, but they have fun while they're doing it. In contrast, the Americans seem to be under so much pressure to win. The fans and the media are all over them because they're stronger on paper. They're always favorites.
But it seems that Europe is winning every time. Does that success put more pressure on you?
It does. We're trying to win three in a row [outright], which we've never done.
And are we going to get a backlash from what happened at Oakland Hills? You never know.
I might get it completely wrong and end up looking the way Hal Sutton did last time. That's one of the frightening things about the job: You get criticism if you lose. Even if you make all the right decisions beforehand. You can go out, shoot 10 under par, and lose. Not because you got the pairings wrong, just because you lost to a better team on the day. So you need some luck.
I've had a look at what the Americans did in the Presidents Cup. Chris DiMarco played with Mickelson, and Jim Furyk was with Woods. I'd be surprised if we don't see those again.
You played in eight Ryder Cups in a row from 1983 to '97. What do you remember from your first match?
I was playing with Sam in a four-ball. It was his second Ryder Cup. I told him on the first tee how nervous I was and how he would have to carry me for a bit. "Don't worry," he said. "I'll look after you."
Yeah, right. He was out-of-bounds at the first. I made a birdie to halve the hole with Ben Crenshaw and Calvin Peete. Next hole I made a par. Sam was in the water. Next hole he was in the water again. Then he birdied six of the last 12, and we halved our game.
What's been the highlight for you?
Winning in '87 in Ohio. To win at Jack's course [Muirfield Village] with him as captain was special. And the first time for us to win in America, too. It suits me. It's like boxing -- we're always the little guy against the big guy.
Was that year the best you ever played?
Oh, yes. It started right at the start of the year. It was almost midnight on Dec. 31. I was at a party, and someone said, "Why don't you drive in the New Year?" So I did. Something clicked on that shot. I had to stand steady, because I didn't have golf shoes on. I tried to stay on my back foot a little longer. I could feel it worked. The next day I played and hit it fantastic. I never looked back.
Other Ryder Cup memories?
I remember Ray Floyd saying he had the best 12 players in the world [1989 at The Belfry]. That was all we needed to get us going. It was up to us to show them, and we've done that. In fact, in the 1980s, we were better. They knew that, too. You learn a lot about the characters of people. We really bond at a Ryder Cup.
The Americans don't seem to have the same type of relationship. They're more individuals. Faldo was like that, too, but he was great at a Ryder Cup. Everyone takes on a role. And we all come together at dinner. It's great fun.
Is it the most pressure in golf?
It is. Because you're playing for the team. I put a lot of pressure on myself that way. Maybe that's why I've never won a singles match [0-6-2]. That's my worst Ryder Cup memory. I tried too hard. I desperately wanted to win. Maybe I was too much of a team man. I tended to watch the board too much, looking to see how everyone else was doing when I should have been focused on my own game. That's a mistake. Although you're part of a team, you have to play for yourself and be a little bit selfish.
My biggest disappointment was when I was the last man out against Curtis Strange [1989]. The matches were all over, we'd won the trophy and I was 1 up with three to go. Curtis wanted to concede the game, as it made no difference to the overall result. I said, "No, let's play on." So he makes birdies at the last three holes and beats me. I should have kept my mouth shut! Rest assured, I'll be making sure no one makes the same mistake at the K Club.
But you've got an impressive record [14-6-3] in four-balls and foursomes.
At Muirfield Village I was playing with Faldo. At the 11th I sliced my second shot well into the trees, and it bounced back to about 10 feet. Then I holed the putt. I enjoyed that. I had a big grin on my face as I walked off.
How are relations between the two sides these days?
Maybe on the day when people have lost or won there's a bit of feeling. But after that there isn't any tension. Not really. You have to take it when you lose.
There have been bad times. Kiawah Island [1991] and Brookline [1999] were out of order. But it always seems to come from America. Maybe they can't handle the drink, I'm not sure. Over there, they might have to ban drink until mid-afternoon. Over here, few people start to drink until at least lunch. And we seem to be able to handle it better.
You had some problems with spectators when you won the Masters in '91. What happened in the final round?
They were pulling for Tom Watson, which was fair enough. Then I hit my tee shot into the creek on 13, and everybody cheered. I thought the ball had come out when I heard them. But they were happy it had gone in. I knew then this was a different ball game. But, unknown to them, it was perfect for me -- the bigger the battle, the more I like it. Anyway, I had to hit my next shot under the trees. It was risky. I ripped it as hard as I could, it worked, and I made a 6. What wasn't so good was that Tom made a 3, and the crowd was going mad.
Tom drove off the next tee. As I stepped forward, a guy called out, "Hey, man, this isn't a links!" I looked 'round but couldn't see who it was. I ripped it up the middle and turned and said, "Thanks very much."
It was reported you were headed into the crowd.
No, I wasn't. Tom did tell me to pay no notice to them, which was nice of him. He told me how he used to get the same thing. But you can never legislate for the morons. If you don't say anything, they leave you alone. That said, the Ryder Cup at Brookline was disgraceful. If it had been me, I'd have been in the crowd. But you can't win.
What gives them the right to say the things they do? Plus, you can never find who it is. They are cowards. They never stand right in front of you. If you ask who it was, they never answer. That said, I've never really had a problem in the States, apart from that one time.
What are your thoughts on setting up the K Club for the Ryder Cup?
There are a lot of hollows and bumps around the greens, and I want to get them more into play by cutting the grass short, so there will be some run-offs around the putting surfaces. I want it to be more than that lob shot you see all the time in the States. I was watching the Memorial earlier this year, and I remember Mickelson taking a full swing and hitting the ball only about a yard. They are so used to that shot.
So that shot will be gone at the K Club?
They can still play it, but it's a lot less fun off a bare lie! I'm hoping the weather is dry so that we get the full benefit of that. I've also put in a few more trees. Because of the distances the top guys hit the ball these days, it's too easy for them to cut corners on too many holes and make them look stupid. So I've tried to stop some of that.
We have to talk about the 2001 Open at Lytham, where you were contending but were penalized two strokes for having an extra club in your bag. How did you feel when your caddie [Miles Byrne] informed you on the second tee, after what you thought was a tap-in birdie at the first?
Like I'd been shot. I went from one of the highest moments of my life -- I usually don't get off to a good start -- to despair. He said, "You are going to go absolutely ballistic." I didn't know what he meant. Then he told me. "I've got two drivers in the bag."
I said, "I give you one [expletive] simple job to do, and you can't even do that!" I grabbed the driver and threw it on the ground. I told John Paramor [European tour rules official], and he confirmed it was two shots. And that was it. I couldn't get it out of my head. I tried. But I just couldn't. By the fourth [Woosnam bogeyed two more holes to fall four strokes off the lead and finished four behind winner David Duval], I was really angry. At that time I could have picked up and walked in. I was devastated.
What did you say to Miles after?
I told him not to worry. Everyone makes mistakes. But I'd told him to take the driver back and put it in the locker. He simply forgot. Oh, well . . . The thing was, I was almost late on the first tee. I had to run across. I walked on, took a look and hit. If the first had been a par 4 [instead of a par 3], we'd have noticed right away, of course. [Sighs.]
In Miles' defense, he could have said nothing. He could have gone to the portable toilet, taken the club out and dumped it. But he didn't. He deserves credit for that. If you're dishonest, you get found out eventually. And, even though I had no intention of using the club, the rules are the rules.
A few weeks later, you fired him.
In Sweden. He was fine the first two days. But late on Friday, I was talking to a player -- I won't say who -- who told me how unlucky I was. Then he turned to Miles and said, "but you . . . " I think that upset him. So he disappeared. He'd been getting a lot of stick [criticism], and the papers were chasing him. Even the American TV shows. I had a guy calling me from the Letterman show.
Anyway, that set him off. I think he just wanted to get out of there. He wasn't even drunk. He was with Mark James watching the football the night before, and he was fine. Which wasn't the case at Lytham. I know he was out until 3 in the morning. Part of it was that he was choking. Caddies do that too sometimes.
I haven't spoken to him since. He's OK, though. The thing is, he's very intelligent. He can do The Times' crossword in about five minutes.
What has become of him?
He works on a building site. He seems happy doing that. I've asked his brothers about him a few times. His wife doesn't want him traveling too much, and they seem happy to stay in Ireland. He was a good caddie.
At least all the success you've had means you won't be remembered for this.
If it had happened to a young lad, God knows how many he would have shot.
Is it difficult thinking about what might have been?
It is. But basically, I don't think about it at all. Only when someone fetches it up. The Open is the biggest event in the world. But "if" is the biggest word in the world. I can't think of it. It's gone. I finished third.
What is disappointing is not the money, it's the title. You don't get many chances to win majors, and maybe that would have been my week. And it definitely cost me a Ryder Cup spot.
What do you make of David Duval's problems after he won that Open?
It happens. It happened to Lee Westwood, Ian Baker-Finch, Seve. It's amazing how it can be there one moment and gone within a matter of weeks. I have no idea other than it must have been between the ears.
If you could have given advice to Seve 10 years ago, what would it have been?
He should never have tried to be so mechanical. He needed to get back to how he used to play. And he didn't need all those teachers. He listened to everybody.
What else do you think happened to Seve's game?
If it wasn't for his short game, God knows how many he would have taken -- he'd have scored hundreds. He got tired of hitting it all over the place, and he went to see every teacher. And he got worse.
He had a magic way of recovering. But what happened is that courses had rough under the trees, so he couldn't play shots from there anymore. On the old courses, he had a chance. Put that with him fiddling with his swing -- maybe because of his back -- and you see what happened.
I talked to him. He wasn't even aiming the clubface at the target. Let's say he was hitting a sand wedge 100 yards or so. The clubface was five yards off -- he turned the club in that much at address. But when he was 150 yards out, it was eight yards off. By the time he was 250 yards away, he was miles off.
What was it like going against him when he was in his prime?
I played with Seve in 1983. I introduced myself on the tee and didn't see him again. For nine holes I hit every fairway and every green and was out in par. He hit hardly any fairways and very few greens, and he was two under. It was an education in how to score. I loved playing him. I started to think I could beat him after a while. Which made me better.
Any other experiences that made a difference in your golf after your early struggles on tour?
It took me five years to learn how to be a pro. It was down to learning about my swing. I knew nothing when I started. In 1981 or '82 I was on the range in Nigeria. Gordon Brand was on the tee beside me. I was watching him hit shots all over the place. My shots were miles better. Then he'd go out and shoot 68, and I'd have a 74.
I wondered what was going on. I had a chat with him, and he told me that his aim on the course was simply to make the best of what he had and accept four bad shots a round. That was a new concept to me. I went out the next day with a new attitude. I didn't worry about anything. I didn't get upset. It was the last piece in the puzzle. I just had to get my head right.
Ever played with someone you didn't think you could beat?
No. Never. I've been with guys who could do one thing particularly well. Driving or short game. Greg Norman off the tee. Olazabal's irons. Langer's chipping. Seve's short game. And Langer was great tee to green. But I couldn't watch him putt. When he had the yips, it was unbelievable. Now he's changed, of course.
You've struggled with the yips as well.
Oh, yes. It's not nice. You just want to be sick all the time. And it seems so stupid. It should be easy, but I couldn't do it. That has cost me in majors, too. A good putter can beat anyone. I could have won a U.S. Open and an Open with better putting. But I haven't been good enough from six foot.
You played in your 500th European tour event earlier this year. Are you still having fun out there?
I still enjoy it when I play well! I've been working with Bob Torrance a bit, and that has helped a lot.
How do you compare with the Woosie who won the Masters 15 years ago?
Not even close. I hit the ball longer and better then and was a far better all-round player. With my back the way it is, I can't swing the way I used to. I've lost a lot of flexibility. I was diagnosed with spondylitis [a type of arthritis that affects the spine] in 1987. Back then they told me I might be able to play for 10 years. But there was also a chance I'd be in a wheelchair. That gets your attention. Since then, the treatment has improved a lot.
What are your symptoms?
It's an inflammation of the spine where the bones can gradually fuse. If you see someone hunched over in the street, there's a chance that's what they have. You lose all your flexibility.
Are you fortunate still to be playing?
Playing golf is good for me, in that I have to keep moving. It's the best treatment.
Have you ever been to the gym?
I've tried it now and then, but I've never lasted. I have to be careful, and exercise does seem to stiffen me up.
Where do you get your strength?
Driving the tractor on the farm growing up; they had no power steering. I knew what I was doing. I was always very keen to get stronger. The downside was, I was also doing a lot of things -- picking up straw bales and the like -- and that was putting a strain on me back. I was carrying heavy things every day, and it became a macho thing. I did too much, and the wear and tear has caught up with me.
Has the Ryder Cup captaincy affected your play?
It is hectic off the course. Especially on Tuesdays and Wednesdays at tournaments. But I get some peace on the course. I concentrate on my golf and just get on with it.
If you were put in charge of professional golf, what would you change?
When I watch the game, I don't see the variety of shots I used to maybe 30 years ago. The modern swings are a lot more similar than they used to be. Which is a consequence of the equipment and the desire to hit the ball high. They don't seem to bother about the wind any more. In defense of the players today, I don't think they can't play shots, it's that they don't have to.
Let's say we put a cap on the loft on wedges. When I won the Masters, my sand wedge was 53 degrees. If I went to St. Andrews or any other championship course with that club now, I'd be struggling to get out of the bunkers. They're so deep now. That's just another example of how courses have had to adapt to equipment. Wouldn't it have been easier to do it the other way 'round?
You've been through a lot. As you look back on your career, what does it mean to be Welsh?
I'm not sure I can explain it. It's in me. And it's another uphill battle. It's little Wales against big England or big America.
Are you the best Welsh player ever?
I have to be. I'm the only one who has won a major.
How would you describe the Welsh character?
Competitive. Aggressive. Emotional.
Sounds like you. Do you cry?
Oh, yes. At stupid things. Watching films. I cry at every movie. I'm desperate. I'm a big "Star Trek" fan. Anything like that I like. I like to look into the future. I don't look back much.