The Loop
Interview: Nick Faldo on Rory McIlroy, golf's youth revolution and why the Americans struggle at the Ryder Cup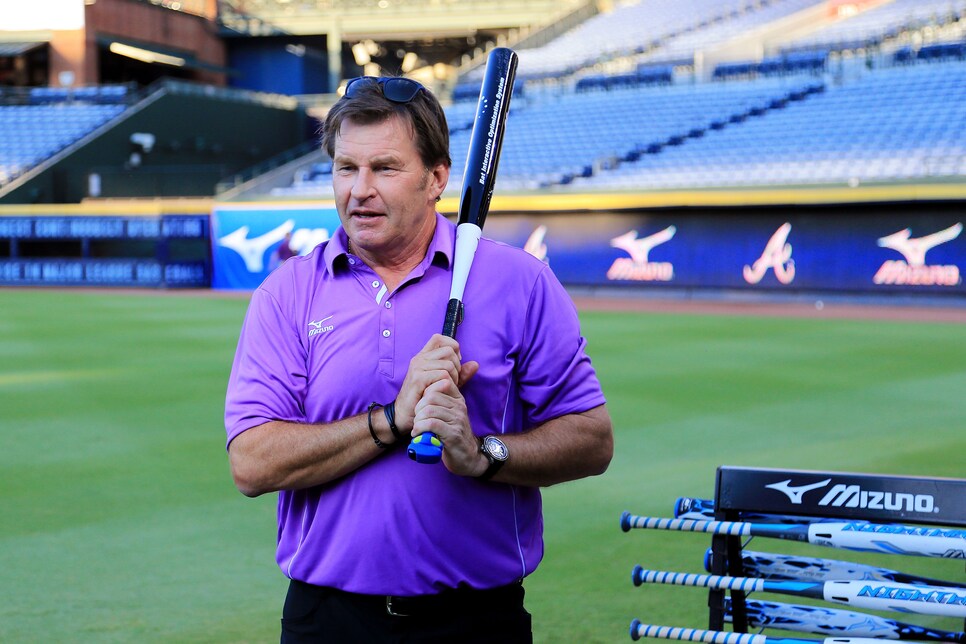 Getty Images for Mizuno USA
ATLANTA, Ga. -- Golf's playoffs are coming to a close, followed shortly thereafter with the Ryder Cup in Minneapolis. And, after a brief 10-day respite, it starts all over again at the 2017 season-opening event at Silverado. What better way to commemorate this intersection of past, present and future than speaking with one of the game's most popular voices, Nick Faldo.
Chatting on Wednesday night, the six-time major winner expounded on the 2016 season, Rory McIlroy, golf's youth revolution, and why the Americans have struggled at the Ryder Cup.
Golf Digest: It wasn't exactly what we envisioned last winter, but this year delivered plenty of must-see theater. For you, what sticks out about 2016, or serves as the main takeaway?
FALDO: Two obvious ones: Jordan Spieth at the 12th during the Masters and how he dealt with that, and then the formation of this new "Big 4." Although, Henrik Stenson might say, "Hey, wait a minute, where am I?" and Phil could go, "Does that make me No. 6?"
The good thing is, we didn't get what we expected, but it was still great. The golf has been really great. That's the most important thing for me in TV, telling the story to as many people as we can. And in that regard, it's been another good, interesting year.
And let's not forget about Rory! I did interviews after he won two majors in a row, and everyone is jumping on: "He's going to break Jack's record!" and I'm thinking, 'Well, he's either going to be really disappointed that he only got 19 majors, or he's going to be ecstatic that he got to five!' And that just shows you what this blooming game is like. You lose your trust, self-belief in some area, it becomes a hard game.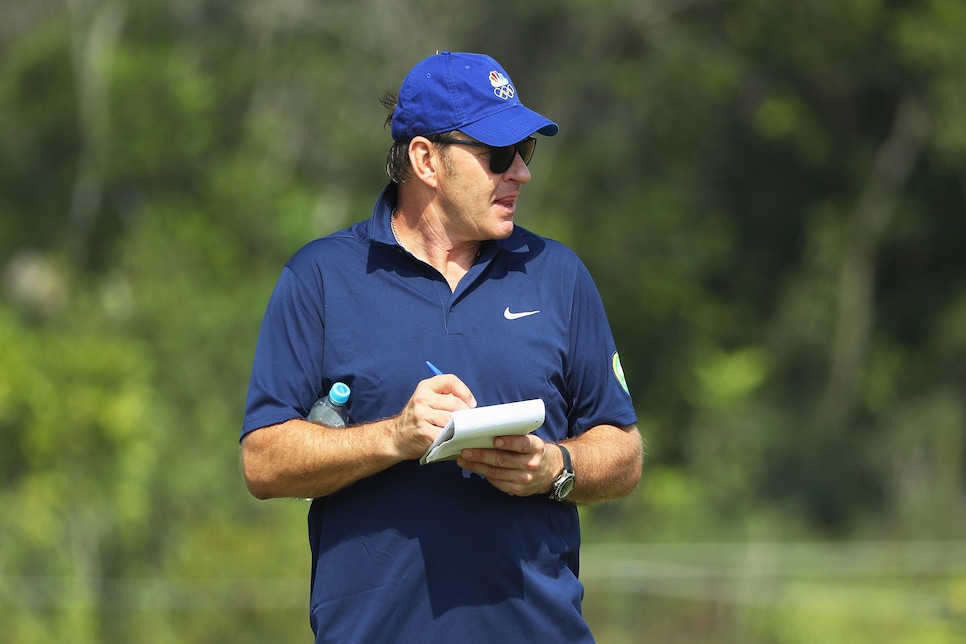 Rory did have a peculiar year, especially with the putter. Do you think he is still battling those short game woes, or does McIlroy's win in Boston instantly re-instill that confidence?
FALDO: Absolutely. He gets his spring for how far he drives it, but you have to finish it off, or else it's just demoralizing. That win was huge for him. You have to reward the good shots, haven't you? Scramble as well, get away with a few, because there's nothing worse than coming in and going, 'Gee, I left six shots out there.'
The past few years have delivered an influx of young talent at the top level. It seems like these guys are ready to compete right away. Is there a particular reason for this trend, or are we simply in the midst of a once-in-a-generation wave of talent?
FALDO: I believe the reason is the knowledge in the game is out there like never before. When I was coming up, we were going through a guessing era, dealing with a learning curve. Now we know everything about golf equipment. A player doesn't have to know diddly about golf clubs, because we know what a golf club can do and how it can fit to you. I hate to harp on my era because people don't like that, but 30 years back was so different. I didn't have maxed-out clubs. The clubs now are amazing.
And then there's the physical side. Look at how these guys are built. They can now workout strictly to a golf regimen. There's a dietary side. If you want to play better, you have to eat better, you have to look out for yourself. The mental side, we now know how to keep a mind fresh and strong. There's a blueprint for whatever you need, and you can get that anywhere. When you become good at 15 or 16 years old, you can latch on to it, open up your ears and eyes and take it all in to do what you need. I think that's why the younger generation is having such success.
Because it's not just talent. Before, you had a few guys come through strictly off talent. But now you have to have a great swing, you have to smack it solid, you got to be strong -- physically and mentally -- and then bring the determination and grit to the party. And it's just going to keep expanding. If anything, more kids that want to get good at golf will get fine-tuned. It's factual. It's science, how to build a golfer. I think that's huge.
You still have to get the experience, though. We all want instant gratification, but they need some time to figure it out.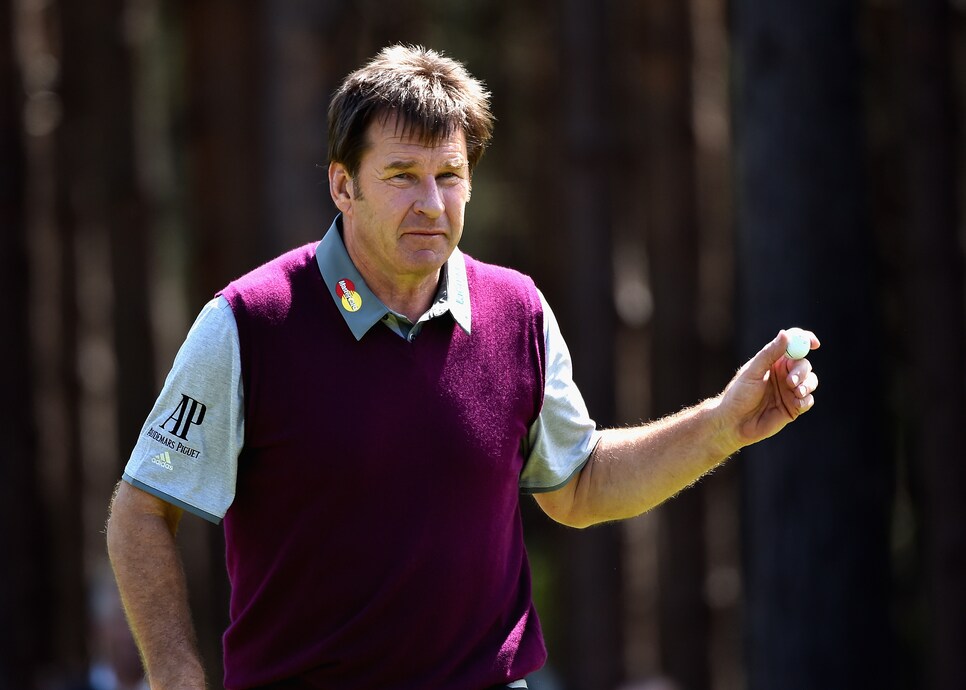 You're one of the most decorated and accomplished players in Ryder Cup history. To you, what makes a good Ryder Cup competitor?
FALDO: The bottom line is it's a team of two. You're in a team of 12, but it's you and your partner. It's how you dovetail, ham-n-egg, how to be a wingman and look out for each other. It's a simple fact: How well do you play? And then you get the momentum going, and there's so much adrenaline and passion and nerve involved. You have to have that. Each point is so well fought. And you have to get used to that. With all the outside pressure, you have to realize from the first shot to last putt that it's an incredible week, but also the most adrenaline you'll experience in a week.
If you're playing well in a major, your adrenaline will hopefully climb through the week, and you're one of the four guys in it on Sunday. During the Ryder Cup, what's amazing is you walk out on Friday morning and wallop, you are in it, you are in the deep end. And there's no steps to get out of the pool! (Laughter)
That's what makes it so special. I loved it. When you are playing great, it's wonderful. Because you and your partner just want to go out and go (rubbing hands together) 'Who we got?' and off you go. But when you're playing badly, or your trust is dented, or your self-belief is gone, it's the worst (freaking) week in the world! It's horrible. Because you don't want to let anybody down, you know? And it's not easy. You wish everyone could play well, because it's such a special week.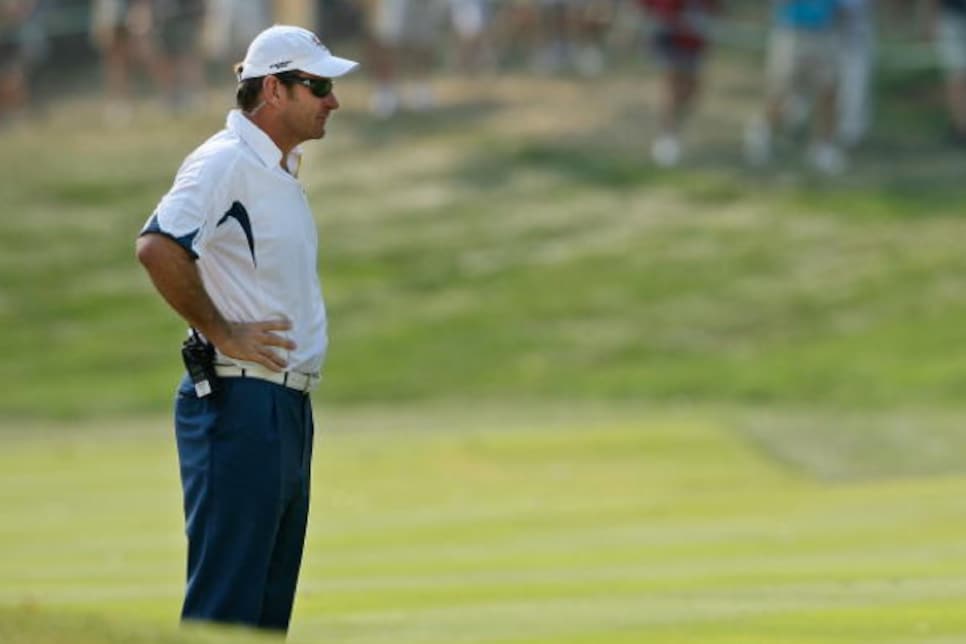 The Europeans have won six of the last seven Ryder Cup matches. Do you see any recurring issues that have plagued the U.S. team?
FALDO: One thing America hasn't had is good partnership. You had a nice partnership with Mickelson and Keegan Bradley, but after that, on that list, it's still Arnold Palmer and Gardner Dickinson as the best pairing! You have to scattergun looking for partnerships. Now look at Europe. You have Sevie and Ollie, Langer's in there, I'm in there, Woosie's in there, Monty, my goodness! And that's my era, not counting someone like Ian Poulter, obviously.
So there are partnerships that are invincible, and really, you need two of them. You also have to get lucky. Whether that's a good captain's pick, or two rookies combining for five points, if you get that, those are points you really aren't expecting.
And what really drives me up a wall, at the last Ryder Cup in Scotland, America was 74-under par collectively for the week, the Europeans were 110-under par. I mean, hello, lightbulb! Where else do you look? I mean, they made 40 percent more birdies. If you both make 100 birdies and someone wins, well, that happens. But last time, they simply got outplayed. How about you solve that problem first!