In 2004, back when—believe it or not—drivers with adjustable hosels weren't even legal, Golf Digest's decision to rate equipment for the first time in its 54-year history wasn't entered into lightly. Now that the Hot List is in its 15th year, and the idea of a driver without adjustability is considered almost radical, our sense of responsibility burns deeper. Why? With fewer retail stores and more dollars being spent online, getting smart advice about what to buy has gotten harder for average golfers, who are desperate for trusted information. We believe the Hot List continues to be the most valuable source amid all the confusion. Hopefully, too, it's a call to action to rethink the old clubs you've been carrying in your bag, perhaps since 2004.
We bring that guidance to you by being diligent and broad in our methodology—unbiased, uncensored and, well, honest. Our extensive process is intense, and its greatest focus occurs during a two-week annual Hot List Summit—the latest was at Pinehurst Resort. That fitting location served as the workplace where our team of editors, expert contributors and golfers set about determining the products that matter in 2018. We've learned that the most significant clubs aren't just those that intrigue industry experts and a roomful of Ph.D.s, but are those that resonate with players just like you.
The 121 clubs on the 2018 Hot List are a record number, a reflection not on the difficulty of being unique in an industry awash in sameness and parity, but instead a celebration that clubs from all kinds of manufacturers large and small are finding ways to help golfers improve. It's not merely that today's designs are better than yesterday's. (They are. We ran the tests, and you can read the results below ) It's that so many of the new clubs are better in ways that hadn't been contemplated in 2004. We're talking about razor-thin metalwood construction, a new category of irons (Players-Distance Irons) and grooves so sharp you'll forget there ever was a groove rule.
It has been quite a journey since 2004, but the destination remains the same: better-informed, better-equipped and better-playing golfers.
Our judges, listed below, cast the only votes in the Hot List, but they gather insight from three independent panels. The Scientists advise us on Innovation. Retailers assess Demand. Players evaluate Performance and Look/Sound/Feel. A product's score is based on its weighted average in these four criteria, with Performance, Innovation and Look/Sound/Feel largely determining the total score.
PERFORMANCE
45% The utility of a product, or what happens to the ball when it's struck by the club.
INNOVATION
30% How a club's technology, including custom-fitting, advances the category.
LOOK/SOUND/FEEL
20% What the golfer experiences before, during and after impact.
DEMAND
5% The relative interest in a product and its reputation.
"IN ASSESSING THE SCORES UNDER INNOVATION, OUR EDITORS AND SCIENTISTS REVIEWED MORE THAN 1,800 PAGES OF TECHNICAL DOCUMENTS SUBMITTED BY MANUFACTURERS."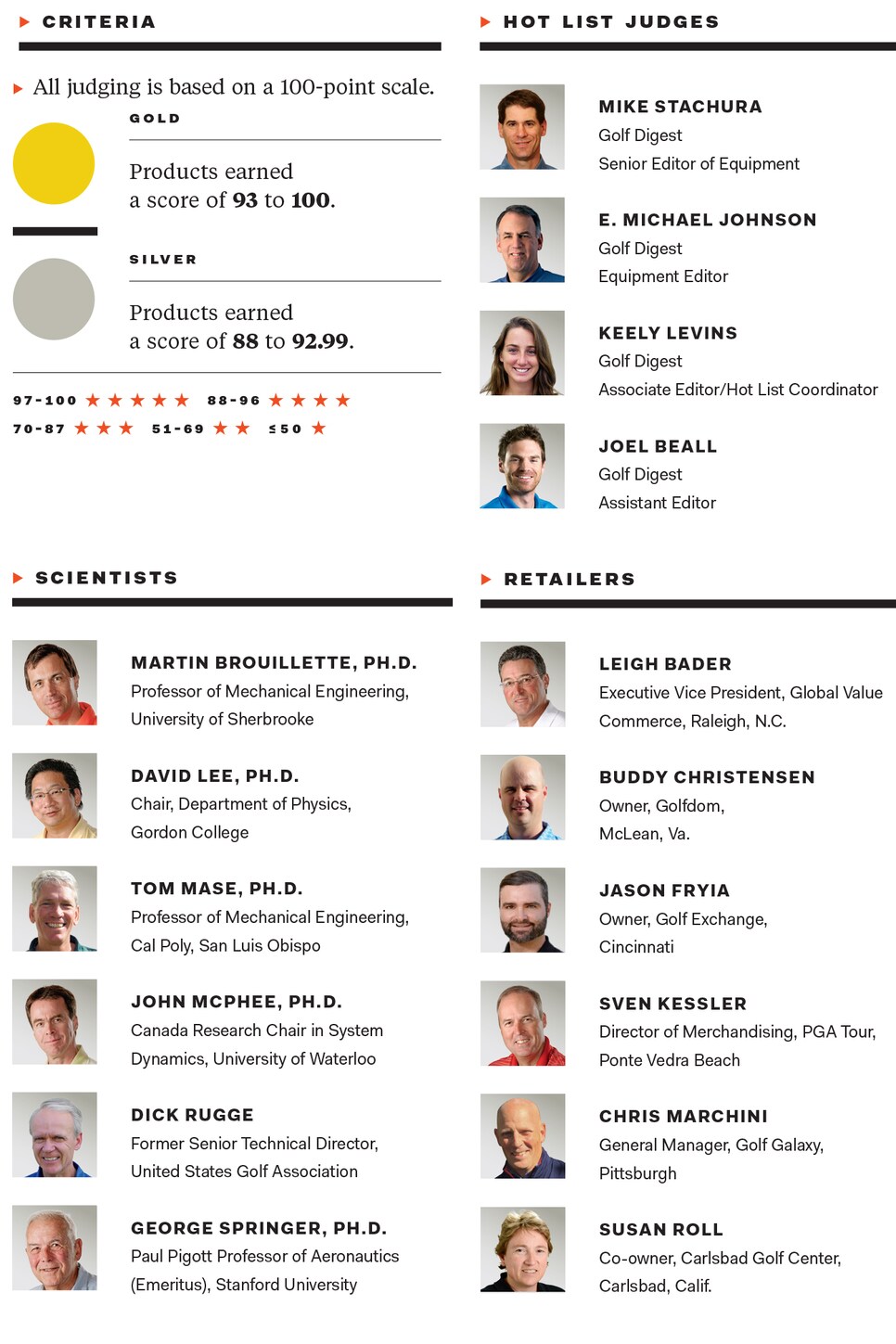 OLD VERSUS NEW
Drivers: Are The New Clubs Really That Much Better?
How much better are the new drivers? In this year's Hot List, we give you an answer. Through player testing with Foresight Sports' GCQuad launch monitor and robot testing conducted by Golf Laboratories Inc., we matched the newest clubs against what research says is the average replacement cycle for drivers, irons and wedges. In our tests against four-year-old drivers—on off-center and on-center hits—the new drivers won 78 percent of the time. The biggest gains were on toe and low impacts, which saw an average of nine- and 11-yard gains, respectively. But even with USGA rules limiting spring-like effect, center strikes were going farther, too—about six yards on average—thanks to today's lower-spinning, better-launching models. Your results might vary, which is why you should always take your old driver with you when you're trying something new. —Mike Stachura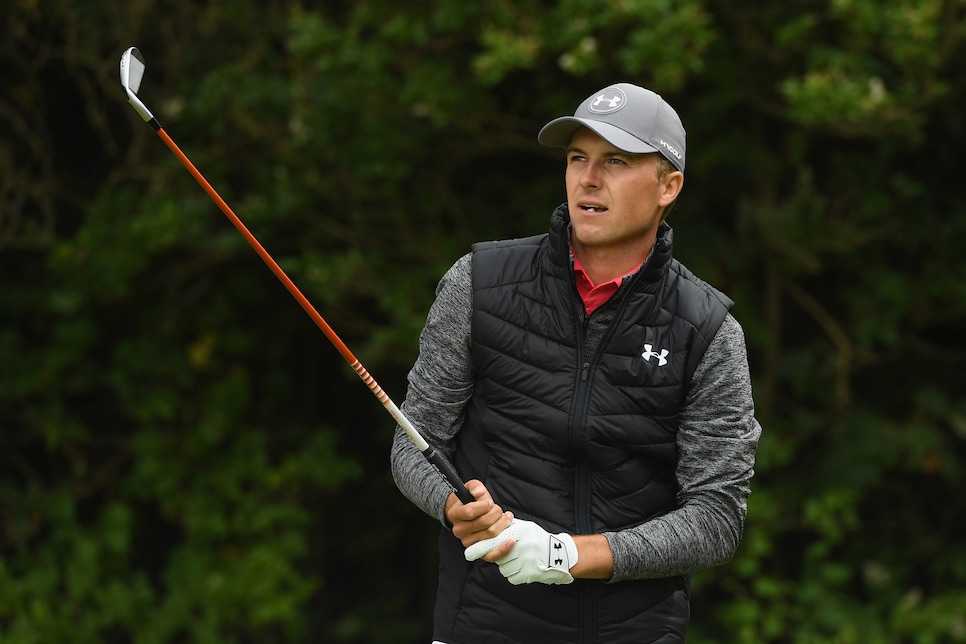 Photo by Ross Kinnaird/R&A/Getty Images
YOUR SECURITY BLANKET
Utility Clubs Are Long Irons You Can Hit
At last summer's Open Championship, Jordan Spieth used Titleist's 718 T-MB 3-iron—a utility-iron-style club—for the now-famous shot from the range alongside the 13th hole at Royal Birkdale. The shot displayed the desirable characteristics of such a club and why it's a suitable substitute for conventional middle or long irons that produce a lower ball flight. Although the methods vary, the technological goal of all utility irons is essentially the same: ample mass combined with lower and deeper centers of gravity to help get the ball airborne, fast-flexing faces, and the versatility of irons. Manufacturers have responded by providing a number of options, like Ping's G400 Crossover and Mizuno's MP-18 Fli-Hi. Other companies have followed with similar iron-replacement versions. You might not hit a shot like Spieth, but your palms are likely to sweat less over a long-iron shot—and that's a start. —EMJ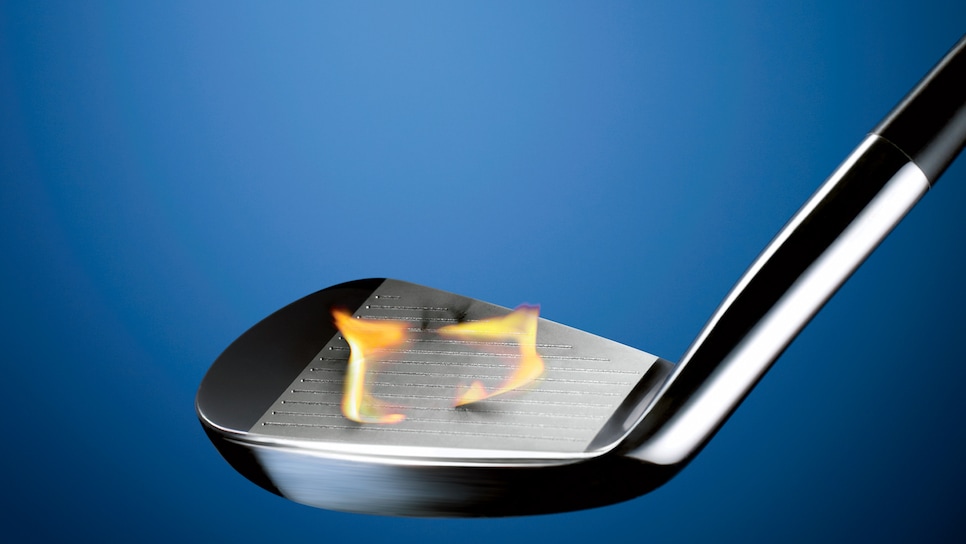 Photo illustration by Mark Hooper
OLD VERSUS NEW: IRONS
Longer, Higher-Flying And Softer-Landing
We compared the latest 7-irons against five-to-six-year-old 7-irons provided by Global Golf, the leading used-club retailer in the world. The new 7-irons showed consistent improvements, and some of them were considerably longer on mis-hits than their previous generations. In some isolated cases, we saw 20-yard improvements in carry distance for off-center strikes. However, for the most part, the gains were more measured: about three yards for an on-center hit on average, and high, low and heel hits improved by as much as five yards each. If you think the difference is just driven by stronger lofts that fly lower and won't hold greens, guess again. Even with stronger lofts, shots flew an average of two yards higher with about a degree steeper landing angle (meaning they would roll less after landing). Just what you would want a better iron to do. —Mike Stachura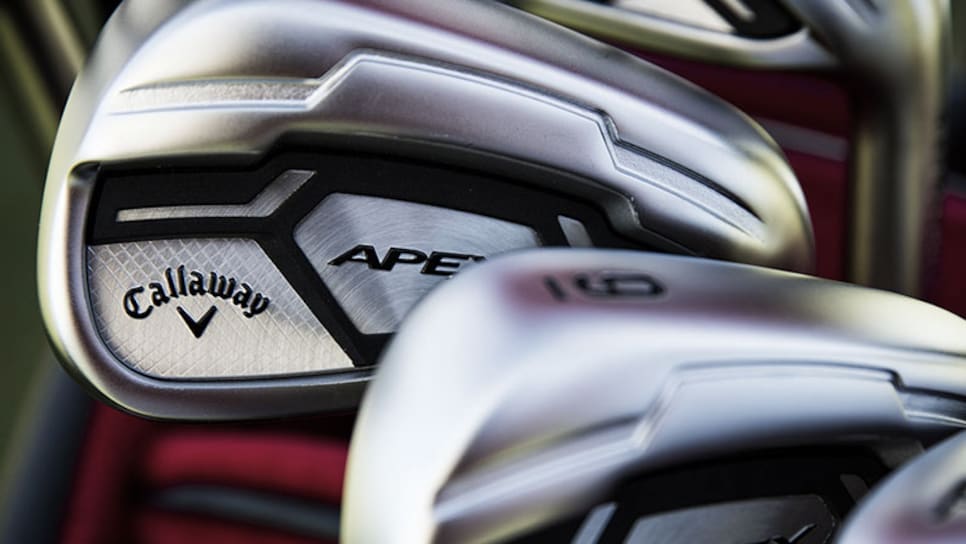 PLAYERS DISTANCE IRONS?
Our New Category Explained
It's something we've asked ourselves for a few years: Would it help our readers to differentiate between the traditional players iron—which emphasizes feel and control—with a more modern version of the players iron that features distance technology? As the latter gained momentum—it now represents 15 percent of the iron market, according to industry tracking firm Golf Datatech, thanks in part to the success of the Callaway Apex, one of the best early examples of such an iron—we decided it deserved its own category, one we call Players Distance irons. An iron in this category must satisfy a pair of simple, but strict criteria: It must be a players iron in shape and possess some distance-producing element. Examples include a face design that wraps around the sole, topline or both; the use of a hollow construction; multiple materials; a special steel (or heat treatment) for the face; or an internal structure that promotes a flexible face. For golfers who might have lost a few yards over time playing traditional blades, these irons will get you that half club back—maybe more—all without making you recoil when you put them down at address. Worthy of its own category? You bet. —EMJ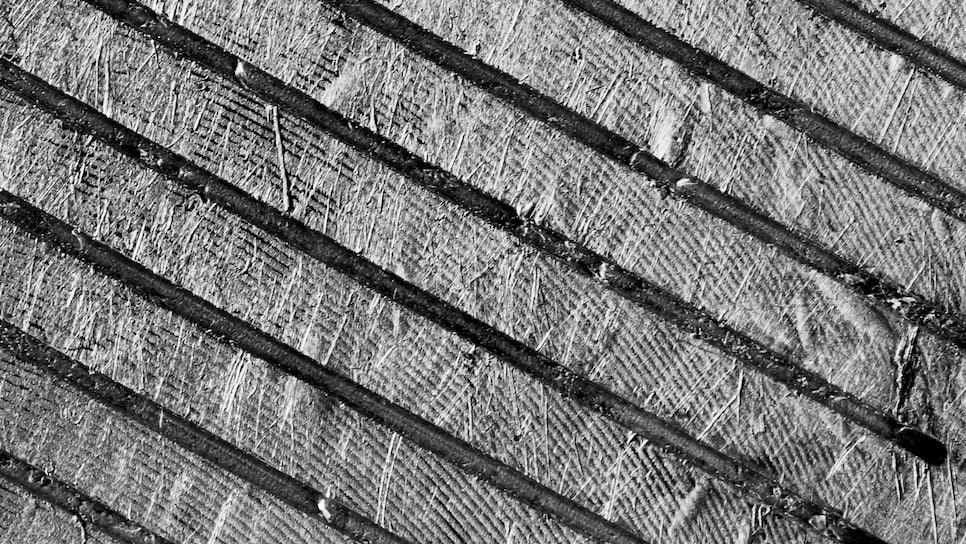 OLD VERSUS NEW: WEDGES
Fresh Grooves Equal More Spin
It's easy to become comfortable with a club and not replace it. But that kind of thinking can be detrimental to your game, especially with wedges. "It's not like your grooves go from being perfect, perfect, perfect and all of a sudden, they're terrible. It's gradual, and you might not notice it," says Bob Vokey of Titleist. A study by Golf Datatech indicates golfers buy new wedges every four years. To find out what you're giving up, we conducted our own test: We had a scratch player hit shots from multiple distances and turf conditions with a new wedge and a four-year-old wedge that had endured normal use, and we measured the results using a Foresight Sports' GCQuad launch monitor. The new wedge produced 27.3 percent more spin than the old wedge on a 40-yard shot from the fairway. On an 18-yard shot from fairway, the improvement was 26.6 percent. The spin gain on a 40-yard shot from light rough was an impressive 64 percent. Anecdotally, the new wedge showed noticeably more grab, too. Investing in your short game is a wise play, and seeing the amount of improvement with fresh grooves should send those with older wedges to their nearest golf shop seeking replacements. —EMJ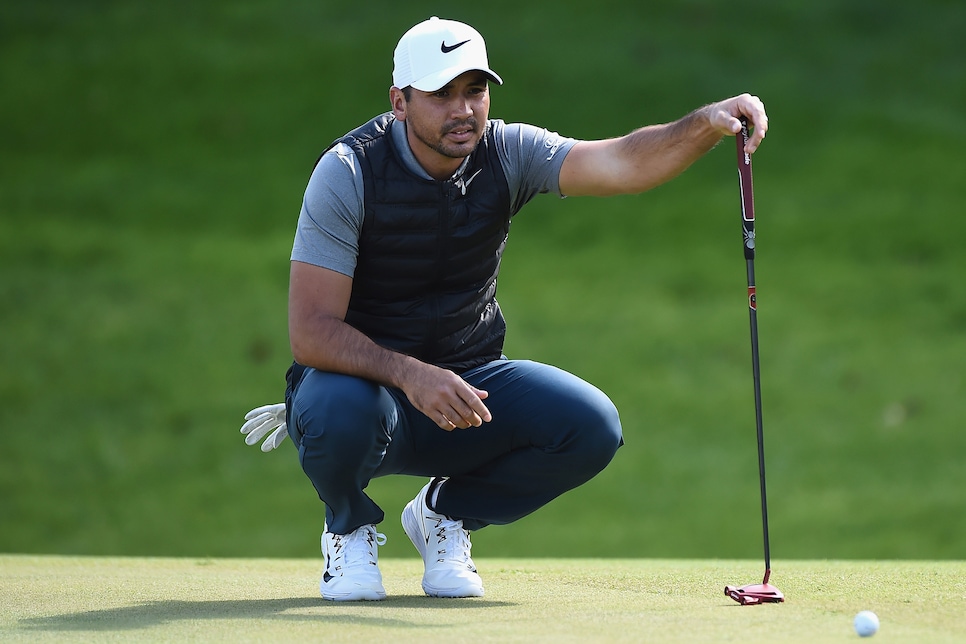 Photo by Matt Roberts/Getty Images
BLADE-LIKE MALLETS?
Better Players Going Bigger
Traditionally, blade putters were thought to be the domain of good golfers with smooth strokes, and only chops used mallets. Then came Jason Day's rise to No. 1 with a custom version of TaylorMade's Spider, a high-stability mallet that Day fashioned with a shorter, slant-neck hosel. By May of 2017, mallets were in the hands of nine of the top 10 players in the world. One possible reason: The idea of "toe hang." Many new mallets feature weighting where the face of the putter is angled slightly down when the shaft is balanced on your finger, rather than the face staying open (toward the sky) like in a traditional face-balanced mallet. That feel is designed to work better when the clubface rotates open and then closes during the stroke. It also happens to be the way most golfers tend to putt. The beauty of some of these new mallets (see the 2018 Hot List Mallet Putters) is that you get all the benefits of aim, alignment and off-center-hit forgiveness found in a traditional stable-mallet design, with the same feeling of swinging the club you got from a typical blade. Does that mean blades are on their way out? Hardly. You still have to like what you're looking at, and for some, that's a battle mallets will never win. —Mike Stachura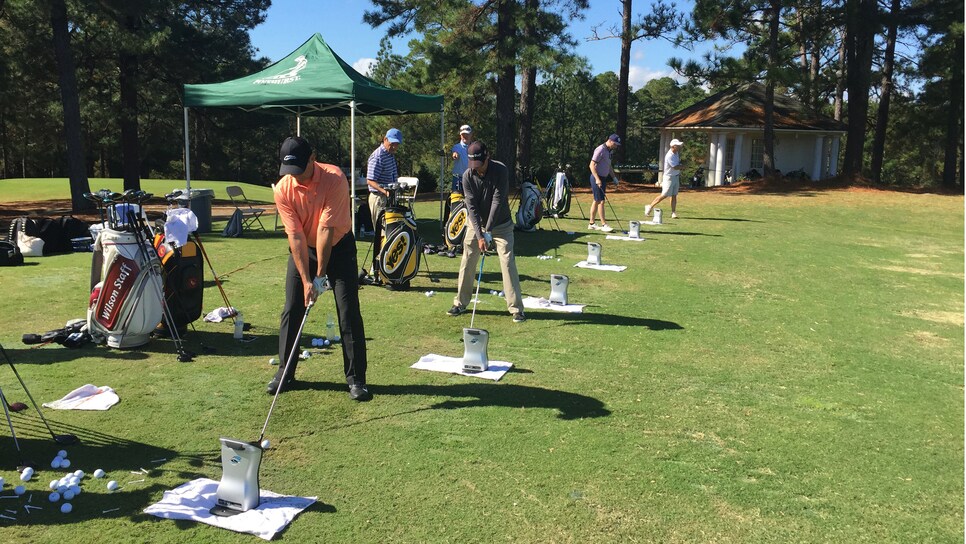 TRUST THE PROCESS
The Grind Of A Hot List Tester
The 21 men and women who made up our player panel for the 2018 Hot List evaluations included teaching pros, a lawyer, a cop, a product manager and a dentist, retirees and millennials, and handicaps ranging from scratch to the 20s. In short, they represented you. Their task was simple: Be open and be honest. They met it full on. Each tandem of two players was paired with a single editor as they made their way through each club category. Our editors compiled each player's individual ratings and a top-five list for each category. With each club, the editor conducted a brief interview for further details. Players used GCQuad launch monitors at each station of the range to assess performance differences. Our goal with their input was simple: Find the clubs that most panelists wanted to play right now. Want to join our process? Watch golfdigest.com and our next call for applications. —Mike Stachura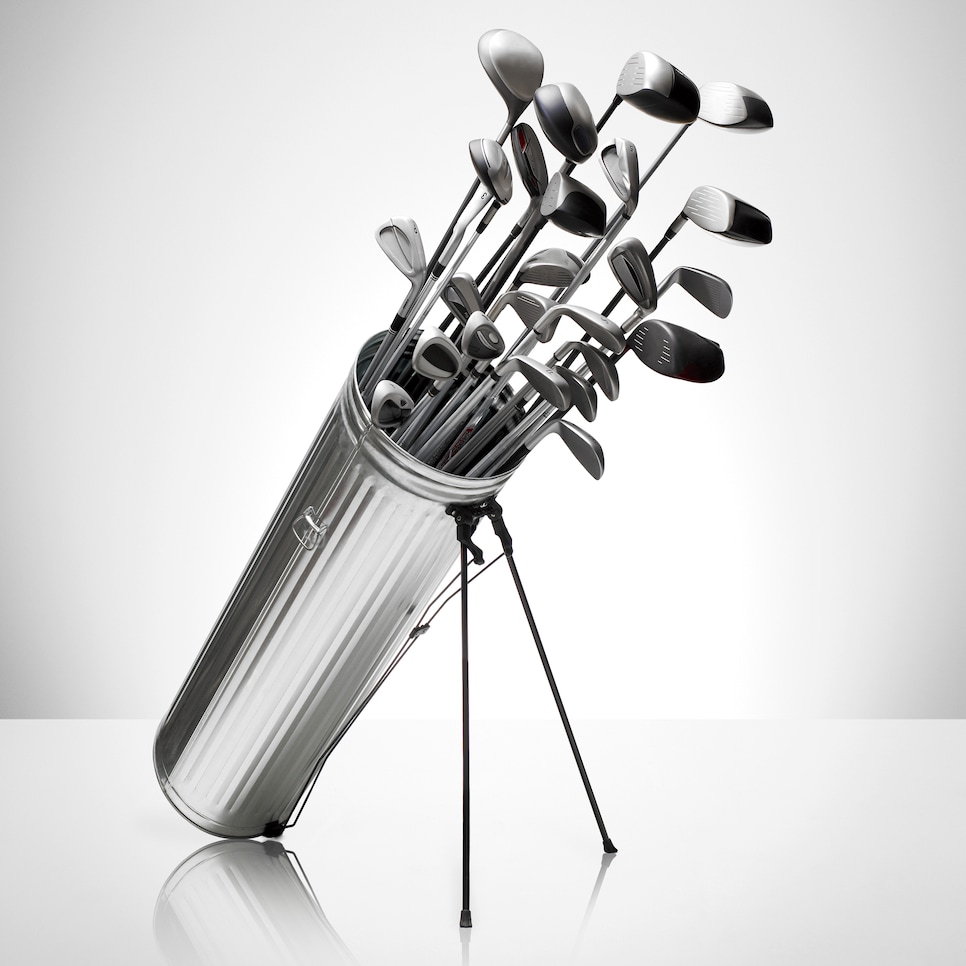 THROWING OUT THE TRASH
Our Panelists' Honest Assessment
We refer to our Hot List player testers as "robots with an opinion." And when you hit a couple thousand balls with some 200 golf clubs, there are bound to be a few that don't strike your fancy. We sifted through 113,900 words of comments to find this selection of quips about clubs that produced some snarky remarks during three days at Pinehurst. —EMJ
DRIVERS
"If you hit enough balls, it might cause damage to your ears. Permanently."
"So closed I was convinced I was going to hook it off my knee."
HYBRIDS
"It happens every year. I pick one up and hate the look. This is that one."
"It looks like a reptile. I'd buy this for a person I was playing against."
FAIRWAY WOODS
"Looks like it has a broken ankle at address.
PLAYERS IRONS
"These aren't very forgiving, and they feel even worse."
GI IRONS
"Sounds like I'm hitting a rock. Time after time."
SGI IRONS
"Just awful. Too much of everything."
WEDGES
"Don't be afraid of sticking it in the ground. You're going to do it regardless."
"If you're trying to lay the sod over it, you've found your club."
BLADE PUTTERS
"This is the epitome of hell. If you hit it on the heel, toe or in the center, it's not good."
MALLET PUTTERS
"The sound is like breaking plates."