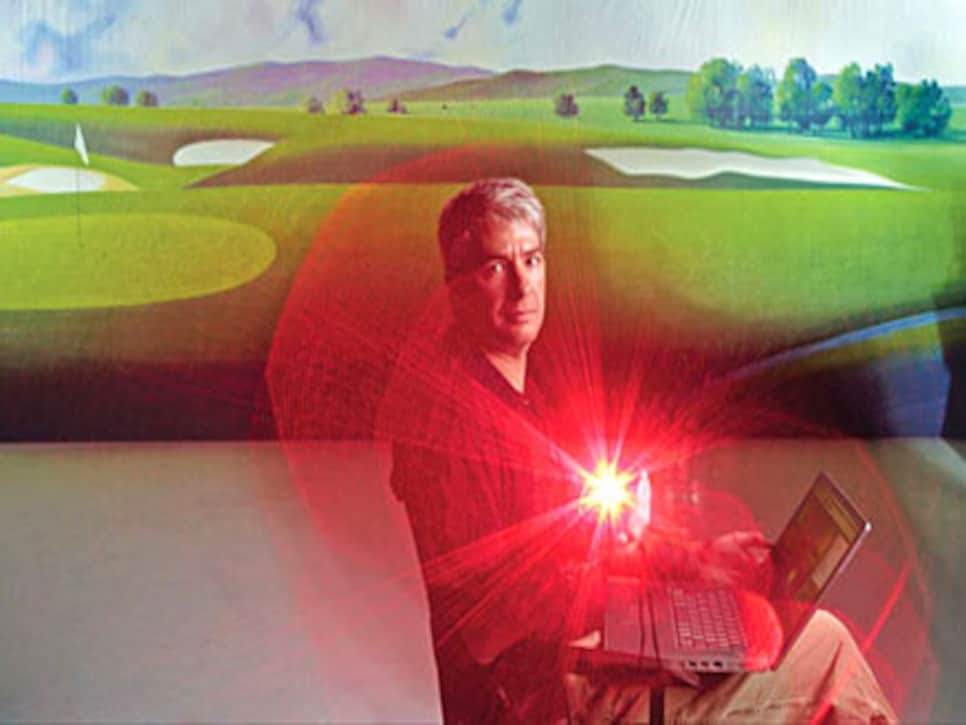 Mark Sweeney: A research analyst and frustrated putter, Sweeney found that tour pros get up for bogey putts.
It dawned on Mark Sweeney a few years ago that not all five-foot putts are created equal. If the putt was for bogey, he approached it with focus and intensity, desperate to avoid making the dreaded double bogey that fluffed up his score and left him boiling. Quite often he slammed the ball into the back of the hole. Conversely, when the five-footer was for birdie, it occurred to him that he's an 11-handicapper for a reason, and a great many of his efforts slid by the cup. "Mentally I perceived the birdie putt differently," says Sweeney, a research analyst who specializes in interpreting golf statistics. "I didn't concentrate as well. If I missed and made an easy par, so what? Par is a good score."
Sweeney's Orlando-based company, TPSgolf, performs a variety of services for PGA Tour players and broadcasters. He invented the AimPoint (showing the virtual putting line) and designed the Win Zone (measuring winning probability) featured on the Golf Channel's tour telecasts. Sweeney wondered if tour professionals were susceptible to the same sort of peculiar mind games he experienced. Using the tour's comprehensive ShotLink data and studying almost 90,000 putts, Sweeney discovered that tour players are not at all immune to the different levels of earnestness we feel when staring down a putt for eagle, birdie, par or bogey. The score you're putting for matters, and the phenomenon he calls the "Urgency Effect" influences every golfer's thinking and emotions and, ultimately, how many putts he or she makes. Sweeney quickly integrated the category into the package of more than 50 performance factors he analyzes and dispenses to tour players.
"Every stroke in golf carries the same weight," says Sweeney, 39, who picked up golf in his 20s. "There is no reason to view a bogey putt from five feet any differently than one for birdie; they mean the same in the context of your 18-hole score. But the sweetness of a birdie and the frustration of a double bogey still play on our minds. It's ridiculous, but golf is a crazy game."
The first player Sweeney examined was, of course, Tiger Woods. He looked at Woods' putting performance on putts from three to six feet, excluding the short tap-ins to avoid skewing the data. Last year, Woods made 49 of 59 birdie putts between three and six feet. "That's 83 percent, much better than average," says Sweeney. (The tour average on birdie putts from that range was 77 percent.) "And I'd point out he didn't miss once from three feet and in. But what's remarkable about Tiger is his performance on bogey putts from three to six feet." Woods made 16 of 17, a conversion rate of 94 percent. "It seems Tiger's senses are heightened when he stands over a putt for bogey," says Sweeney. "It's the Urgency Effect at its most dramatic."
Woods admits as much. "I've always prided myself on making those [bogey] putts," he says. "You have to make them, because if you make double, it takes you at least two holes to get it back. With a bogey, you can make a birdie the very next hole and all is forgotten. But the double, you have to grind for two holes minimum, because there aren't that many eagles out there."
Jim Furyk, Sweeney found, is much like Woods in his bogey-putting excellence from three to six feet, making 92 percent of his attempts (24 of 26). On birdie putts from that range, Furyk converted 79 percent (59 of 75). Although their success rates are higher, Woods and Furyk are typical of tour players, 92 percent of whom perform better when putting for bogey and par than for birdie and eagle from the three-to-six-foot range.
What does the Urgency Effect mean for average golfers? Although Sweeney can't reference ShotLink stats for amateurs, he has closely observed other middle-handicappers. "From what I see, most amateurs are the dead opposite of tour players—and me," he says with a laugh. "They putt better for birdie than for par or bogey." This shows that the Urgency Effect can cut both ways: Average golfers might be more stimulated by birdie putts and therefore sharpen their focus, like tour players do on bogey putts.
Amateurs who want to be like Woods can adopt a bit of his motivation for holing putts for bogey: "For some reason, making a big bogey putt or a big par putt turns the momentum of the round around," Woods says. "You feel like you kinda stole one."
The Application: Try to summon the same urgency on every short putt, regardless of score.