The Loop
Injured Stricker intends to play in Presidents Cup
Were it not for next month's Presidents Cup, Steve Stricker would not be hitting another golf ball until after Christmas.
As it is, Stricker, suffering from a herniated disk in his neck, will take the next two weeks off before gearing up to represent the United States in the biennial match against an International squad Nov. 17-20 at Royal Melbourne GC in Australia.
"I have every intention of playing in the Presidents Cup," Stricker, 44, said by phone from his home in Madison, Wis.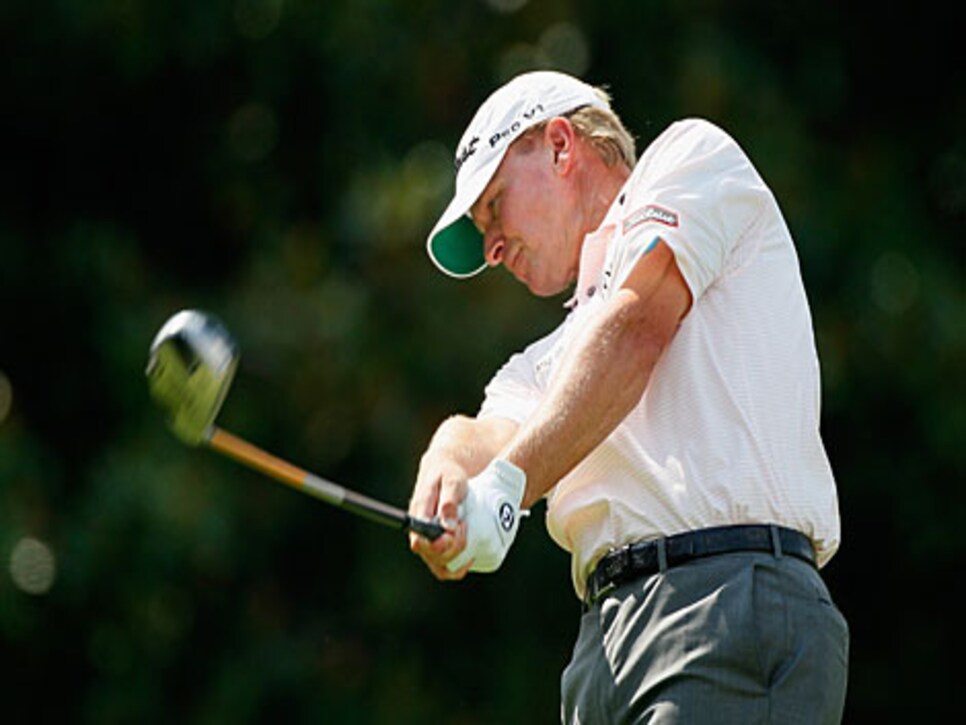 Photo by Kevin C. Cox/Getty Images
Stricker is considered one of the key figures for the U.S., which has lost only once in the Presidents Cup, that in 1998 in Melbourne. It is expected that he again will be paired with Tiger Woods, a controversial wild-card pick by captain Fred Couples after an injury-plagued and sub-par season. Stricker and Woods went 4-0 in team matches two years ago at Harding Park, and they were 2-1 in last year's Ryder Cup.
Since the Tour Championship, Stricker has gotten second, third and fourth opinions about his condition. He has spoken with Couples, who has battled back problems for two decades, and Ryder Cup captain Davis Love III, who suffers from neck issues dating to 2001.
An 11-time PGA Tour winner, Stricker first noticed the problem last December with weakness in his left arm, but physical therapy alleviated the symptoms, and he went on to win the Memorial Tournament as well as his third-straight John Deere Classic this summer.
But he was forced to withdraw last month from the BMW Championship when the chilly weather in Chicago triggered a relapse that made it difficult for Stricker to grip his clubs.
"I'm a little confused and disappointed, because I thought I had it licked," Stricker said. "I never thought it would be a lasting thing. Talking with Davis, he says it definitely has affected his play the last few years. We all know guys who have dealt with injuries, and their games are never the same. I've been down that road, and I don't want to do that again."
Stricker had a cortisone shot prior to the Tour Championship and expected to have one or two more before leaving for Australia. He also is undergoing physical therapy and wears a device at home designed to take pressure off the nerve being impinged by the disk.
Nevertheless, there is still a feeling of weakness in the arm, and his left middle finger is partially numb. "It's a cruddy feeling," he said.
Stricker had toyed with taking his family to Orlando and teeing it up in the tour's season finale, the Children's Miracle Network Classic at Disney. Instead, after shutting it down for two weeks, he'll head to Scottsdale, Ariz., to practice before departing for Melbourne.
If Stricker can't go, Couples said he will replace him with PGA champion Keegan Bradley. But Stricker believes he'll be ready to play, though he admits he can't help but worry about whether or not he'll be 100 percent.
"If it's an individual event, you go and give it a try and that's it," he said. "But when it's something like the Presidents Cup, that's a big concern. You have teammates and a captain, and you're playing for your country. You don't want to let anyone down."