The Loop
She's just 19, the youngest ever to win a U.S. Women's Open, but to those of us who pick Ryan Herrington's brain on the subject of junior golf, she's a veteran. Way back in 2003, when some of us in this neighborhood were enthralled by the thought of Michelle Wie coming to Brooklawn C.C. to play in the U.S. Girls' Junior Championship, Golf World's Herrington reminded us that there were some other good players. Like who, we asked? Oh, Morgan Pressel, Brittany Lang, Mina Harigae.... and don't forget the defending champion, Inbee Park, who had won in 2002. At age 13!.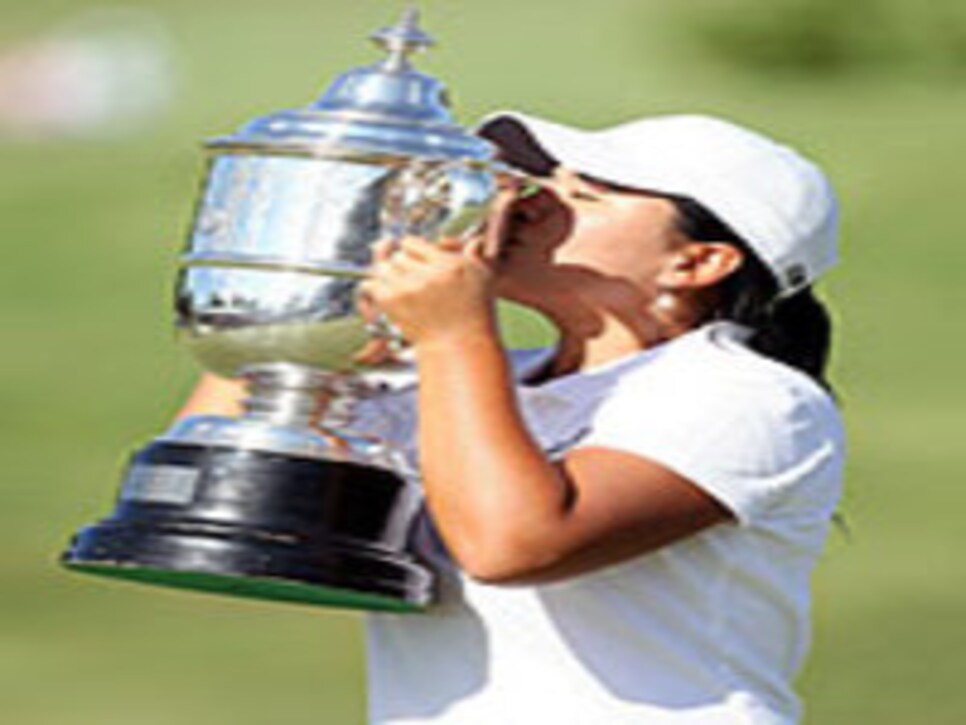 Sure enough, Park won medalist honors, survived the match play to make the finals as Wie, Pressel and Creamer fell by the way side. Park improbably lost a 5-hole lead in the finals with a few strategic errors, but she'd made her mark. When she won yesterday, it actually came as a suprise that she was the youngest champion. For some of us, she was overdue.
Speaking of Michelle Wie, the subject of many of your letters to us, you may have missed Larry Dorman's piece in Saturday's Times. Wie spoke candidly about the last couple of years, admitting that she'd tried to return from a wrist injury too soon. Surprisingly, Wie said that it was not only her coach, David Leadbetter, who had urged her not to play.
"I think to put it simply I would not have played," she said, and when her answer was repeated, she firmly responded: "Would not have played. I was in no condition to play. I don't know what I was thinking."
She said her teacher, David Leadbetter, was opposed to her playing.
"David told me not to play," she said. "My parents, at times, told me not to play.
"But I had to face reality sometime. I hate to say it, but they were right. It's a learning experience."
She shouldn't let pride get in the way. She should play the Futures Tour. All she needs to do is write a letter asking for permission. Do you think they'd ever turn her down? It's all about getting some rounds under her belt. That's how you learn how to win. That's how you learn to avoid mental mistakes like those she made on No. 9.
Just ask a veteran like Inbee Park. She finished third on the 2006 Futures money list to earn an exempt LPGA card. Now she's the youngest kid ever to win the U.S. Women's Open.
(Photo: David Cannon, Getty Images)