The Loop
In Your Opinion: Spieth is the breakout star of 2013
The definition of "breakout" is, "Of or constituting a sudden increase, advance, or unexpected success." The key words in this definition: Sudden; unexpected; success.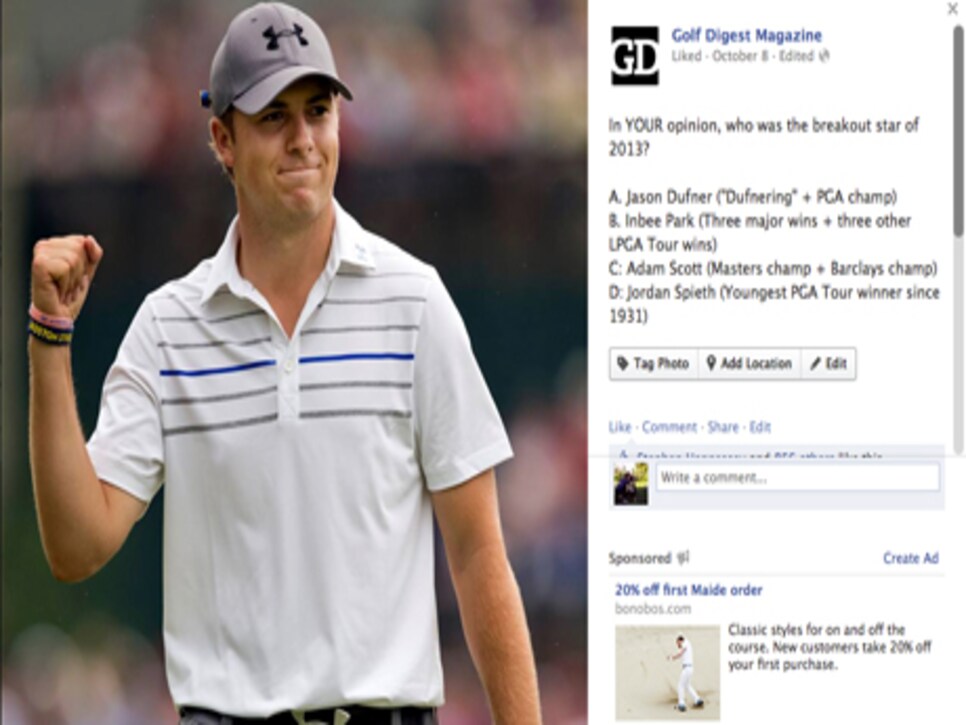 Nearly a thousand people weighed in, and here are the results:
Just four percent of you think the Masters champ was the season's breakout star, primarily because most golfers had already known of him. Even so, coming back to win the Masters after his painful collapse at the 2012 Open Championship was brilliant, and he became a household name by doing so.
Eighteen percent of you think Park, who won three consecutive majors and three other LPGA Tour events, was the breakout star of 2013. "If she was a man, this question wouldn't exist," wrote Joey Holbrook. "She won the first three majors, which hasn't been done since Babe Zaharias (the greatest woman athlete of the 20th century) did it," wrote Jason Tang. "Imagine the incredible excitement if a man had done that." Duly noted, Joey and Jason.
Nineteen percent of you think Dufner is the season's breakout star. In March, when Deadspin posted a photo of him slouching on a classroom floor, "Dufnering" became a Twitter sensation that quickly found its way onto various websites, mainstream television and conversations among golfers and non-golfers alike. He validated his star power by winning his first major.
But there's a clear winner in your eyes. Fifty-nine percent of you say that Spieth was the most sudden, unexpected star of the season. The rookie went from having non-exempt status to winning nearly four million dollars and competing on the U.S. Presidents Cup team. "Scott was already a star, and the other three had already had breakout performances," wrote Rich O'Brien. Adds Mike Graboyes: "We knew the others were already good, but no one knew how good Spieth is."
My favorite line comes from Steve Martinez: "Spieth. I can't even buy him a beer."