Courses
In Tribute: Jeff Hardin (1933-2018) and Dick Nugent (1931-2018)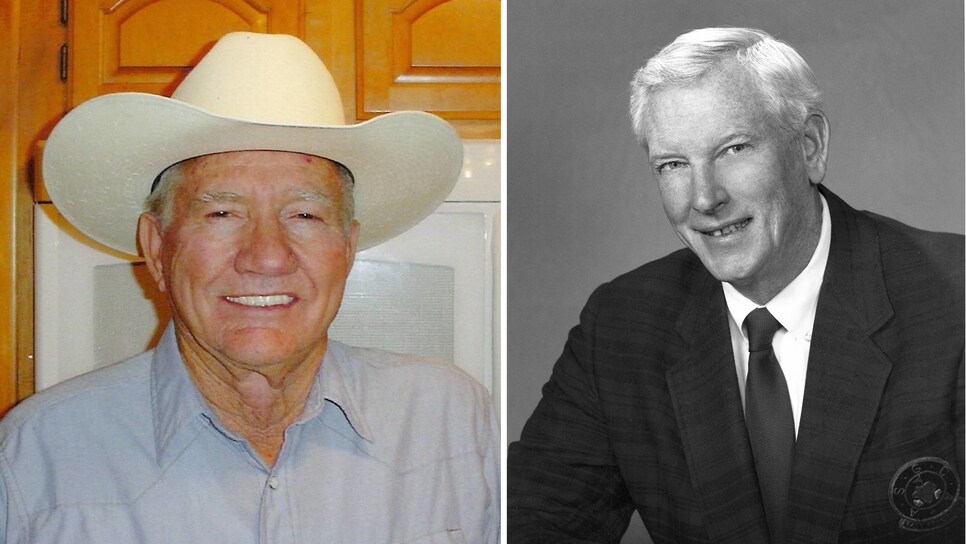 Hardin: Courtesy of ASGCA
The new year in golf architecture began with word that two veteran golf architects died on January 1st, both in Arizona and apparently within hours of one another. Jeff Hardin, a native of Arizona, was 84. Dick Nugent, a Chicago boy who retired to the Phoenix suburb of Sun Lakes 15 years ago, was 86. Both were longtime members of the American Society of Golf Course Architects (Nugent served as its president in 1981), but I'm not sure how well they knew each other. They worked different markets in their prime, Hardin designing courses in Arizona and surrounding states, many with the late Greg Nash, his partner from 1974 to 1981. Nugent worked the greater Midwest, first in partnership with the late Ken Killian and then as head of his own firm full of emerging talent like Bob Lohmann, Jim Engh, Stan Eby, Dave Esler and Jim Blaukovitch.
I knew Hardin only slightly, met him only once, but we corresponded some 40 years ago when Geoff Cornish and I were working together on our first history of golf architecture. Hardin had been trained as a civil engineer at the University of Arizona, graduating in 1959, and got into golf design when Del Webb began developing golf courses integrated with housing in the Phoenix suburbs in the early 1960s. Hardin knew drainage and bulk earthmoving and learned golf design from Webb's in-house course architect, Milt Coggins, a former club professional.
Hardin handled the engineering on the first Sun City golf courses, and when Coggins left the organization to practice design elsewhere, Hardin told me he worked with three other Del Webb engineers, Jim Winans, John Meeker and Thomas Ryan, to design several more Sun City projects, including Lakes East, Lakes West and Sun Lakes.
Then Del Webb decided on a project in Hawaii, Kuilima on the northwest shore of Oahu (it's now called Turtle Bay Resort), and Hardin insisted to me that he and the trio of Webb engineers laid out the course before George Fazio and nephew Tom were brought in as "consulting architects" to design the bunkers and greens. He was not pleased that Fazios got all the credit. Curiously, decades later, Tom Fazio removed Kuilima/Turtle Bay from the list of projects that he'd done with his uncle. Maybe that's why.
Hardin said he also worked with both Fazios on two Sun City courses, Willowcreek and Willowbrook, preparing detailed grading plans from their rough notes. Hardin was a stickler for details.
He met Nash, a landscape architect serving as a construction supervisor, while building a course designed by veteran golf architect Red Lawrence. When they formed Hardin and Nash, they handled the last Del Webb jobs in Phoenix. One of their best collaborations is one of my favorites, Hillcrest Golf Course in Sun City, a core 18 wrapped around a big lake, in contrast to the others, all of which are strung like necklaces through housing. Hillcrest isn't a fashionable Arizona-desert layout, it has plenty of grass and trees (and palms!) with surprising rolling terrain and plenty of elbow room. I haven't played it in decades but still think of it as a perfect retirement course, even though it hosted LPGA and Senior Tour events.
After his split with Nash, Hardin continued to design courses on his own until the mid-1990s, his last being Sky Mountain in Hurricane, Utah. But he and Nash remained friends. Hardin even supervised construction of some of Nash's designs. Hardin called his practice "an engineering management company" for golf courses. He was more interested in results than glory.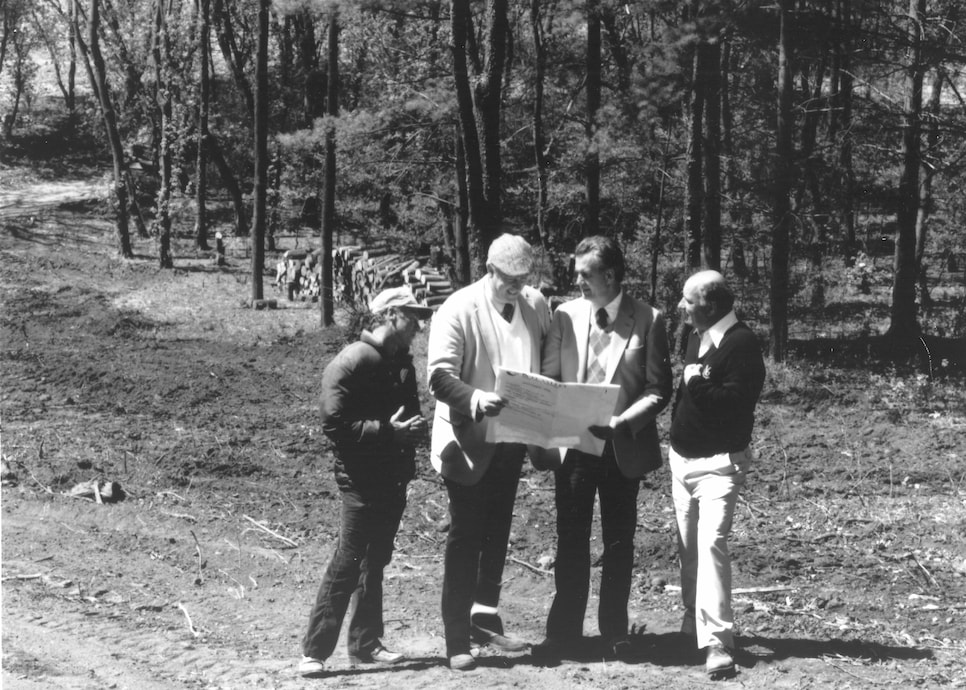 I was far more familiar with Dick Nugent, whom I first met in the late 1970s when he helped me research his old boss, golf architect Robert Bruce Harris. In retrospect, Dick reminded me of John Madden, a big, burly guy with a husky voice whose enthusiasm seemed to outrun his speech. He looked like an ex-lineman, which he was. He played one year of college football at John Carroll University in Cleveland, on the same team as future Hall of Fame coach Don Shula, and then, after two years in the Navy during the Korean War, serving on the aircraft carrier Midway (in the Mediterranean, not the Pacific), he played football at the University of Illinois, where he earned a degree in landscape architecture degree in 1958.
When I first met Dick, he and then-partner Killian (another former Harris design associate) were just completing two big public course projects in greater Chicago, Forest Preserve National (now George W. Dunne National) and Kemper Lakes, where they had their company office. Kemper hosted the 1989 PGA Championship, later went private and will be the site of the 2018 Women's PGA Championship.
At that time, Killian and Nugent had two primary associates, Bob Lohmann and Jeff Brauer. When the firm disbanded in 1983, Brauer went with Killian while Lohmann went with Nugent. Brauer later moved from Chicago to the Dallas metroplex and established his own, very successful design business. Lohmann also formed a firm that was ultimately very successful, but kept his base in Chicago.
In 1985, I attended an ASGCA annual meeting in Ireland, playing courses like Ballybunion, Lahinch and Killarney. Dick had given up playing golf by then, but walked each course, going from group to group, studying holes and chatting with his brethren. On two days in a row, Nugent happened to be with my group and witnessed me hole out twice from fairways for eagles, one day on a par 5, the next day on a par 4. It was a high point of my rather pathetic recreational golf career. I also distinctly remember Dick talking about ideas he was gathering from these courses, ideas he wanted to try in Chicago.
Two years later, he unveiled the Golf Club of Illinois, one of the earliest (some would say misguided) attempts to shape farmland into something resembling a links-style golf course. It had humps and bumps covered in tall grasses and deep bunkers and plenty of wind, although it didn't play like a links with its bentgrass fairways and greens. It was target golf, meant to be played mostly through the air. (These days, it physically looks more contrived compared to the real stuff at, say, Bandon Dunes, but in its day, GC of Illinois was a unique landscape, particularly for that area.) I played the course in 1987 with one of Dick's associates, Bruce Borland, who would later perish in that 1999 airplane tragedy that took the lives of pro golfer Payne Stewart (who'd won his PGA at Kemper Lakes) and others.
What I particularly liked about Dick Nugent was his willingness to take chances, to experiment with different styles and philosophies. (Lohmann recently told me, "I'd see some new course Dick had done and think, 'Hey, he wouldn't let us do that stuff!")
I wrote about his design flexibility in 1991, comparing two of his then-new designs and raving about how Dick "had stretched his range considerably in recent years." One course was The Ivanhoe Club in northwest Chicago, which I had played while Dick followed my every swing. (Alas, his magic was gone; I holed nothing from any fairway.) I wrote that Ivanhoe was "a swashbuckling layout whose armor consists of water hazards, sidehill lies and roller coaster contours on greens. It has bunkers galore, yet no fairway bunkers on the first 12 holes."
The other course was a tiny, landlocked 9-hole Michigan layout on the shores of Lake Michigan called The Dunes Club, sporting "lots of Pine Valley, with stretches of exposed sand in front of every tee, more sand splitting some fairways and still more edging the greens.
There's also some Garden City GC, especially on the fourth, with its semi-blind tee shot over an abandoned vineyard to a fairway edged in tall fescues."
"That's range for you," I concluded. "Nugent has produced one course that's a prototype for the 1990s and another that takes us back to the 1930s."
The Dunes Club was owned, of course, by Mike Keiser, who later that decade would expand on that celebration of 1930s golf at Bandon Dunes in Oregon and continues to pull golf back to its roots at resorts like Cabot Links in Nova Scotia and Sand Valley in Wisconsin. You can say it all started with that little 9-hole Dick Nugent design, but I think it really started with GC of Illinois. Dick started there with target golf, then modified it and blended it into a natural dunes site, without overpowering it.
Dick Nugent had as much range as any architect I've known. He did the 36-hole Harbourside in south Chicago, another faux-links, but better than GC of Illinois in my judgment, because it accommodates some ground game, and better still in that it turned a hideous brownfield dump into a playground. Detractors may favor the similar treatment done recently at Trump Links Ferry Point in the Bronx, because Dick indulged in unauthentic features like a bunker in the shape of an anchor. But to me, that's a reflection of his personality. He liked a good laugh.
He also designed Koolau, in conjunction with former PGA Tour official Jack Tuthill, a Hawaiian beast long considered the toughest in the world, in part because it sports the maximum slope rating allowable, and in part because it was built on one of the most rain-soaked environments on the globe. Koolau is spectacularly beautiful, but beyond my game, what with its demand for carrying canyons to reach greens with a muddy ball and soggies lies in fairways.
My personal favorite Dick Nugent design is Green Bay Country Club, built from heavily-wooded kettle moraine topography (not unlike the land on which Erin Hills would later be built), with a long, serpentine stream running through it north to south, which is incorporated half a dozen times during the round. I especially loved the greens at Green Bay, one a long hourglass, another a wide peanut, still another twisting and turning along a pond. These were done in the early 1990s, years before Mike Strantz began to exaggerate greens to great effect. One critic of Green Bay CC has seized upon all its humpty dumpty mounds that surround several greens, but to me, they're simply smaller imitations of the broader kettle moraine topography found on that site. It was another of Dick Nugent's experiments, perhaps an underappreciated one these days, but a lasting one.