The Loop
In playing Woods again, Love takes a gamble
MEDINAH, Ill. -- Tiger Woods' Friday morning foursomes match ended with his putter in his hand, for a five-foot par putt he didn't have a chance to make on the 17th hole of Medinah No. 3. Justin Rose had just snuggled a hybrid chip to within inches, ensuring a 2-and-1 victory for he and Ian Poulter over Woods and Steve Stricker and pulling Europe into a 2-2 deadlock with the United States.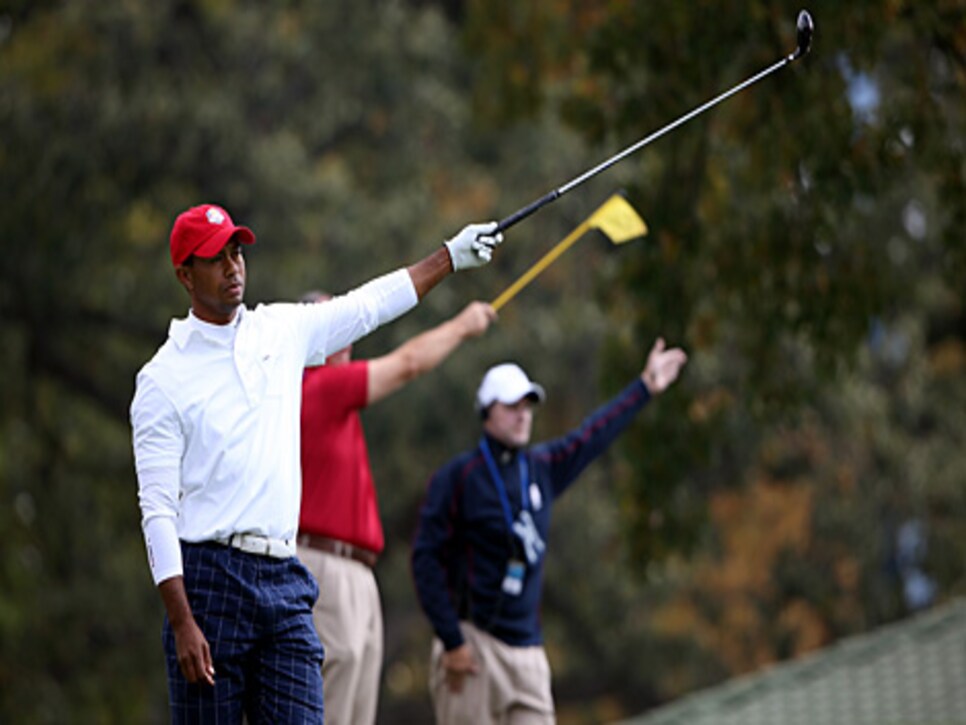 Given how Woods -- who is now 4-8-1 in Ryder Cup foursomes -- had struggled during the anchor match of the first session of the 39th Ryder Cup, it was plausible that U.S. captain Davis Love III might sit Woods in the Friday afternoon four-ball session.
But Love put Woods and Stricker out again in the afternoon in the third match against Lee Westwood and long-hitting Nicolas Colsaerts. Friday morning losers Jim Furyk and Brandt Snedeker were rested in the afternoon, along with Jason Dufner and Zach Johnson, a pair that scored one of the Americans' two opening-session victories.
"We considered it for sure but we had some good inside information," Love said in an interview with ESPN. "We just thought once they started playing best ball they'd get back on their games."
That Love decided to stick with Woods-Stricker in the afternoon was in line with what the American captain said on the eve of the Matches. "I didn't go back and study Tiger Woods and Steve Stricker's record before I put them together," he said, answering a reporter who noted the duo had struggled in the last two Cups. "They wanted to play together and they have done pretty well together, so going to let them go."
Woods struggled from the outset Friday morning, driving far left into trouble on the first hole, and subsequently spraying tee shots to the right. Better with his irons, Woods hit a beautiful long-iron approach onto the 16th green which appeared to give the U.S. pair a good chance to cut its deficit to 1-down. But Ian Poulter sank a clutch 12-footer to halve the hole.
If Woods rebounds in the afternoon (he has a 5-6-0 record in Ryder Cup foursomes), Love's decision to stick with the 36-year-old legend will seem to make sense. If he struggles, though, he will endure the kind of second-guessing that comes with the job. Before a ball had been struck Love was clear about having a plan, and planning to stick with it.
"I told some of the guys, [former North Carolina basketball coach] Dean Smith just ran his offense and he ran it and ran it and he ran it until the game was over, and I think that's what we are going to do," Love said. "We have got a plan, we have some great players and we are just going to let them play until we run out of holes. I think everybody around me seems to feel like we have a pretty good plan."
European Sergio Garcia, who lost for the first time in foursomes Friday morning, wasn't very interested when asked if he was surprised Woods-Stricker was going back out in the afternoon.
"I don't really care what the Americans do," Garcia said. "It's their problem, not mine."
Woods birdied the first hole of the afternoon, which had to make his captain feel good, but a long afternoon was ahead.