The Loop
In honor of July 4th, an ode to the hot dog
You've heard the Golf Digest nutritional spiel for years regarding those lethal, nitrate-loaded, cholesterol-building hot dogs that you love. Here is a quick review for those who have forgotten: a dog does have protein, iron, potassium and Vitamin-C benefits, but the sodium, fat and cholesterol content are off the charts. Get one with cheese sauce, and you're looking at 545 calories. All of which is why we've always suggested a nutrition bar for a back-nine energy boost.
But this time around, you're getting a reprieve from the message: We're with you, and that's the last of the bad hot-dog news.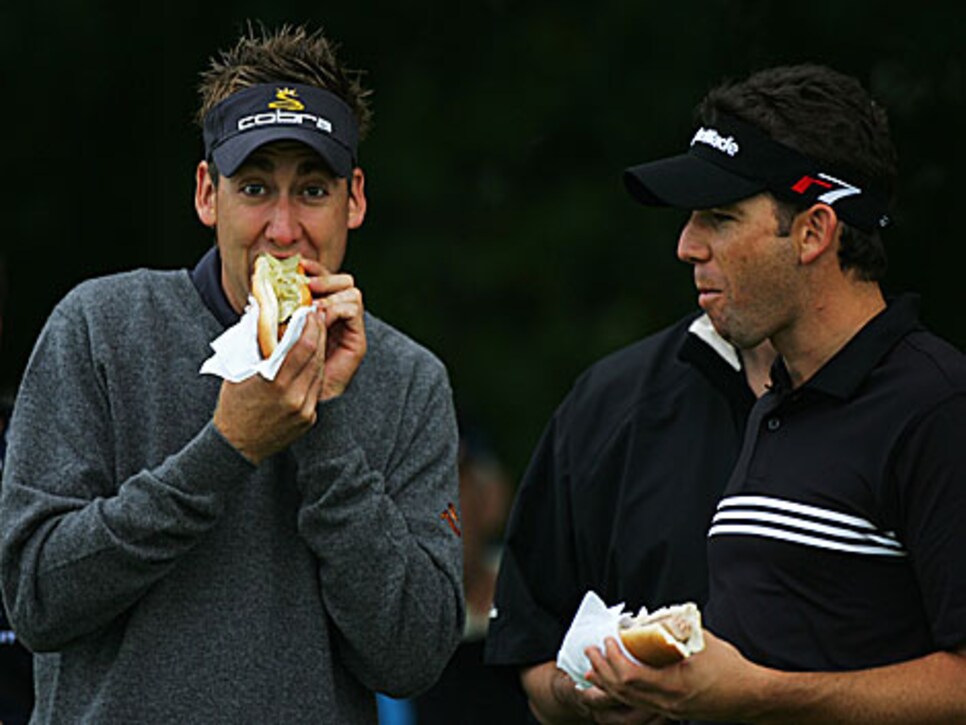 Why the change of heart? It's Fourth of July time for starters, and franks and the Fourth go together quite well. But, in general, a hot dog is quick and cheap, and when we're hungry, the salt and fat in a dog taste mighty fine. Seven billion hot dogs are sold between Memorial Day and Labor Day -- undoubtedly a huge chunk at the golf course -- but they are lovable and edible year-round. Here's our ode to the dog:
Tips from "Jaws" on being quick at the turn
Joey (Jaws) Chestnut, who has inhaled 252 hot dogs in 40 total minutes to win the last four Nathan's Famous Hot Dog Eating contests, has a few tips to help you avoid choking when you need to scarf one down between nines. Chestnut, a recreational golfer without a handicap who plays charity golf events, says there is more to a quick bite than the bite-chew-swallow-fast pattern most of us take. He says to focus on two aspects: liquid and taste. "Eating the hot dog with some liquid will help the best," he says. "Liquid gets the hot dog deep in the stomach, so it breaks down faster and gets calories you need fast."
An eating champion in 13 other types of food, Chestnut uses hot water in competition, but says, "Drink whatever you feel most comfortable with." Feel free to use Chestnut's other notable maneuver of jumping up and down and wiggling to slide the hot dog down, but his other tip goes against logic: don't eat a naked dog. Condiments, he says, don't slow down chewing. "The better food tastes, the better you'll eat fast," he explains. "The better a hot dog tastes, the better it will naturally go down."
There don't seem to be any rules governing a hot dog -- why don't the number of hot dogs in a package match the number of buns in a bag, for instance -- and the Rules of Golf don't have much to say about it, either, whole dog or in pieces.
There have been a few rules cases, however, over the years. Gene Sarazen played from a hot-dog stand during the 1931 Ryder Cup. E. Harvie Ward, in winning a second-round match from Jack Nicklaus in the 1958 U.S Amateur, said he "got up and down from a hot dog stand once." And during the Quad Cities Open (now John Deere Classic) one year, Curtis Sifford's ball on the 18th hole sliced toward a woman eating a hot dog. In dodging out of the way, the woman dropped the dog and the ball finished on it. Sifford was allowed to clean the condiments off the ball, move the dog, and make a free drop.
There isn't a reference to a hot dog, or a piece of one, in the Rules of Golf Decisions, but as in Sifford's case, a hot dog would be a movable obstruction and Rule 24-1 would apply.
The world's best hot-dog recipe?
There are endless claims to being the "world's best hot dog," so we won't grade them here. Epicurious.com, for instance, graded Nathan's as its top pick, followed by Thumann's and Oscar-Meyer.
Pro golfer Anthony Kim's idea of a great hot dog is to order from the famous Pink's hot-dog empire in Los Angeles, and load the dog with relish, jalapeno peppers, mustard and sauerkraut. Afterward he undoubtedly loosens the famous A.K. belt buckle.
Maybe the best hot dog in all of golf is the halfway-house dog found at Skokie Country Club, the site of the 1922 U.S. Open in Glencoe, Ill., located appropriately enough in the backyard of sausage-loving Chicago. Skokie's Guac Dog, as noted in Scott Savlov and Jon Rizzi's book "The Club Menu" (Pindar Press), has been served since the late 1980s and is made from the following recipe: Mix 1 1/2 cups of chopped Roma tomatoes, half a cup of diced onions, one diced jalapeno pepper, juice from two limes, quarter cup of chopped cilantro, four diced, ripe avocados, and salt and pepper to taste. Set mixture aside. Warm a white hot-dog bun. Split a quarter-pound Oscar Mayer beef frank, and cook on a hot grill. When done, put the frank on the bun and spread the avocado mixture on top.
If you're a hot-dog addict, you can not only eat your fill but you can look the part, too. Loudmouth Golf makes a pair of trousers called Hot Dog pants that are red-, mustard- and black-vertically striped in order to "distract your opponents." The 97 percent cotton/3 percent spandex blend is variously priced online in the $95 vicinity. The pants are so insane looking that any condiments spilled on them would enhance the look.
Hot dogs in the pop-culture world
We leave you with a look at the hot dog in golf pop culture. You know it belongs there when it's been used by Dan Jenkins, as in his opening line reporting on Gene Littler's 1961 U.S. Open victory: "The 4-wood is to Gene Littler as mustard is to the hot dog."
More recently, PGATour.com contributor Craig Dolch wrote, "Rory Sabbatini and Hawaii seem to go together like fine wine and a hot dog."
But appropriately, the final word goes to dialogue between Judge Smails and his grandson Spalding from the classically quotable golf movie Caddyshack: Spalding Smails: "I want a hamburger. No, cheeseburger. I want a hot dog. I want a milkshake. I want potato chips..."
Judge Smails: You'll get nothing, and like it!"
Actually, Judge, we would like to order a dog, with chili and onions, for the back nine.
(Photo: Warren Little/Getty Images)