The Loop
In Europe, anchor ban met with little more than a shrug
VIRGINIA WATER, England -- There were, as expected, no surprises. Almost six months on from their original announcement on the now notorious Rule 14-1b, the R&A today joined (simultaneously) with the USGA in confirming that the so-called "anchoring" of putters to any part of the body during a stroke will be deemed illegal starting January 1, 2016.
"We know that not everyone will agree with our final decision," said chief executive Peter Dawson at a press conference held in the Ryder Cup room of the Wentworth clubhouse. "But we do hope that the care and love for the game that all have expressed through their participation in this process will facilitate acceptance of Rule 14-1b when it takes effect."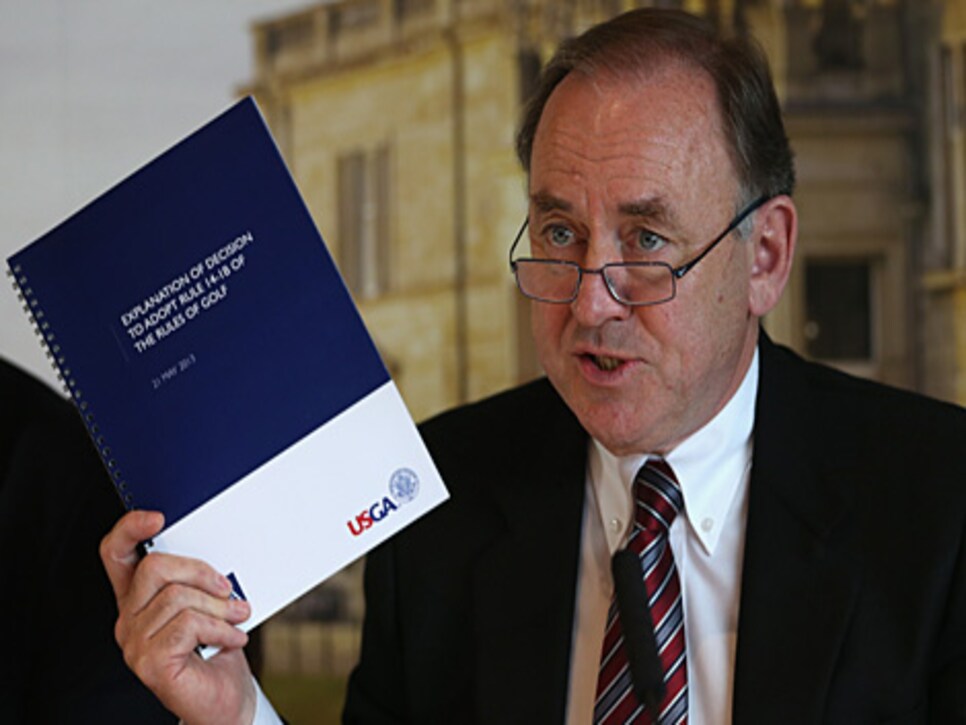 Peter Dawson talks at Tuesday's press conference. (Photo: Getty Images)
In that respect, Dawson was on much firmer ground than his USGA counterpart, Mike Davis. Opposition and/or dissension during this whole process have largely been confined to the western end of the Atlantic Ocean.
"We had no feedback from people saying they would give up golf if long or belly putters were banned," commented Sandy Jones, chief executive of the British PGA. "Plus, we are fully supportive of the R&A as the rule-making body. We like this rule. It will do no harm to the game at any level. I just don't see anyone using them.
"It does seem to be more of an American problem, one that has a lot to do with the speed of the greens over there. Eliminating variables in the stroke is much more helpful when the greens are slick.
"Plus, less than one percent of putter sales worldwide are long putters. So where is this big problem? (PGA of America president) Ted Bishop's comments were nonsense really. There is no evidence to support his view. I played with Ted last week at Sawgrass. I use a 32-inch putter and made some good ones with him watching. I told him he was going the wrong way with this thing. Maybe he should be banning the short putter."
Most European Tour players, it is safe to say, feel similarly.
"I agree with what the R&A are doing," said Italian Ryder Cup player, Francesco Molinari, nicely summing up the mood of the majority. "I think it's important that we swing all 14 clubs in the bag and not just 13 of them. I have never liked that guys could anchor their putters to any part of their bodies.
"What the R&A has done is a good compromise. If they had legislated on the clubs themselves, I'm not sure it would have worked. Even with a short putter it is possible to anchor it. So what they have done makes sense to me. Some may argue that they are a bit late in doing what they are doing, but I say it is never too late to do the right thing."
Which is not to say that absolutely everyone on the European Tour is 100 percent behind what Dawson called "the most controversial rule change for a long time."
"After 30 years, I'm not sure it is right to be having such a drastic effect on players who have used it their whole careers," contended leading coach Denis Pugh. "It's an arbitrary call. Having said, that, if we were starting tomorrow I'd rule that the putter has to be the shortest club in the bag and also have the lease loft. Then go play.
"So I can see that long and belly putters are 'wrong.' But they have been wrong for too long. Plus, I think they have overcomplicated things. I can see guys finding ways round this rule."
As for those charged with policing will invariably be, in practice, the tiniest of adjustments, European Tour chief referee John Paramor was broadly optimistic about both the immediate future and the brave new putting world post-2016.
"With the all the information that has been forthcoming from the R&A, it isn't going to be too difficult for us to pass it on to the players," he said. "I think the vast majority of players currently using anchored strokes will end up using a method that does not require any judgment calls on our part. We have more than two years to iron out any problems before we get to that stage. So it won't be a problem.
"I can see a small number asking us if their adjustments are OK, but not many. It won't be a problem though. There are many other rules where we rely on the integrity of the players to guide us. I am always asking guys what they were trying to do or intending to do in certain situations. This rule is no different in that respect. Besides, if anyone is close to anchoring after making any adjustments, we have more than two years to have a word with them about it."