The Loop
In body language, Tiger Woods is screaming
PONTE VEDRA BEACH, Fla. -- The slumped shoulders, the thrown clubs, the look of utter disgust. Just a guess here, but I'm pretty sure Tiger Woods isn't happy with the way he's started the final round of the Players.
Woods has yet to make a decent swing through two holes, and even dunked his second shot on No. 2 in the water en route to his bogey. But his short game has saved him thus far, and he still hasn't lost any ground to Alex Cejka, who bogeyed the first and had to settle for a disappointing par at the third.
(Photo credit: Richard Heathcote)
Update, 3:18 p.m.: So Woods has bogeyed two of his first four holes, looks more like me than he does the best player in the world (OK, that's not true: I would *never *wear a mock turtleneck) and still has gained ground on Cejka, who doubled the fourth hole. The problem is a host of players have still passed Woods by, including Ben Crane, who has moved into a tie for the lead with birdies on his first two holes.
Update, 3:39 p.m.:__ Ben Crane is now your sole leader after Cejka makes yet another bogey on six. Henrik Stenson is a shot back at seven under, and don't look now, but Woods has moved back to within three shots after dropping a 13-footer on six.
Update, 3:54 p.m.:__ Now there are four tied for the lead at seven under: Ian Poulter, Ben Crane, Henrik Stenson and Retief Goosen. But that's before Goosen just left his bunker shot in the bunker on No. 8.
With another missed fairway-layup-bogey, Tiger Woods is back to three back.
Update, 4:02 p.m.:__ Worth noting, there are four guys in the clubhouse at four under: Aaron Baddeley, Tim Clark, Daniel Chopra, and Vijay Singh. Those guys might want to consider sticking around....
Update, 4:09 p.m.: Henrik Stenson is alone atop the leader board after moving to eight under with a birdie on No. 9. If you don't recognize him, perhaps he should consider stripping down to his underwear.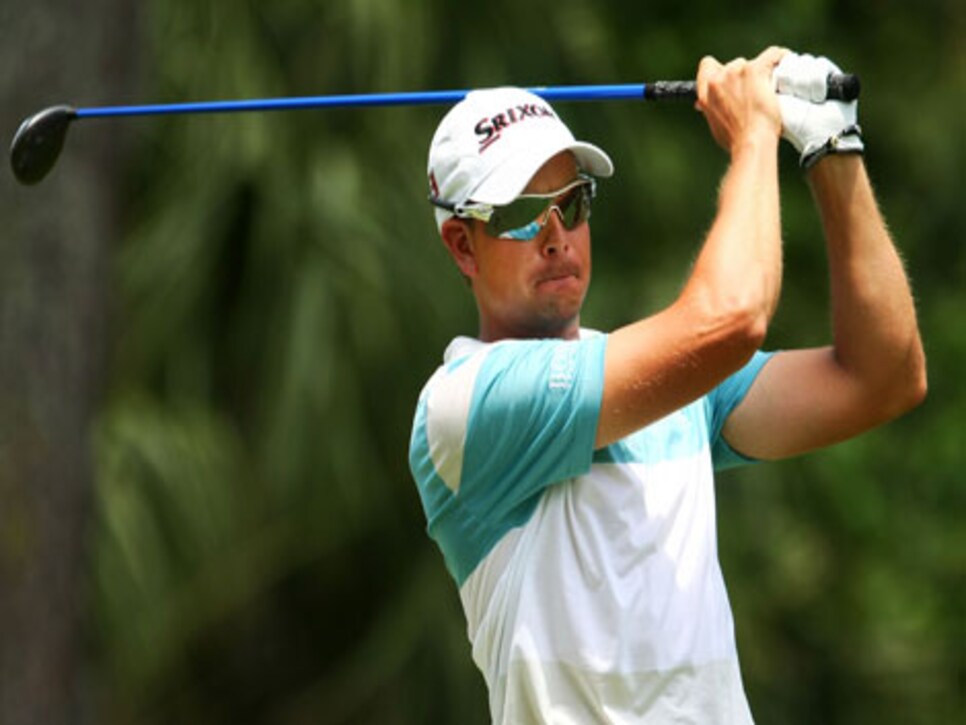 __Update, 4:14 p.m.:__Ben Curtis moves to six under with a birdie on 12. For what it's worth, Curtis has a chance to join an eclectic group of player who have won one major in their career, but have also won at the Players. That group includes Davis Love III, Fred Couples, Steve Elkington, David Duval, Hal Sutton, Justin Leonard, Tom Kite, Al Geiberger, and Lanny Wadkins.
__Update, 4:31 p.m.:__It pays to pray. Ben Crane's shot on No. 14 is headed toward the water, but caroms off the bulkhead before settling in the bunker. Crane makes par and is now two shots behind Stenson, who added another birdie on 11.
Update, 4:57 p.m.: At six under, Jim Furyk makes a clutch par on 17, then splits the fairway on 18 with his tee shot.
The shot seems to say: "I didn't come all the way to Ponte Vedra from my house.....a few blocks away to finish second."
__Update, 5:09 p.m.:__Furyk pars 18 and is now the clubhouse leader at six under, although he trails Stenson by four and four players by a shot.
Update, 6:11 p.m.:  Stenson has just made par on 17. Barring a Van de Veldian-like collapse on 19, he is your 2009 Players champion.
__Update, 6:28 p.m:__So there you have it, Henrik Stenson, Players champion. Cue the obligatory talk about how he's now the favorite for Bethpage Black. Hey, why not? It's not like Tiger Woods is at the top of his game right now...