The Loop
Illinois' Pieters claims NCAA individual title
__PACIFIC PALISADES, CALIF.--Illinois coach__Mike Small likes to describe Thomas Pieters as a "modern golfer." With an athletic, 6-foot-3 frame, the native of Belgium--Small's first recruit outside of North America--compresses the ball like a tour pro, a skill that allows him to navigating courses with force more than finesse.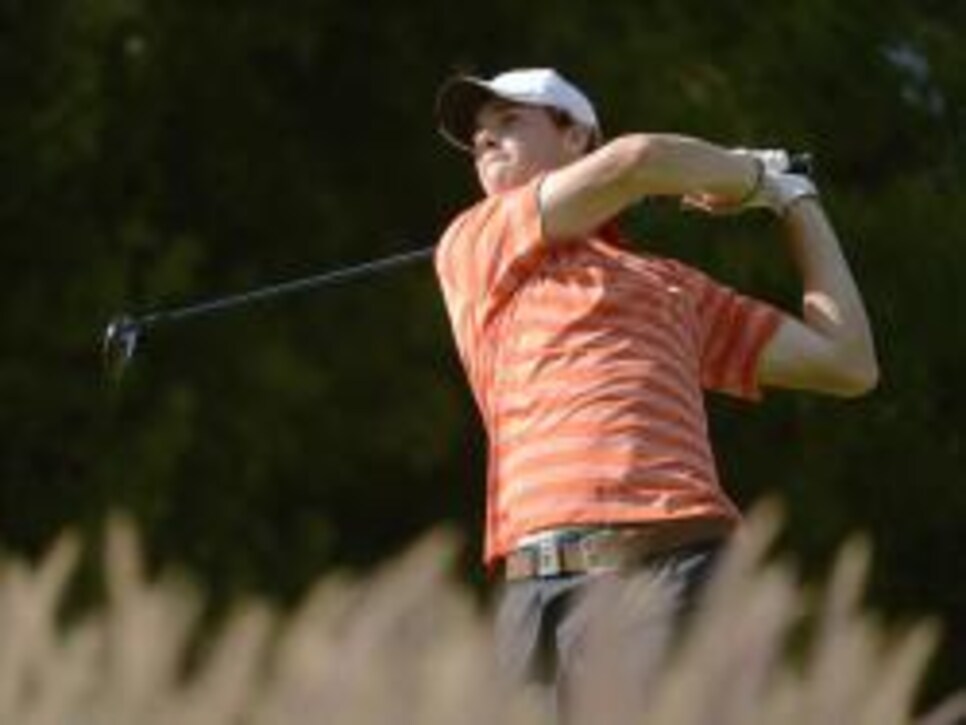 Yet in the final round of stroke-play competition at the 115th NCAA Championship, Pieters demonstrated he has become familiar with the finer points of the game too. Lessons learned since arriving stateside in the fall of 2010, working with Small to round out his game, helped the 20-year-old sophomore cap off a career-defining tournament. Driver wasn't the club that allowed Pieters to claim NCAA individual title Thursday afternoon. It was his wedge, which he used to save par on several occasions at Riviera CC and even make a birdie when it looked like his confidence was slipping away.
An even-par 71 gave Pieters a five-under 208 total, three strokes better than TCU's Julien Brun, who shot a closing 67 in the morning and hoped to see the leaders stumble, and Florida's__Tyler McCumber__. In the process, he joined__Scott Langley__ (2010) as the school's second NCAA medalist in three years.
"I tried to think of this as just another tournament, but this is a big win," Pieters said. "It's pretty cool."
Unfortunately, Pieters' play couldn't help get the Fighting Illini into the match-play portion of the tournament. While Illinois was among a group of 11 schools within five strokes of the eighth and final berth into match play at the start of the day, the team shot a collective 19-over 303 in the third round to finish in 21st place, 12 strokes back of the cut.
Alabama held on to first place in the team standings, closing with a three-over 287 to outpace UCLA by two strokes. However, the identity of the Crimson Tide's first-round opponent was still unknown as the sun set in Southern California. With matching 23-over 875 scores, Kent State and Florida State will return to the course Friday morning in a playoff to decide who moves on as the No. 8 seed and who goes home.
Also advancing to match play, in order of finish, were top-ranked Texas, San Diego State, California, Washington and Oregon.
"We just start all over again tomorrow," said Alabama coach __Jay Seawell__. "This was basically a huge super regional, and we are now into the finals. We are now in the national championship tournament and we look forward to that. It is a completely different style of golf; match play brings different strategies and all of the things that go with it."
Being the No. 1 seed hasn't necessarily been a blessing. Twice in the three years since match play was added to the championship, the No. 1 seed has lost in the first round (Oklahoma State in 2009 and UCLA in 2011).
While the intrigue of the team competition continues, the individual tournament ended with little fireworks as Pieters methodically made his way around Riviera, offering few opportunities for his opponents to put pressure on him.
Teeing off on the 10th tee with a two-stroke lead and playing in the same threesome as McCumber, Pieters got off to a comfortable start, making par on his first five holes. Yet after making a bogey on the par-4 15th (his sixth), allowing UCLA's Anton Arboleda to hold a brief share of the lead at four under, Pieters put his tee shot on the par-3 16th into a back greenside bunker. Briefly at least it seemed that momentum might be shifting since McCumber was just one back and looking at a makable birdie putt of his own on 16.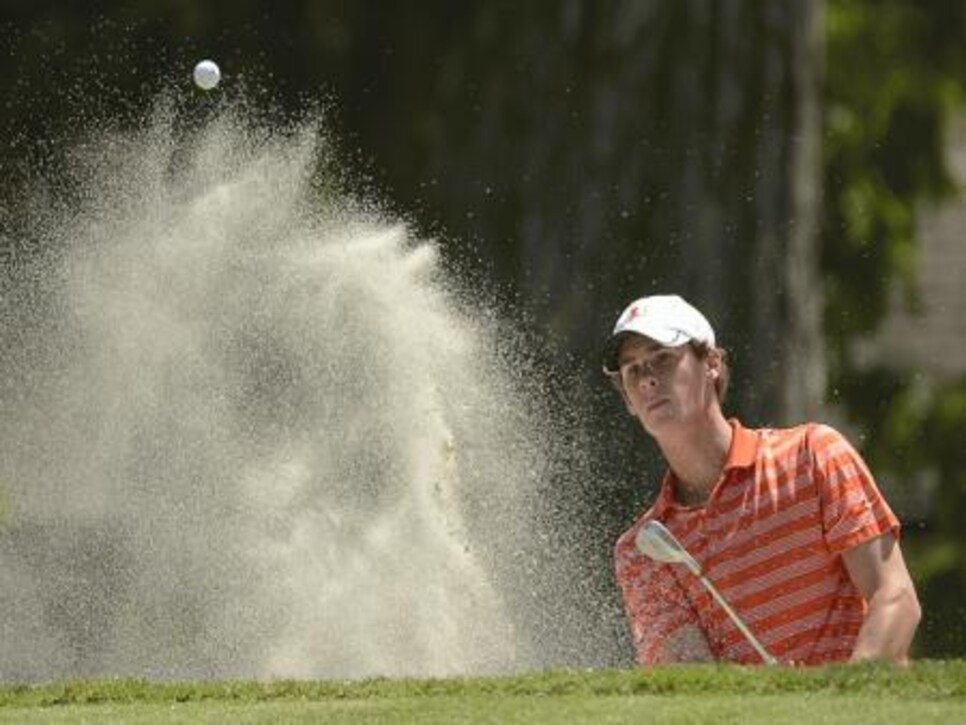 That's when Pieters hit arguably the shot of the tournament, holing his second shot from 15 feet for a birdie (above). When McCumber could only manage a par, Pieters was back in the lead for good.
"That was a huge turnaround for me to make that," Pieters said. "If I make bogey there and Tyler makes birdie, then the tournament is totally changed."
Pieters' wedge play continued to shine as he chipped from off the green to tap-in range on the 17th and fourth holes to save pars and maintain no less than a two-stroke advantage as he was playing his final nine holes.
With his advantage at four strokes on McCumber (Arboleda had fallen off the pace, eventually finishing with a 76) as the two played the par-3 sixth, Pieters wielded his wedge one more time, hitting a nifty bunker shot after putting his tee ball in the sand. Playing the ball 10 feet beyond the hole, he watched it roll off a back slope to get within five feet of the cup. With McCumber's tee shot landing two feet from the hole, ensuring him a birdie, Pieters proceed to make his par putt to allow McCumber to only gain back one stroke.
Indeed, McCumber wouldn't go quietly, but after hitting the green in regulation on the par-4 eighth hole, he proceeded to three-putt from 16 feet, allowing Pieters to essential wrap up the title. "I felt very comfortable out there all afternoon," said McCumber, who finished with a 72. "I felt like I still had a chance the whole time until the three-putt on eight."
Pieters was humble in victory, leaving Small to talk about how Pieters' game evolved to the point where he could win a national title.
"He's been playing steady for us. He's really maturing the way he approaches the game," said Small, noting how Pieters had finished outside the top 11 only twice in 11 starts during the 2011-12 season. He claimed his one other college victory at the Jack Nicklaus Invitational in October. "He's growing up as a player if that makes sense. Now he still has a lot to learn, but even in the short time he's been at Illinois, he's become a more rounded golfer."
"It proves I can play at this level, which is pretty nice," Pieters said. "It's good to know I can do it."