The Loop
If Tiger Woods was playing the Masters this week, he'd probably say something like this
AUGUSTA, Ga. -- It is a peculiar dynamic having a Masters without Tiger Woods. The absence of the world No. 1 -- the first time he's missed the season's first major since 1994 -- brings a palpable void: no ridiculously early morning range sessions; no stories of emboldened amateurs wrangling their way into a practice round with him; no breathless predictions about his chances of capturing a fifth Masters title.
And not to be forgotten: no pre-tournament Tiger Woods press conference.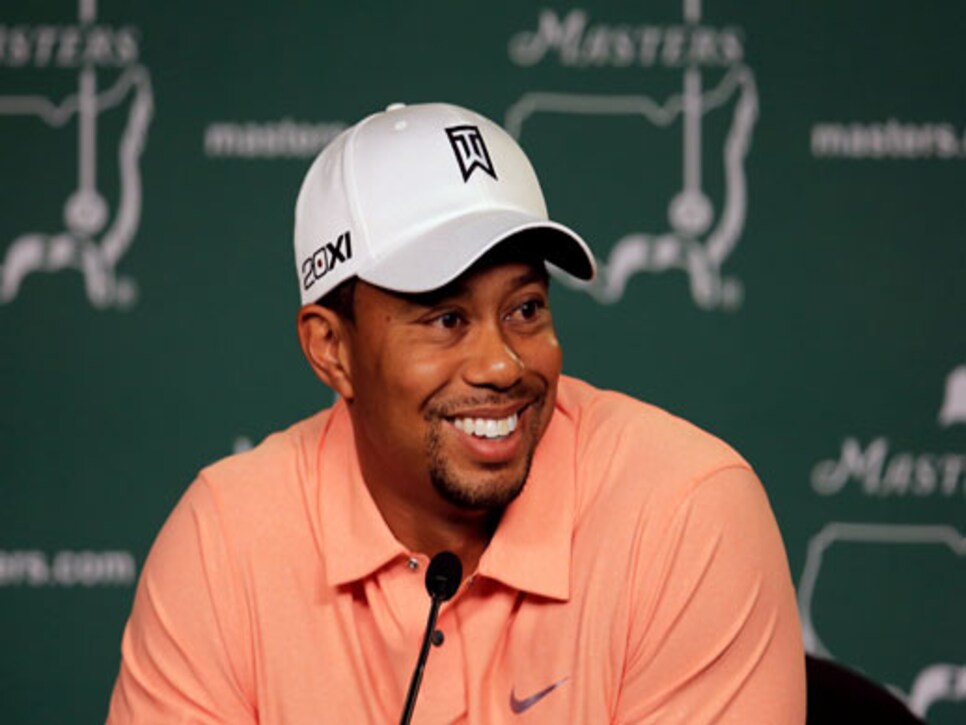 With the notable exception of 2010, when Woods' much-anticipated return from a sex scandal inspired a rare Monday news conference, Tuesdays have been Woods' day to meet the  media, reflect on his early season form and address the state of golf in general. There is no script for these events, and every year brings with it unique circumstances. But if you pay close enough attention, you'll start to notice a pattern. For instance, if Tiger were here Tuesday, we could probably expect him to say . . .
Something about the golf course. Woods may be a global superstar, but at his core, he is a golf geek. He loves to talk about hole locations, green speeds and overall conditioning. On Tuesday before the 2013, he said, "The golf course is in fantastic shape." The year before: "The greens are absolutely perfect."
At Augusta National this Tuesday, Woods would surely be asked about the removal of the Eisenhower Tree, a victim of storm damage, along the 17th fairway. Seeing how Woods injured his knee under that same tree in 2011 -- and subsequently missed the next two majors -- we suspect he wouldn't be too broken up over it.
Something about the state of his game. The most predictable line of questioning with Woods is about his own play, and with the exception of when he was coming in cold in 2010, he has been unwavering in his faith in himself (and even then, he said, "Nothing's changed. I'm going out there to try to win this thing.") Given his meager results so far in 2014, it's hard to imagine Woods portraying the same swagger. Then again, if self-doubt truly was an issue, he likely wouldn't admit to it publicly.
Something about how you need to putt well at Augusta. Just as Woods loves to talk about the strategic intricacies of golf courses, he's always been quick to say it really comes down to putting. "The guys that have won here have really putted well," he said in 2012. In 2008: "You can't putt poorly here and win." Given the alternative -- Woods reverses himself and says putting doesn't matter -- it's fair to say he'd recite some variation of the above.
Something about his chances of catching Jack Nicklaus. With increased frequency in recent years -- especially in the nearly six years since he won his last major -- Woods has been asked about his pursuit of Nicklaus' record of 18 majors. "It took Jack a while to get to 18, all the way until he was 46 years old," he said in 2012. "So there's plenty of opportunities for me." Even with very little to show for his 2014 season, it's hard to imagine Woods straying too far from this sentiment, especially since Nicklaus himself still says he thinks Woods is going to pass him.
Something about him getting old. There is always that moment at the start of a Woods Masters press conference when his number of tournament appearances is cited. Woods rolls his eyes. The assembled media chuckles. It used to be mostly for effect -- 10 Masters is nothing! -- but as the years have progressed, it's taken on poignancy. This year would have been Woods' 20th Masters, which he reflected on last year. "I never would have foreseen that, when I first came here at 19 years old," he said. "It was a bit overwhelming to play here and to be part of the Masters, to stay in the Crow's Nest and accidentally run into the champion's locker room and all those different things. Got to watch Gene Sarazen and Byron Nelson tee off on that first hole, Sam Snead. It was just incredible."
Had Woods been at Augusta National on Tuesday, the passage of time would have certainly been a topic of conversation. The fact that he isn't here speaks to it even more.