News
U.S. Open 2018: Ian Poulter's hate-(now)love affair with Shinnecock Hills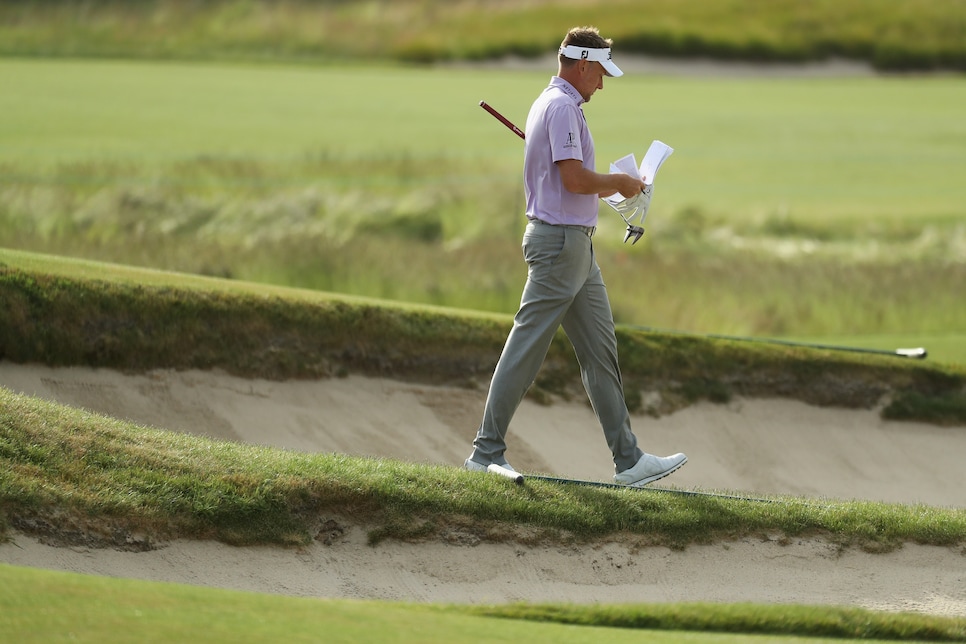 SOUTHAMPTON, N.Y. — Ian Poulter admitted that for 14 years he "hated" Shinnecock Hills. Gawd, That's a long time to hold a grudge, even for him.
"I hated a lot of U.S. Opens through the years, to be honest, because I've gone home early," he said. "I haven't had the finish that I would have liked."
Especially that first one. He shot 74-72 and missed the cut back in 2004. He hasn't fared a whole lot better since. Poults' best finish in the championship is a tie for 12th, at Winged Foot in 2006, and he didn't even qualify for it each of the last two years.
He didn't much like his finish on Friday, either.
Within a stroke of the lead with two holes to play, Poulter got too aggressive with his 7-iron approach on the par-4 eighth and dumped it into the right greenside bunker and went on to make triple bogey. Then he compounded the mistake with a bogey on the last.
A two-over 72 left him one over for the tournament and tied for fourth five strokes back of Dustin Johnson.
"I was trying to hit the perfect bunker shot," Poulter said of the disaster on No. 8, where he was shortsided to a pin that sat atop a small plateau. "I was trying to land it, you know, half a yard over the crest to get it to check out. A good bunker shot, I felt like I could hit it to about four or five feet."
Instead he bladed it to 30 yards, airmailing the green.
"I didn't commit to the shot I wanted to play, and that's the only disappointing thing, really, about the mistake I made," he continued. "When you're out of position on this golf course and, you know, you're trying not to make another mistake and another mistake it just looks really stupid. So, yes, I felt stupid knifing the first one."
He felt even "more stupid" semi-chunking the next one from light rough into grass thicker than a Lawn Guyland accent, then hit a chip that barely got to the green before two-putting for 7.
Poulter compounded the mistake by coming up well short on his 168-yard approach from the fairway on the ninth, again leaving himself in thick rough from where he was unable to get up and down. Bogey.
So much for the possibility of an electric pairing with Johnson in Saturday's final group.
It didn't help either that a couple of well-oiled, loose-lipped Noo Yawkas were in Poulter's ear a few times during the round, with one fan yelling, "Putt it already!" as he studied a birdie attempt on No. 1 (his 10th hole), and another on No. 4 spouting off "Easy two-putt, Ian!" after he'd flushed it to eight feet, and "Where's your tour card, Poulter?!"
The 42-year-old Brit responded by making the birdie on the fourth, his first of three in a four-hole stretch before the wheels came tumbling off.
A bad finish but not a bad day. He hit 13 of 14 fairways, had a number of looks at birdie that barely missed. Poultergeist doesn't hate Shinnecock anymore.
"Maybe it makes a few people happy out there that, you know, we kind of mess up just as good as, you know, everyone else," he said. " We're human, right? We make a mistake. I think the best outcome for me is to put it out of my mind, to look upon, you know, the position I'm in for this weekend. I'm T-4. I feel pretty confident about my game, where my game is. I just need to make sure I don't make any silly little mistakes.
"So, you know, I hated it and I love it."