The Loop
Poulter's 'cheeky' maneuver pays off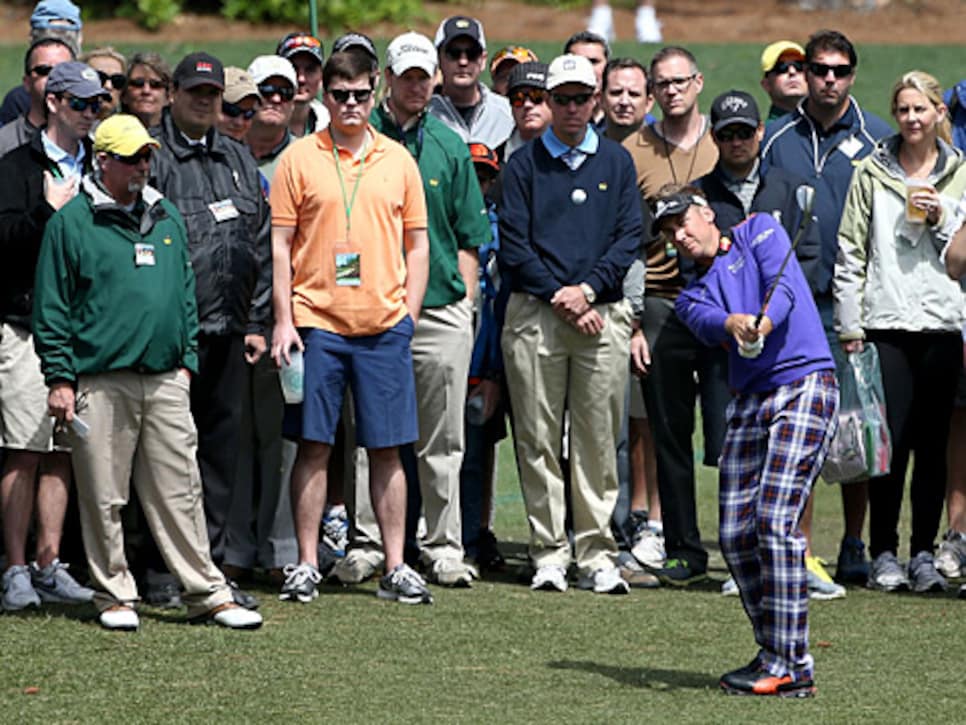 AUGUSTA, Ga. -- From the 13th fairway, Ian Poulter's second shot sailed left, carried off track by what he described as "a two-club wind." It settled into azalea jail on the hillside between bunkers. The ball sat under pine needles, visible only from directly above. Worse, its only path to the hole, 30 feet away, was through a triangular gap at the bottom of the azalea bushes.
At the time, he was 1-under par for the tournament and playing well. This adventure threatened his good mood. As he maneuvered into a stance above the ball, he did so without a club in hand. Once he had an idea, he accepted a 7-iron from his caddie. "I didn't want to move," he said, "for fear I'd move pine needles and move the ball."
The idea was to nudge the ball through the tiny gap. "Very cheeky of me," he said, meaning it was an idea that might not occur to a man with a lot of common sense. Along with the idea came the hope that the ball, after popping through the gap, would catch an incline in the fringe and begin a roll that would break two feet right before coming to a stop near the hole. How near? Say a couple feet. Good idea, wildly optimistic hope - and, voila, it all worked. As the ball stopped, the gallery across the way gave the Englishman a round of rousing huzzahs. In reply, he stood at the green and bowed, as if to the queen herself.
"Very cheeky," he said of himself. At even par for the two days, Poulter considers himself in contention. "Five, six shots behind is a good position," he said. "Even going to the back nine on Sunday, five, six shots behind, you have a shot."
It is a law of golf writing that an attempt be made to describe what Poulter wore to work. This has been a mandate since the day the spike-haired Brit wore slacks cut in the design of the Union Jack. On this day at the Masters, the slacks were a plaid formed of purples and grays divided by orange lines. The orange was repeated on his sweater's shoulders and on a Nike-like swoop on his shoes.
Here's how good that shot at 13 was. Good enough that we almost forgave him for the outfit.