The Loop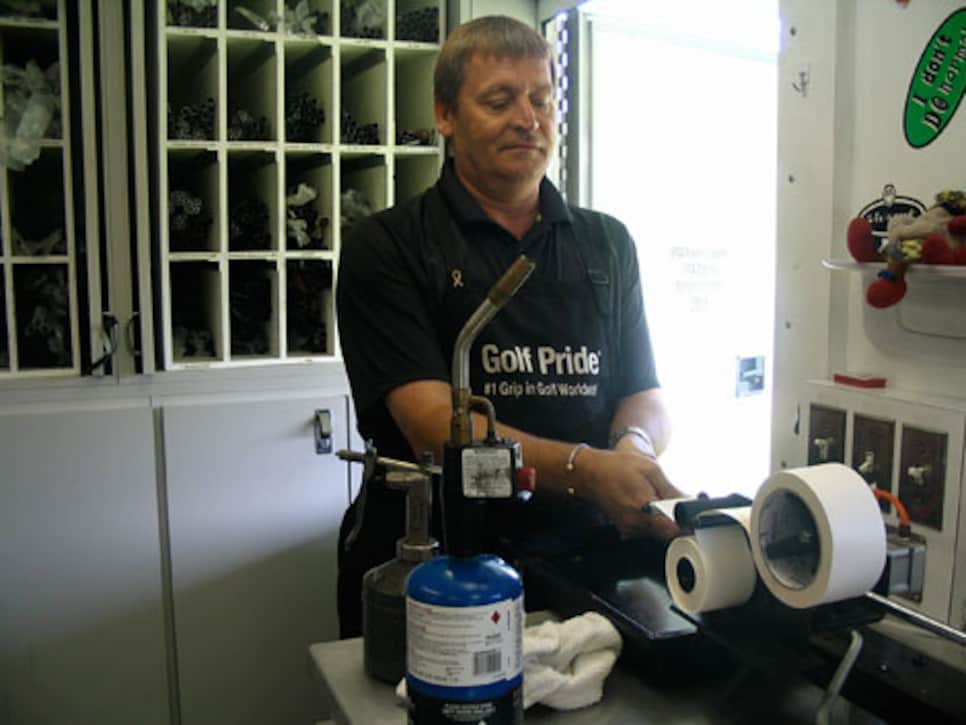 Players are adding hybrids and rescue clubs in place of their long irons this week. Several are carrying the adjustable R9 series by TaylorMade or Ping's recently introduced G-15 and I-15 hybrids. Pat Hurst hits her G-15 about 190 yards and finds it more effective from the deep rough than her 4-iron.
If players need help adjusting these clubs or regripping clubs they use regularly, Paul Boehmer, the LPGA Club Repair Technician, is their man.  He's been especially busy this week helping out mini-tour players and amateurs. "Some haven't changed their grips since Dad bought them the clubs," observes Boehmer.
He also resets player's equipment to their specs, returning the loft and lie to their original intention. This may be no more than a one-degree adjustment. But as Boehmer explains, "Many people don't think one degree is much to worry about, but one degree at the hosel translates to the width of the butt cap at the end of the club.
The LPGA club trailer where Boemer does his work is a popular spot with the players. They may come for the big jar of candy he keeps on the counter. "Only chewy candy," he confesses. "They're chewing, so they can't talk. I do it self-defense."
Boehmer has aided many a player in distress. He doesn't have much call for a 1-iron so when Laura Davies came to him for one, he had to use his resourcefulness.  He took the 2-iron from his bag, reshafted, regripped and bent it and presto Davies had the 1-iron she needed. She used it to win her 19th LPGA Tour victory and her 60th professional career win at the Philips Invitational Honoring Harvey Penick.
How did Boehmer come to his job? "I have a really bad temper on the course and got tired of paying other people to fix my clubs," he admits.
(Photo credit: Topsy Siderowf)