The Golf Digest Interview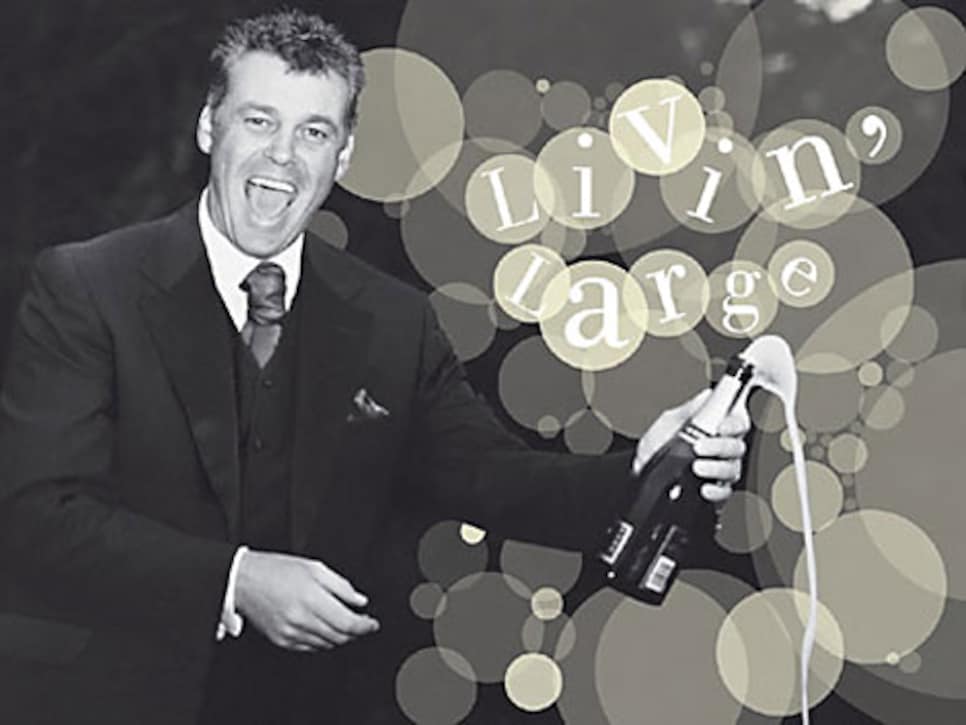 Darren Clarke enjoying his new found physique and energy
Having played, to use his own description, "pathetic" golf during 2002, Darren Clarke decided some changes in his professional life were more than overdue.
By the time he was finished, he had a new caddie and new clubs, had returned to his former coach, Butch Harmon, and had embarked on a fitness regimen that helped him drop 30 pounds.
Perhaps most important, Clarke took a hard look at himself and his behavior on and off the golf course, a period of soul-searching prompted by wife Heather's battle with cancer. Known for loving life but famous across the PGA European Tour for the intensity and frequency of his tantrums, Clarke re-examined his priorities and made an effort to change. "I know how good my good is," he says, "so anything less is frustrating."
Twelve months into a project he deems "a long way from finished," Clarke rose 12 spots on the World Ranking (to 11th), finished second behind Ernie Els in the European Order of Merit and won on both sides of the Atlantic.
True to his word, Clarke has also made himself more approachable. This interview, conducted over four days before and during the Target World Challenge just before Christmas 2003, was marked by his endless good humor, even after an opening-round 81. Not many subjects were out-of-bounds; not even the topic of Northern Ireland's political minefield and a close call years ago. "I'm proud to be Irish," says Clarke, "but I'm also Northern Irish. We have our own identity."
In life and in golf, Darren Clarke certainly stands out.
Golf Digest: You're a former rugby player. Is there anyone on tour you would hesitate to mess with?
Darren Clarke: No. [Immediately.] No one.
I'm a lover, not a fighter.
Would you win a fistfight with Tiger?
Only if he didn't turn around and run away!
He's a big guy, but I'd take my chances.
Oh. He's big — bigger than me. But I'd still stand there.
If you had to drive across America with three players, who would you choose?
Good question. Lee Westwood would be one. We'd have lots of pit stops if he was there.
[Laughs.] No, fuel top-ups, the way he drives. Thomas Bjorn would be another. We have the same sense of humor, which is important. He and I would give each other a lot of stick. The last one would be Nick Price. He'd be good fun. It's tough, though — who would get the humor, have a drink and be good company for that long?
As well as I get on with Tiger and Davis [Love III] and Freddie [Couples], sometimes they don't get our sense of humor. A few of the American caddies would work, though.
What would you talk about?
Everything. Sex, drugs, rock and roll.
God, no. I'm not a political animal.
You're from Northern Ireland. What was it like growing up amid the troubles between Protestants and Catholics?
I was born in 1968, and the troubles started in 1969, so I grew up with it, as you say. It was bombs going off all over the place, people being shot and killed. It was something we all had to deal with.
If you look at any major issue around the world, it's nearly always about religion. Northern Ireland is no different.
It is strange. Our schools are all segregated. And the communities work the same way. I never agreed with that, growing up. But it's different if you play golf in Ireland. Because I traveled the country so much as a youngster, by the time I was 15 I had 20 times as many Catholic friends as I had Protestant friends. That was unheard of. But it was good for me. And it made me wonder why people just can't get on with each other. It's the same as the racial stuff you see in the States — none of it gets anyone anywhere. It's nonsensical to me. People get so blinkered by their beliefs.
Yes, many times. Some of my relations have been killed. It's part of what happens in Northern Ireland.
And did it affect you personally?
The only job I ever had was in a bar called The Inn in the Park in Dungannon [Clarke's hometown]. One night I was setting up the bar. We got a phone call at 9:30 telling everyone to get out. So we did. The bomb went off at 10. The place was flattened, nothing but rubble left. It was a big place, too. The bomb was five yards away from me from 5 onward. If it had gone off earlier, I wouldn't be here.
Now you're well known. What are the best and worst parts of fame?
I'm not sure I know. I don't count myself as a public figure. I'd rather have the table in the corner than the one in the middle of the floor. Occasionally it's convenient when I want to get a table in a certain restaurant. But I never get bothered.
How often do you get recognized?
Sometimes, mostly in Ireland. But it isn't something I pay much attention to. Anonymity is a much-underrated thing to have. That said, Irish people tend to let you get on with your life.
Describe the Irish character.
Oh ... easygoing, Guinness-drinking ... people who just enjoy life. We're pretty laid back and seem to be welcome wherever we go around the world.
What would be the proper way to savor a Guinness?
You must let it settle properly before you touch it. Which can take awhile. The head has to be distinct from the body. I savor it many ways...too quickly and too frequently.
What's a good night out for you?
Coming in when it's light! But it depends where I am. I like casinos and clubs. I'm open to suggestion, usually.
Your definition of a good bet?
One I think I have a better chance of winning than losing. Simple!
In the 1997 Open at Troon, you made a bet on the number of over-par scores at the Postage Stamp [the 126-yard eighth hole] in the first round. Can you remember the details?
It isn't often the bookies make a mistake, but I thought they had on this occasion, so I jumped in. The weather forecast was bad, and I knew the hole would be tough. I can't remember what I won [more than $3,000 after 49 players made bogey or worse], but it was enough.
You have an image of loving life off the course, but over the past year you've made an effort to improve your temper on the course. What brought that on?
A lot of the change in me stemmed from Heather's illness a couple of years ago. When she was diagnosed with breast cancer, everything was put in perspective.
Heather's illness made me think: Not that golf was unimportant to me, but that my petulance was ridiculous. Here was I getting angry about missing a green with a 5-iron from 210 yards, and my wife had a life-threatening illness. Stupid. So Heather's situation had a big effect on me.
It happened just before Christmas 2001. She went to the doctor on Dec. 23 after finding the lump. It was sore, which is unusual. She was diagnosed with breast cancer on the 27th and operated on Jan. 4.
That must have been a long Christmas.
Waiting for the diagnosis was the hardest part. She was only 34 at the time. It was a very shocking time. I'm just thankful she's made a full recovery.
Did you think about her dying?
We never discussed that. We tried to be positive rather than thinking about what it could be.
Did you learn anything about yourself, your wife and your marriage during that time?
[Long pause.] It was a very emotional time. Through trying to improve as a golfer I'd become very selfish. Which you have to be, to an extent, but I was that way at home, too. But — and this is a bit of a cliché — golf is not a matter of life and death. Through it all, Heather was very strong and positive.
In some ways. I was trying to be strong on the outside. Like anybody would. At the end of the day, I'm just like anyone else when it comes to situations like that.
Did you speak to the boys about it?
What sort of a dad are you?
A distant one for most of this year. That's been hard, being away so much. It's hard on Heather as well, but she understands. The boys aren't old enough to know why I'm not there so much. They know what I do. Tyrone swings it great and can hit the ball about 130 yards at the age of 5. He's been playing since he was 2 and watches it on television when I'm away.
Like any small children, they're very demanding. Which can be hard when I'm just home and tired. Having said that, I always give in — I'm a soft touch.
When was the last time you cried?
Not that long ago. Conor was sick. He had to get his adenoids out. So he needed an anesthetic. Which he didn't like. He was so upset on the table. It's so difficult to see one of your kids like that.
What things make you emotional?
Family issues are the big things with me. I'm pretty emotional, which is not something I reveal to the public ordinarily. It's a private thing. I'm no different from most people, I think.
Have you ever had problems with the British tabloids?
Just once. Recently, too. One of the tabloids was tipped off that Heather and I were getting divorced. I was away at the time, and when Heather came home with the boys one night, a reporter was waiting outside the house. When he told her why he was there, she laughed and told him it was news to her.
No. There was no foundation to it, so it went away. It was just someone looking to have a go. So be it. There isn't much you can do about it either way.
How do you cope with being away from your family?
It's difficult. I miss the kids so much. It's heartbreaking on the phone: "How many more sleeps is it before you're home, Daddy?" That sort of thing.
I'm very fortunate being able to do what I do. I travel around the world playing the best courses. I have a job that I enjoy 95 percent of the time. And I'm rewarded in a ridiculous way. How could I not love it? Take this week [the Target World Challenge]. I can be last and walk away with $150,000. All of that's difficult to put into perspective for people at home.
I work hard, though, harder than most people think. Don't get me wrong: I know I'm lucky. But the point is, I do know that. And I'll never lose it.
Not really. It's tedious. People think it's a glamorous life, but it consists of airports and hotels away from the course. Let me run you through my schedule for the last three weeks.
I left London on a Thursday a couple of weeks ago. Flew to Singapore, arrived first thing Friday morning. Straight to the golf course, where I did a clinic for sponsors. I then played with every group and had dinner. We finished at 9 that night.
On the Saturday, I stayed in Singapore to watch the rugby World Cup final on television.
Up at 5 a.m. on the Sunday, I flew to Tokyo, a six-hour flight. Arrived and had a two-hour drive to the course, where I had dinner.
The next day I was up at 6 for a company day [corporate outing], during which I played 18 holes. Then it was two hours back to the airport and a flight to Hong Kong. I was there for an hour, then flew to South Africa for the Nedbank Challenge. Played there until Sunday [finishing fourth].
Monday, lunchtime, I flew back to Hong Kong. Arrived Tuesday. Had a quick shower, then it was up to the golf course for a press conference.
I played in the Hong Kong Open until the Sunday [finishing tied for third], before another company day on the Monday. Left at 11:45 that night and arrived at LAX on Monday night at 8:30. Now this week [Clarke finished last in the 16-player field.]
And every day I'm trying to make time for my fitness routine. There aren't enough hours in the day.
Your weight loss: Was there ever a moment where you were embarrassed by how heavy you were?
I wouldn't say embarrassed. This is not a self-esteem thing, it was purely a golf decision. And I wanted to feel fitter generally. It's just part of wanting to improve. I don't want to look back when I'm 45 and think I didn't do everything I could to get better.
What's your workout routine?
Mondays, Wednesdays and Fridays it's weights. Dumbbells and stuff for about half an hour. Then I do a cardiovascular workout for about half an hour. Then a bit of boxing. Then I move to the medicine ball, throwing it. Then some abdominal work. It all lasts 90 minutes. On the other days it's exclusively cardiovascular. I do 20 minutes each on three pieces of equipment. My day off varies, depending on where I am.
And this will enhance what?
Both strength and flexibility.
Have you felt the benefits?
I don't know yet, apart from a general feeling of wellbeing. I've lost 30 pounds and want to lose maybe 10 more.
I am delighted to report that I'm 16 stones, two pounds [226 pounds], and thank you very much for asking.
Has this affected your swing?
My shape has changed, and so has the shape of my swing. So I get out of sync a little. My hips and body are turning faster, which knocks my timing out.
Was the 2003 Masters a factor in your decision to become more fit? [Clarke opened with a 66 to take a three-stroke lead but followed with rounds of 76, 78 and 74.]
Yes, that was disappointing. I ran out of steam there. When I thought about it afterward, my lack of fitness really hurt me on such a hilly course. And the weather delays just made it worse. I'm looking forward to going back.
Have you plans to move to the States?
Until recently, no. But of late it's something we've been considering. We're going to rent a house in Florida for the month of March leading up to the Masters.
I know all the guys well, so it's just as much fun. And I want to challenge myself. That means playing against the very best players on a more regular basis. And that means playing the PGA Tour. Europe is still a great tour with some great players, but there are more of them over here. Simple as that. I'm 35 now and want to see how good I can get. It doesn't consume me, but winning a major has always been the thing I most want to do. With three of them over here, I need to play more in the U.S.
What do you make of Tiger? He has everything from the great swing to the good-looking fiancee. Does he make you sick?
[Laughs.] Not at all. Because he's a good guy. A real good guy. With everything he's achieved, he hasn't changed since the first day I met him. He called me "Double F" when we first met, and he still does.
There will be asterisks all over the place if you print this.
After La Costa, when I beat him in the [2000 Andersen Consulting Match Play] final — he had a bad day, and I had a good day — he left a note in my locker. It said:
*Congratulations, be proud.
P.S.: You're still a [Double F].
Of course. You can tell a lot more about a person in defeat than you can in victory.
You halved with David Duval in the singles of the 2002 Ryder Cup at The Belfry. How do you explain his decline?
David is a great guy. He looks very serious with the sunglasses on, but that's misleading. Everybody feels for him. This slump that he's going through is a nightmare. But he's doing the right things. He's working hard. If I were he, I'd take a good look at what Lee is doing.
Westwood was never as bad as Duval is now, was he?
He was close. At times, he was very bad. He was hitting shots you could not imagine. He tried to draw the ball after fading it all his life. He thought he needed a draw to get better. David got to No. 1 hitting a little fade everywhere, then tried to develop a draw. He just has to find what he had.
I have. We've played a number of practice rounds over the past year. He's still in pretty good form about it. It must be chewing him up inside. But screaming on the golf course isn't going to help. All that does is drive you more insane.
Why is Duval so popular with peers? He doesn't seem to let anyone in.
No, he doesn't. But you have to respect people's privacy. David prefers privacy out of golf. That doesn't make him a bad guy. That's just the way he is. He has a life away from golf. Plus, he's always been very friendly toward me. When that happens, I'm the same way back. I like that in someone. Did I tell you about playing with Lee against Tiger and David on the Friday of the Ryder Cup at Brookline?
They were Nos. 1 and 2 in the world. It was the most fun I've ever had on a golf course. Ask Tiger, and I think he'll say the same thing. We chatted all the way round. We were trying to win [Clarke and Westwood won, 1 up], but that side of things can get lost. We had a great time, telling jokes, all sorts of stuff. And that's the spirit in which I think the Ryder Cup should be played. Not all that other nonsense. Besides, I play a lot of my practice rounds over here with Americans, with Davis and Freddie and David. That's a regular four-ball. And because they're my friends, I find it easy to compete against them in the Ryder Cup.
There was an incident the next day at Brookline when Phil Mickelson [claiming that Clarke and Westwood were intentionally slow-playing Mickelson and Tom Lehman] drove off a tee when you and Lee were still practice putting on the previous green. Your perspective?
It was certainly different. But there's always gamesmanship in the Ryder Cup.
Were you trying it on a wee bit?
We weren't. Phil thought we were, but we weren't. There are always little bits and pieces going on. Both teams are passionate about winning.
What was said up on the tee?
A few words were spoken. [Smiles.]
He and I didn't get on too well until a couple of years ago. I have a huge respect for him. One of the most talented players you'll ever come across. I'm fine with both Phil and Tom. They won the match, too, and deservedly so.
How have your relationships been with your Ryder Cup captains?
Well, I didn't have a relationship with my first captain [Seve Ballesteros in 1997 at Valderrama]. At all. He spoke about five words to me all week. But we won. We were there as a team, and we won. He was the luckiest man in the world that week.
Had you lost, he would have been slaughtered by the media.
I'm not going to say that. What I couldn't understand was why I wasn't playing on the first day. I had qualified second for the team; I hadn't just scraped in. That's his decision to make, of course. Seve is a legend, and I wouldn't say anything bad about him because of that.
Your relationship with him hasn't improved since '97?
No. No. But he was a great player.
How about your other Ryder Cup captains?
Mark James was brilliant in '99. It was bitterly disappointing to lose after having such a big lead. The whole thing that was lost among all the furor was how well the American guys played.
That was the biggest shame of it all.
It was. What happened on the 17th green [the celebration after Justin Leonard's putt against Jose Maria Olazabal] overshadowed how well they rallied. It was brilliant. They were fantastic, but that was never the story. Touch wood, the spectators over here have always been very nice to me.
Why didn't America understand Monty?
He just took a dislike to America and was never as focused over here as he was in Europe. He doesn't like noises!
Who was better, Seve or Nick Faldo?
Seve. He may not have been better, but he was more fun to watch.
Awesome talent. He's done the right thing with his swing, getting that "drop" behind him out of there a bit. He's grown up a lot recently, through his struggling.
A real gentleman. He'll be a great captain. He has the respect of everyone.
He was my all-time hero. He played the game the way I like to play. He was aggressive. He had a go.
I know, but that was how I wanted to play. And he was so charismatic. He brought a lot to the game before Tiger — the Ferraris, the planes, the boats ... he had it all.
A legend. Jack was incredible. He's a huge hero — along with Tom Watson — where I come from. They were both great links players. And no one ever lost the way Jack did. He's the greatest loser golf has ever seen, if you know what I mean.
We're very close. He's a guy I'd call if I was in trouble.
He's just one of those talented people. He seems so laid back, but I know he's trying as hard as he can.
Curtis is great fun — he gets our sense of humor. I have a little in common with him, in that we both went to Wake Forest. For a bit, anyway. I was redshirted the first semester, and that was fine. After the summer break I came back and played well enough to make the team. Yet the coach chose not to pick me. That happened two weeks in row. So we had a heated debate, and I left the next day.
You talked a bit before about your temper on the course. How did it play out?
I don't get annoyed at anybody else; it's always at myself. But it made me unapproachable. I know there used to be days when I was "unplayable."
You made a lot of changes at the start of last year. Were you ever tempted to settle for what you had?
That wouldn't be me. I cannot suffer mediocrity. And that was what 2002 was like for me. No, it was worse than that. It was pathetic. I couldn't keep on doing that.
So no temptation to stick with what you had?
No. That never crossed my mind. Not even for a second. Although I don't reproduce my best form every week — no one does — I still have a lot of confidence in my ability. That's never going to leave me.
Did you know Darren Clarke...
STARTED PLAYING GOLF AT 11. CADDIED FOR HIS FATHER, A superintendent....Was a 3-handicap within two years....Twice has shot 60 (put the license plate "DC 60" on his Ferrari....Grandfather Ben Clarke played first division soccer for Sheffield United....Clarke's must-play courses in Northern Ireland: "Royal Portrush and Royal County Down are obvious, but there are so many more: Portstewart, Castlerock, Ardglass..."
*This is the 106th Golf Digest Interview. For highlights of previous interviews in the series, which dates to 1991, visit www.golfdigest.com/features. *