The Loop
How'd Your Team Do, Twitter Edition: Cleveland Browns fall to 0-7, remain very bad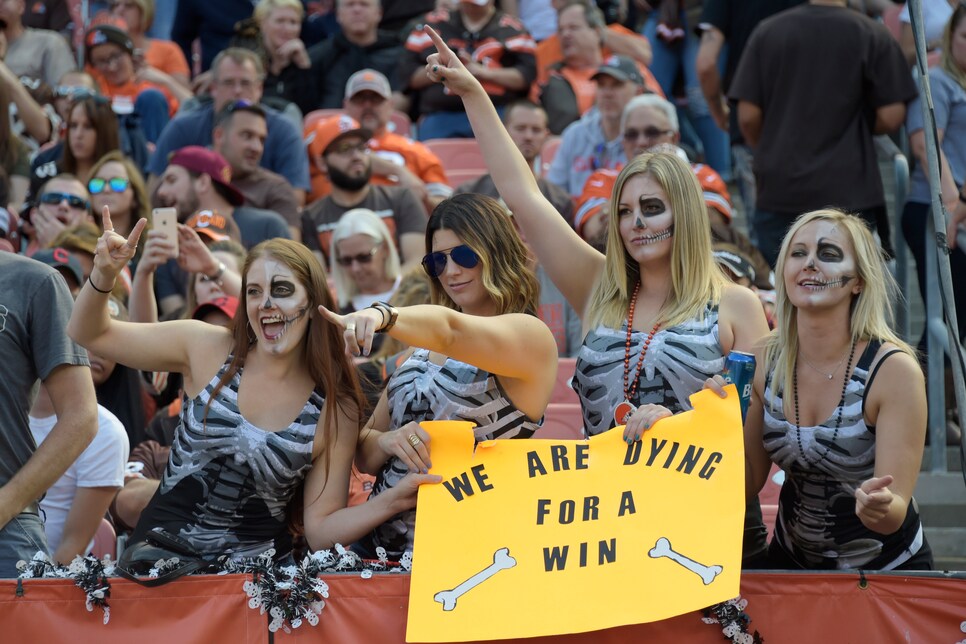 If exciting football is something that piques your interest, well, the NFL's Week 7 was not the week for you. It's something we probably should have expected, considering the fact fans were treated to a rare epic Thursday night game between the Raiders and the Chiefs.
What followed on Sunday was an absolute snooze fest, featuring three shutouts and four double-digit victories. What better team to focus on in this slog of a week than the Cleveland Browns, who lost to the Tennessee Titans in overtime 12-9 and fell to 0-7. This means that since the beginning of the 2015 season, Cleveland has won just four of its 39 games. Good grief Charlie Brown(s). Ha, get it?
Before we get into the game, I should warn you, there was not a single touchdown to be found. The tweets basically wrote themselves. Let's dive in.
Another sellout! Wooo! Cleveland ROCKS!
If you're willingly still attending Browns games, diehard isn't even a good enough designation for you anymore. You're a Saint, or just possibly going insane.
After the Titans went down and kicked a field goal on their opening drive to go up 3-0, the teams traded punts. But then, rookie quarterback Deshone Kizer, getting the nod once again after being benched, showed some signs of life. They picked up four first downs, and looked to be well on their way to a fifth with this unreal Duke Johnson juke to move inside Titans territory:
WHOOP! But, alas, this is the Browns, and the highlight reel play was called back for holding. Three plays later, they punted. After a Titans fumble, Kizer built on the previous 11-play, 36-yard drive with another charge, this one ending in a field goal to tie the game. Now the fans were really into it:
I mean, they don't get much else to cheer for.
The Titans answered with a 14-play, 70-yard drive of their own, this one also ending in a field goal. If you're noticing a trend, I did warn you neither team even sniffed the end zone.
Kizer and the Browns had one last shot to tie it before halftime, and actually moved the ball all the way to the Titans 28, thanks to completions of 19, 11 and 17 yards by the former Notre Dame quarterback. Just as he was beginning to flash some of that potential though.... whammy:
Wentz and Kizer weren't even in the same draft, but that doesn't make this pass any less awful, especially in the red zone, where the rookie has struggled this year. Whatever, got to move on and keep your chin up. Get 'em on the next drive. Orrrrrrr promptly throw another pick:
That would be all she wrote for Kizer on Sunday, who has been benched and put back in more times than the Browns have had wins in the last three seasons (which means only like five times but the point remains):
The Titans turned it over on downs, giving way to Browns backup QB Cody Kessler, who was surprisingly respectable during limited time in 2016, his rookie season. The former USC Trojan produced a 6:2 TD to interception ratio, threw for over 1,300 yards and had a 65.5 completion percentage in eight starts, all of which were losses. Kessler came out strong against Tennessee, leading a 10-play, 70-yard drive that once again ended in a field goal, tying the game at six. But remember what we said before? Even when the Browns have nice things, they still aren't allowed to have nice things:
What a dagger. All the respect in the world to that mammoth of a man.
Tennessee immediately answered again, kicking ANOTHER FIELD GOAL to go up 9-6. Five possession later, the Browns tied it, yes... with another field goal. What a battle:
And guess what the best part was? Overtime! Free football that no one asked for.
Fittingly, the teams began overtime with three punts, before the Titans finally put everyone out of their misery:
We have a winner for most hilarious box score of the year:

Everyone in attendance can someday say they witnessed #FieldGoalFest2017. History.
Ohhh, that's what it is. The uniforms.
If you can believe it, it does get worse for the Browns, who now have to travel to London to take on the Minnesota Vikings:
Browns are officially on 0-16 watch, as is tradition: