The Loop
How to survive this murderous stupid cold
WHAT IN THE HELL IS GOING ON? NEGATIVE 15 DEGREES? DID SOMEONE BREAK THE SUN? WILL WHOEVER BROKE THE SUN PLEASE CALL A SUN-FIXING ORGANIZATION TO RETURN THE EARTH TO ITS PROPER ANGLE? Sorry. I actually didn't mean to yell that but MY CAPS LOCK IS FROZEN SHUT. I will be back after I blast my MacBook with the hair dryer.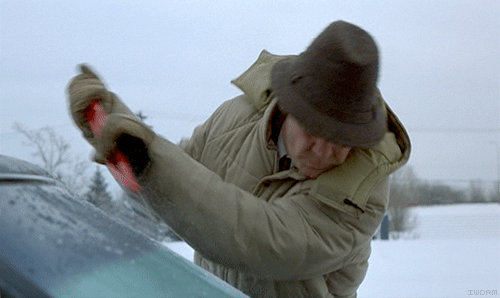 OK, sorry. Cold is stupid. It makes your eyes sting when you blink and it makes city buses sploosh sopping-wet snow on your jeans. It is responsible for slush, which is frequently brown. It makes materials in your nose that are generally liquid-based freeze displeasingly. It is also indicative of February, commute problems and Packers football. (Normally I'd worry about retribution from Packers fans, but it's too cold for their hands to form fists.)
And that is just basic, everyday cold, which is not the kind currently descended upon most of the United States that is not Texas, which is barely the United States anyway. This kind of cold is a pure and beautiful cold, a kind that we should probably create a Cabinet-level czar to whine about appropriately, I am thinking of calling for a $700 bailout for Big Cocoa. The only good news is that this will hopefully mass-slaughter the four million ants who like to come visit my office for Spring Break.
You don't need us to tell you this, because unless you're reading this from someplace more amenable than your hometown, like the Sudan, you're probably experiencing the earwax-icing cold that makes people bring their electric blankets into their showers. Frankly I'm surprised your fingers worked long enough to turn on your phone. But you might need help getting through it, which is why we've provided these Helpful Ways to Survive This Idiotic Cold Snap:
1. Move directly to Florida. Literally, this is the only good time to consider moving to Florida, unless you are applying for a professional sports coaching job or are low on opiods. People in Florida do not have to deal with this. They have to deal with alligators, and vanloads of Virginia tourists standing hopelessly in the Orlando airport looking for the Disney shuttle, and the Tampa Bay Rays, and flying cockroaches and, the nation's largest collection of face tattoos but they do not have to deal with this, making us believe that they put up all those painkillers and Scientologists for a reason.
Once when I lived in a Florida, a friend shared with me the very wise notion, "You don't have to shovel the hot." He said that while we were sitting near a pool sipping beers, a situation that made us both feel very pleased with ourselves. This sort of behavior is hilarious up until we try to do the same thing in July, a time of year when beers burst into flame, usually while being thrown around by a criminal.
2. Hire someone to get your mail. There are probably some teenagers in your neighborhood whose bodies tend to heal more quickly from frostbite. Have them do it. If they experience trouble during their journey, they can stop on the walk back and make a small fort or something.
3. Point a hair dryer at your kitchen and duct-tape it to the ON position. This may be a "fire hazard" to some people, like firemen, but it's super cozy.
4. Take care of your animals. I can't stress this one enough. When you send them out to pee, make sure they come back in. If you're not sure if they're back in, go outside and look for shimmering yellow crystals. If there's a dog next to them, you forgot.
5. Bring your plants inside. Much like small dogs, plants are actually living things that need to be brought inside if they're weak. Believe me when I say I am A LITTLE WORRIED ABOUT MY HIBISCUS jeez, I really need to call the Genius Bar about this caps lock thing.
6. You know that thing Han Solo does with a tauntaun? German shepherds are pretty big. I'm not advocating anything. I'm just thinking out loud.
7. Stock up on provisions. Jerky is a lean protein option that will sustain you throughout the day. Soup and chili can be made in advance and kept for several days, after which you can begin deciding which of your family members would be best to eat.
8. Look around your hometown and wonder why you haven't given up and relocated to the Caribbean yet. There is literally no good reason to live in a place that subjects you to sub-zero temperatures and below-20 degree windchills. Everything they have in cold places they have in the Caribbean, except Chicago Bears football, which is JUST ANOTHER BENEFIT god I'm actually starting to feel bad for the copy editors who have to deal with all this rampant capitalization. Or at least I would, if their cars were functional and they could get to work.
9. Turn the heat up to 95 and put on Jimmy Buffett music. This may or may not work. You may or may not like Jimmy Buffett. Your thermostat may or may not explode. But this is the only f**king thing I'm doing for the rest of the week.